Radio Tele Caraïbes is out on the street after losing the use of its offices in the January 12 earthquake, but the Port-au-Prince broadcaster has resumed operations nonetheless. A makeshift newsroom has been set up in a tent in the middle of a street. Staff meetings and discussions are being held under the gaze of passersby. Reports are being prepared without production studios, and technicians are making do with damaged equipment. The broadcaster has faced numerous challenges in its 60-year history, but none as extraordinary as those being posed in the earthquake's aftermath.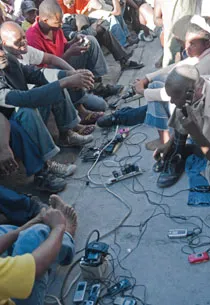 Radio Tele Caraïbes Director Patrick Moussignac, who described these conditions in an interview with CPJ, said the station is trying to serve the local population in a number of ways. The station has made its generator available to local residents, for example, so they may recharge their cell phone batteries. Hundreds of people are taking advantage of the offer, he said, enabling them to communicate with their families. "Port-au-Prince is without electricity, so this is a way to show solidarity with people," Moussignac said.
Near the newsroom tent, Radio Tele Caraïbes has helped set up a medical clinic, he added. There, medical professional are volunteering care to people with minor injuries.
The building housing Radio Tele Caraïbes was severely damaged in the earthquake, said Moussignac, who described his own narrow escape from the station's offices. In general, the staff was fortunate: A security guard was seriously injured, he said, but the rest of his team was safe. (Radio Energie FM, another commercial radio station owned by Moussignac, did not survive the earthquake.)
As work resumes, Moussignac said he hopes normalcy and laughter, even, can return for traumatized Haitians. For this reason, he said, Radio Caraibes has resumed "Caraibes Matin," a program that satirizes political and social issues. "The population needs therapy, and we must learn to laugh again," Moussignac said.
Editor's Note: If you have any information on journalists and media outlets in Haiti please post a comment below or notify us via e-mail [email protected], or Twitter: @HelpJournalists. We are collecting funds that will go directly to Haitian journalists. If you'd like to make a contribution, please click this link and enter "Haiti" in the "Notes" section on the second page.