October 2009
News from the Committee to Protect Journalists
CPJ honored with Dodd human rights prize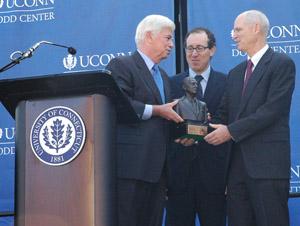 For its role in advancing human rights worldwide, CPJ was honored this month with the Thomas J. Dodd Prize in International Justice and Human Rights, given once every two years to "a leader or group that has made a significant effort to advance the cause of international justice and global human rights." The award was established by U.S. Sen. Christopher Dodd at the University of Connecticut to commemorate the work of his late father, a longtime senator and executive trial counsel at the Nuremberg Trials.
"We are humbled by the honor bestowed on us by the Thomas J. Dodd Prize and grateful that this generous award will allow us to continue our work on behalf of journalists everywhere." Executive Director Joel Simon said accepting the award. "Anna Politkovskaya, Lasantha Wickramatunga, and countless other journalists gave their lives for their profession. But they also gave their lives because they wanted us to know what was happening in their countries. By standing up for justice whenever journalists are killed, by defending press freedom wherever it is threatened, CPJ is standing up for your right to information in a globalized society."
Citing CPJ, Clinton speaks out against impunity
We reported last month on the release of CPJ's special report, Anatomy of Injustice, an examination of 17 unsolved journalist murders in Russia since 2000. In that report, we called on world leaders to engage Russia on the issue of impunity. U.S. Secretary of State Hillary Clinton took a step in that direction when, at a town hall meeting in Moscow this month, she expressed concern about Russia's record of impunity.
"A society cannot be truly open when those who stand up and speak out are murdered. And people cannot trust in the rule of law when killers act with impunity," Clinton said. "According to the Committee to Protect Journalists, 18 journalists have been killed in Russia since 2000 in retaliation for their work. But in only one case have the killers been convicted. When violence like this goes unpunished in any society, it's undermining the rule of law and chills public discourse, which is, after all, the lifeblood of an open society, and it diminishes the public's confidence and trust in their own government."
We look forward to other world leaders joining with Clinton in pressing Russia to reverse its appalling record of impunity.
CPJ unveils new killed database
We've launched a new database of journalists killed into action. Drawing on years of CPJ research, the database offers interactive maps and timelines, along with statistical breakdowns by year, country and cause of death. Perhaps most important, though, are the narrative capsules devoted to each of the 758 journalists killed since 1992. Our talented Web site developer John Emerson built the database. Please take a look and let us know your thoughts.
As always, we are grateful to the John S. and James L. Knight Foundation for their support of CPJ's Global Campaign Against Impunity.
Middle East bloggers carry fight for free expression
As the number of journalistic bloggers proliferates in the Middle East, the struggle for press freedom has taken a new course in the region. In a report released this month, "Middle East Bloggers: The Street Leads Online," CPJ's Mohamed Abdel Dayem examines why journalistic blogging has emerged as the front line for press freedom and explains how governments are rewriting laws and deploying technology to stifle critical news and opinion.
Kenyan journalists free after CPJ intervention
Staffers at the Kenyan newspaper The Star were harassed by authorities after the paper reported that police files on a suspected al-Qaeda member had vanished. Kenyan officials pressured Star staffers to reveal their sources; when the journalists refused, they were summoned to court to face criminal charges.
CPJ responded with an alert calling for an immediate end to the harassment. CPJ Africa Program Coordinator Tom Rhodes also spoke with Kenyan authorities and urged that all charges be dropped. This month, a court did exactly that. The Star sent a note thanking CPJ for its "timely intervention".
CPJ advocacy aids Georgian journalist harassed by authorities
On September 3, Georgian authorities filed a criminal forgery charge against Besik Pipia, Tbilisi bureau chief for the Russian news agency RIA-Novosti. Editors told CPJ they believed Pipia was harassed because he worked for a Russian agency and asked for our help in the case.
CPJ's Europe and Central Asia program took up his case and on September 18 issued an alert urging Georgian authorities to drop it. A week later, charges were dropped and RIA-Novosti editors sent a letter of gratitude thanking CPJ, saying they believed our advocacy was key to the dismissal.