September 21, 2009
H.E. Raila Odinga
Office of the Prime Minister Harambee
Avenue P. O. Box 30510-00100
Nairobi, Republic of Kenya
Fax: (254) 20 221 0150
Dear Prime Minister,
We are writing to express our concern over the lack of progress in the case of murdered Kenyan journalist Francis Nyaruri. The journalist was found decapitated, with evidence of torture to his body, on January 29 in Kodera Forest near his hometown of Nyamira.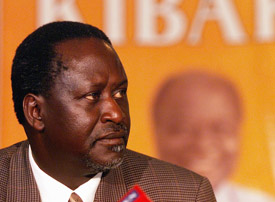 The Committee to Protect Journalists wrote to President Mwai Kibaki in March regarding the lack of movement in Nyaruri's case. Since the criminal investigations began in February, police have arrested two suspects, a taxi driver and a member of a local gang known as sungusungu. While the gang member is expected to appear at the Kisumu High Court on murder charges next month, the other suspect was released without explanation and has not been seen since, according to local journalists and family members.
Furthermore, two men who were investigating the murder went into hiding in June after receiving a series of death threats, local journalists told CPJ. Andrew Mandi, the family lawyer for the Nyaruri family, began receiving anonymous death threats by phone and visits by the police after he advocated for the arrest of suspects, he told CPJ. Similarly, police officer Robert Natwoli was allegedly harassed and threatened by fellow police officers for his investigation into Nyaruri's murder. The murder investigation has now stalled completely, local journalists said.
Nyaruri had written a series of critical articles under the penname Mong'are Mokua for the private Weekly Citizen about corruption and malpractice by local officials and police in Nyanza province. One of the last stories he wrote implicated high-ranking police officers and a local businessman in conspiring to use substandard building materials for a police housing project.
Mr. Prime Minister, you have publicly expressed your concern about the February findings of U.N. Special Rapporteur Philip Alston regarding widespread, systematic, and planned killings of civil society members by Kenyan police. With that in mind, we strongly urge you to continue police reforms in the western provinces and ensure that Nyaruri's killers are brought to justice. Journalists must be allowed to carry out their work without fear of attacks from those who are meant to serve the public.
Sincerely,
Joel Simon
Executive Director