I am from Afghanistan, but I have lived in exile in Sweden for almost a year and a half. I spent my teenaged life in Pakistan, where I moved in 1997 to escape the savage regime of the Taliban.
I studied English in a private institute, and then became an English teacher to make my living. To improve my English, I used to watch channels like the BBC and CNN, and I became interested in journalism. Although there are many private universities in Pakistan, I was not able to afford to go to one to study journalism. But in 2004, I got lucky and was hired as a translator for German TV (Deutsche Welle) through a friend of mine who was already working for them. The station had a training program for local journalists who worked Radio Television Afghanistan.
My German colleagues and I often went out together to a nearby restaurant or guesthouse. It was at one of these where I met Ajmal Naskhbandi, an Afghan journalist and fixer who would later be murdered by the Taliban in 2007. Ajmal and I began working together as fixers–a fixer is somebody who facilitates almost everything for a Western journalist, acts as their eyes and ears.
Our job was extremely dangerous. We used to set up interviews with the Taliban and take Western journalists to the war zone. We also helped them craft their stories about the poppy trade and violence against women. Writing about these issues in Afghanistan is difficult and dangerous.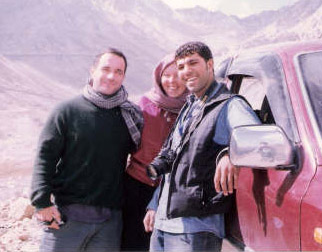 In September 2006, I faced my first truly dangerous situation as a fixer. Christian Parenti, a correspondent for The Nation; Ian Olds, a filmmaker; and I went to Khogyani Nangarhar in Afghanistan on the Pakistani border to do a story on poppy. It was my third trip to this place; on the way back we faced a Taliban ambush. Five armed men tried to kidnap us but we managed to escape.
Receiving death threats messages from the east, in Nangarhar, which is my hometown in Afghanistan, stopped me from traveling there anymore. But the tragedy that happened in April 2007 made me leave the country.
My friend Ajmal had set up an interview in Helmand with a key Taliban militant for Daniele Mastrogiacomo, an Italian journalist, and a local driver, Sayed Agha. The three were kidnapped during that trip on March 4, 2007. Agha was beheaded after five days, while Ajmal and Daniele watched. Soon after, the government freed five Taliban prisoners supposedly in exchange for the release of Ajmal and Daniele. Daniele was set free but not Ajmal; the Taliban made another demand for the release of prisoners. The president and minister of foreign affairs denied this demand; Ajmal was beheaded in April 2007.
It became harder for me after that to work as a fixer or even to live my life. During Ajmal's captivity I worked hard to get help from non-government groups and appealed to the Taliban we used to interview to set Ajmal free. After that, the Taliban threatened me with death many times. One man told me that my name was on a Taliban death list so I'd better leave, or else I would be killed.
I went to Pakistan and paid a large amount money to an agent to take me out of the region. Europe was the best option. Holding a Pakistani passport, I flew to Dubai and then to a European city, which I think it was in Germany, and then to drove to Sweden. I applied for asylum in a Swedish immigration office in February 2008, and after months of waiting, I was accepted that November.
Now I study the Swedish language and I'm trying to make my way back to journalism. I am not happy but I am safe. There are many things that make me unhappy. For example, losing my profession, which was dangerous, yes, but I wanted to improve and become a formal journalist. Leaving my family behind; they are still suffering because of my experience. And I am living alone in a different society, which sometimes makes me sick (Sweden can be dark and freezing cold).
There are some major problems too. I have not yet been issued an ID or a bank account, which are very necessary. I have applied for both, but the office that issue IDs refused to issue me one because I have no family members to certify that I am who I say I am. It is really hard to resettle in a new country, especially when you don't speak the language and don't come from a similar culture and traditions. I still have to find a part-time job to support my family.
For me, it is now impossible to return to my home country, since a documentary about Ajmal's murder has been shown around the world (Fixer: The Taking of Ajmal Naqshbandi)–I know they would find me and kill me. Because I am safe here, I will go through all these difficulties in exile and settle in at some point. But the loss of my friend and being lonely and worrying about my family's security makes me depressed.