April 2009
News from the Committee to Protect Journalists
Seeking justice in the Philippines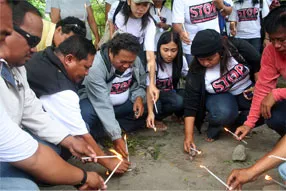 The unsolved murders of at least 24 journalist murders in the Philippines in the last decade has created a pervasive climate of impunity and led to repeated attacks on the press. This year, the Philippines ranks sixth on CPJ's 2009 Global Impunity Index, "Getting Away with Murder," making it one of the leading peacetime democracies on the list.

On March 23, more than 70 journalists in Manila gathered to hear Elisabeth Witchel, CPJ's Impunity Campaign coordinator, and Shawn Crispin, CPJ's senior representative for Southeast Asia, launch this year's index. Co-hosted by the Freedom Fund for Filipino Journalists, the event marked the fourth anniversary of the murder of Marlene Garcia-Esperat, a Philippine journalist who was murdered in front of her family.

The government of President Gloria Macapagal-Arroyo reacted swiftly to the report's release, sending a text message to journalists describing it as "a bit of an exaggeration." CPJ responded by saying that there is no mystery as to "how the Philippine government can get off the list: convict the killers of these journalists."

Read about impunity on the CPJ Blog in "Going beyond national borders to combat impunity" and "In Russia, criminal ties to government fuel impunity."
Tunisia allows journalist to travel after CPJ letter
On March 19, CPJ Executive Director Joel Simon sent a letter to Tunisian President Zine El Abidine Ben Ali urging him to end the "ongoing cycle of repression of critical journalists and media outlets."

In particular, Simon told Ben Ali that travel restrictions on Mohamed Abbou, a prominent human rights lawyer and writer, "thoroughly belie every statement" he and his government have made about their "proclaimed commitment to increased press freedom over the past two decades." Less than a week later, Tunisia's Ministry of Justice and Human Rights told Abbou that he was free to travel abroad.

"There is no doubt that CPJ's letter and other actions recently undertaken by international human rights groups helped prompt this phone call," Abbou told CPJ. Abbou was incarcerated for more than 28 months for contributing articles to the locally blocked news Web site Tunisnews, in which he compared torture in Tunisia's prisons to conditions in Iraq's infamous Abu Ghraib prison.
Dietz continues his Sri Lanka reporting and advocacy
CPJ Asia Program Coordinator Bob Dietz's ongoing reporting about the dire situation for journalists in Sri Lanka caught the attention of the U.S. State Department. On March 23, Secretary of State Hillary Clinton sent a letter to Senator Robert Casey, who chaired the Senate Foreign Affairs subcommittee hearing on Sri Lanka on February 24 at which Dietz testified. Seven senators had written to her about Sri Lanka after the meeting.

"I share your concerns about the need to protect Sri Lankan journalists and freedom of speech," wrote Clinton, "and the State Department has taken steps to assist those who have been threatened. … Our embassy in Colombo continues to raise publicly and privately–with the government of Sri Lanka–the need for media freedom and the end to human rights abuses."

Dietz also testified last month before the House of Commons in Ottawa, Canada. He wrote about Sri Lanka for the blog: "State secrets, public denials in Sri Lanka."
CPJ urges Israel to examine Gaza limits, military strikes
In an April 3 letter to the incoming prime minister of Israel, CPJ urged Benjamin Netanyahu to examine the restrictions imposed on the press and military strikes on media facilities during the Gaza offensive in late 2008 and early 2009. "We ask you to pledge not to impose blanket news media restrictions in the future," wrote Simon. "We also urge you to conduct immediate and thorough investigations into the targeting of news media facilities during the conflict, and to make the findings public. Such an inquiry is especially important in light of recent news reports quoting Israeli soldiers as saying they had fired on civilians in Gaza."
CPJ's site now in Arabic
CPJ now features an Arabic version of our Web site offering translated content from CPJ's Middle East and North Africa Program. Arabic speakers can now easily find alerts, statements, and special reports about their region. The Arabic site includes the full Middle East and North Africa chapter from this year's Attacks on the Press, and additional content will be added regularly.
Best of the blog
Can China make real changes in media policies for Tibet?
CPJ People
We are pleased to announce that Jean-Paul Marthoz has joined CPJ as an advisor in Brussels on impunity and other press freedom issues. Marthoz, the foreign affairs and human rights columnist for the Belgian daily Le Soir, is a regular contributor on human rights issues for a series of European and international publications (Espace de libertés, Politique, Louvain, Médias, Médias et Humanitaire), and a frequent commentator on Belgian public radio and television and an associate editor of Europe's World. Marthoz is also editorial director of the Brussels-based foreign affairs quarterly Enjeux internationaux.

It has been CPJ's great pleasure to work with Sebastian Dettman, who for the last two years has worked as Joel Simon's executive assistant and as liaison to the board. We have appreciated his hard work, skillful copyediting, and serenity in the office. Sebastian will be traveling in Indonesia and doing volunteer human rights work for a local NGO before beginning graduate school in the fall. We wish him much success.
Our magazine closes as we focus online
We've discontinued publication of Dangerous Assignments, our twice-yearly magazine. Dangerous Assignments has published many significant CPJ investigations over the years, from "Deadly News," our worldwide study of journalist murders in 2006, to "The Disappeared," a 2008 examination of missing journalist cases in Mexico. With some regret but an eye to the future, we're ending its publication so we can devote more of our resources online. The same special reports you once read in Dangerous Assignments will appear on our Web site, cpj.org, along with what we hope will be many exciting, new digital projects.
Coming up
Americas Program Coordinator Carlos Laurìa and Joel Simon have recently returned from a week in Managua, Nicaragua, where press freedom conditions have deteriorated dramatically in the last year. Tom Rhodes is currently in Kenya exploring the dangerous conditions reporters are facing there. We will issue reports on both trips soon.