New York, April 10, 2009–Both sides in Thailand's escalating political conflict should refrain from targeting the press and should guarantee the security of journalists covering the street protests that have paralyzed traffic in the capital, Bangkok, the Committee to Protect Journalists said today.
An antigovernment protestor on Thursday threw a homemade explosive device near the offices of ASTV, a satellite television station that campaigned in its reporting last year against two consecutive governments affiliated with former Prime Minister Thaksin Shinawatra, according to local news reports.
On Wednesday, protestors in red shirts harassed reporters from channels 3 and 7 for allegedly underreporting the number of protestors attending a mass rally near Government House, local news reports said. Protest leaders had earlier predicted that 300,000 protestors from around the country would attend the rally, but both stations reported the actual number was in the tens of thousands.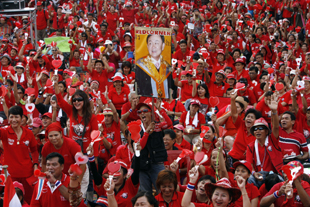 The red shirt-wearing protest movement, the United Front for Democracy against Dictatorship (UDD), is bidding to topple Prime Minister Abhisit Vejjajiva's four-month-old coalition government and bring the exiled Thaksin back to power. Thaksin was ousted from power in a 2006 military coup; political stability since then has been shaken by a series of pro- and anti-Thaksin street protests.
"Political conflict is destabilizing conditions for the Thai media at a time when it is crucial that journalists be able to report freely," said Robert Mahoney, CPJ's deputy director. "We call on all sides to respect and protect the press."
Details of the media attacks emerged late this week. The English-language newspaper The Nation reported that a taxi driver had hurled an explosive devise in the direction of ASTV offices Thursday night. The devise landed and detonated at a nearby gas station, although no injuries were reported. Police apprehended the suspect, but were forced to release him after they were surrounded by a group of red-shirt wearing UDD protestors, according to The Nation, who published the taxi's license plate number.
Protestors on Wednesday hurled bottles and spat at channel 3 and 7 reporters and later surrounded Channel 3's mobile broadcast unit after reporters fled for their safety, according to The Nation. Police eventually intervened and ordered reporters to move away from the site. When reporters attempted to leave, they were harassed again by protestors and forced to take sanctuary in a nearby Buddhist temple, according to the same news report.
A rival, yellow-garbed protest group, the People's Alliance for Democracy (PAD), now dormant, frequently harassed and assaulted local reporters last year for perceived unfavorable coverage of their movement. PAD supporters opened fire and threw grenades at the pro-Thaksin Taxi Radio in Bangkok.
Earlier this year, Prime Minister's Office Minister Satit Wongnongtaey proposed legal action against the station for allegedly causing unrest through its news reporting. According to local news reports, the station was pivotal in organizing the taxi drivers who systematically blocked traffic throughout the capital late this week.