Fabio Prieto Llorente, one of 21 independent journalists jailed in Cuba, has been outspoken in describing the inhumane and unsanitary conditions in which he and others have been held. On Wednesday, he began a hunger strike to call attention to the situation at El Guayabo Prison in the western Isla de la Juventud province, the Miami-based news Web site Payolibre reported today.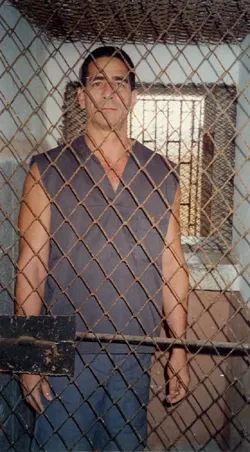 Prieto Llorente, 45, at left, has been actively protesting prison conditions for several weeks. In a January 7 letter to Raúl Castro Ruz, which was reviewed by CPJ, Prieto Llorente strongly criticized the Cuban president's December proposal to exchange jailed political dissidents for five Cuban citizens imprisoned in the United States on espionage charges. In the letter, Prieto Llorente detailed "subhuman" conditions in El Guayabo, where meals consist of "animal products" that are spoiled and burned. His current cell is just 3 meters by 2 meters, although he's had even smaller ones before. Prison authorities open his letters for fear that he will give the outside world details about his incarceration, Prieto Llorente said, and his phone privileges have been revoked for more than four months. According to the letter, Prieto Llorente is allowed to see two family members only once every two months.
The reporter acknowledges that the outspoken criticism probably makes matters worse for him in prison. He seems undaunted. Referring to the start of career as an independent reporter, Prieto Llorente wrote in the letter, "For over 10 years, my family and I have survived an inhumane persecution, aggravated by my arrest, and all this because I decided to not to keep quiet about the excesses of this dictatorship."
Prieto Llorente has continued to report from prison. Two articles with his byline appeared today on the Miami news Web site Cubanet.. One details the punishment inflicted on prison guards at El Guayabo after a September 2008 prison break. The other describes the "slave-like" work that authorities impose on prisoners.
The reporter's sister, Clara Lourdes Prieto Llorente tried to contact El Guayabo Prison authorities today, but was unable to get through, said Laura Pollán, a human rights activist and the wife of imprisoned independent journalist Héctor Maseda Gutiérrez.
Manfred Nowak, the U.N. special rapporteur on torture and other cruel, inhumane or degrading treatment or punishment, said last week that he was planning to visit Cuba this year following an invitation by the Castro administration, the Spanish news agency EFE reported. Nowak, who did not specify a date for his visit, said he would visit prisoners and their families without the presence of Cuban authorities.
Prieto Llorente, a freelancer, was arrested in March 2003 during a massive crackdown on Cuban dissidents and independent journalists. Most of the 29 reporters and editors jailed almost six years ago remain behind bars. Cuba is one of the world's leading jailer of journalists, second only to China.