February 2009
News from the Committee to Protect Journalists
With a call to Obama, CPJ releases Attacks on the Press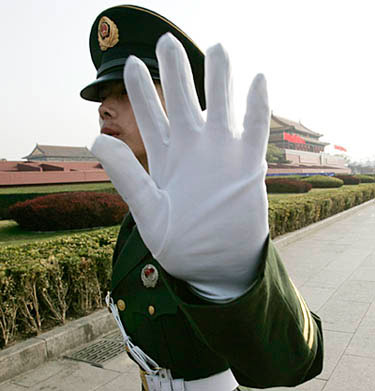 At a U.N. press conference, CPJ Chairman Paul Steiger called on President Obama to reaffirm U.S. leadership on press freedom by ending open-ended detentions of journalists in Iraq. "America has always stood as a beacon for freedom of the press, and I think it would be a great time for a new administration coming in to reaffirm those principles," Steiger said. Joining Steiger for the launch of Attacks on the Press were Executive Director Joel Simon and author Carl Bernstein, who wrote the preface to this year's edition. Bernstein discusses his essay in this video.

The U.N. press conference was among a series of events-in New York, Cairo, Tijuana, Madrid, and San Diego-that drew attention to CPJ's new worldwide survey. In Tijuana, Senior Americas Program Coordinator Carlos Lauría and board member Clarence Page held a press conference in the newsroom of Zeta, a muckraking weekly that has been repeatedly threatened by local crime gangs. "It is not simply the violence and the numbers of attacks," Lauría said, "but the self-censorship and fear that all journalists face when they don't have even minimal security to carry out their work."
CPJ awardee Jiang Weiping reunited with family
CPJ honored Chinese journalist Jiang Weipeng in 2001 for his courageous reporting on corruption in Dalian province. But Jiang could not attend the ceremony because he was in jail, sentenced to eight years in reprisal for his crusading reporting. On February 5, Jiang arrived in Toronto, where he was reunited with his wife and daughter.

In an extensive interview, Jiang told CPJ's Madeline Earp about his ordeal and described how our 2001 International Press Freedom Award bolstered him in prison and led to improved conditions. CPJ worked closely with Jiang's wife, Stella, to win his release from prison three years ago, and to see him reunited with his family this month. We have invited Jiang and his family to attend our dinner in November so he can finally receive his award.
Charges dropped against Nicaraguan editor
The Nicaraguan attorney general's office dropped an investigation into editor Carlos Chamorro after an international outcry, including appeals from CPJ. We wrote to President Daniel Ortega in October, calling on his government to call off the politicized investigation, and Joel Simon followed up with a piece in the January 15 edition of The New York Review of Books.

"Thanks to this wave of national and international solidarity, this case set a precedent: When citizens are right and express the truth, especially when they are driven to resist and not to be intimidated, sooner or later the government will have to take a step back," Chamorro wrote in the newsweekly Confidencial.
CPJ responds to attacks in Sri Lanka
After an explosion destroyed the master control room of Sirasa TV and assailants killed newspaper editor Lasantha Wickramatunga in a single deadly week in January, Asia Program Coordinator Bob Dietz flew to Colombo to investigate the attacks and press the government to bring the perpetrators to justice.

CPJ has been tracking the increase in violence in Sri Lanka since the government backed away from a peace process with the Liberation Tigers of Tamil Eelam. January's attacks went beyond the level of violence that has historically undermined Sri Lankan journalists.

CPJ was quoted in a New York Times editorial about the death of Lasantha Wickramatunga. Just before his murder, Lasantha wrote a poignant editorial in which he predicted his own death. See Bob Dietz's blog piece on Lasantha here.
CPJ joins the Twitter revolution
With the tools of journalism changing, we've begun Twittering our alerts, letters, statements, and blogs. You can join our nearly 700 followers at twitter.com/pressfreedom.
Journopalooza
More than 500 journalists, politicians, and diplomats packed Washington's National Press Club for "Journopalooza," a battle of the bands to benefit CPJ's Journalist Assistance program and the press club. CPJ board member Dave Marash introduced bands featuring musicians from The Washington Post, the Los Angeles Times, McClatchy Newspapers, the Washington Independent, and Bloomberg News. The bands played blues, pop, and indie rock for an audience that was just as eclectic as the music. Outgoing CIA Director Michael Hayden was in the crowd.

The event raised more than $6,000 to help the increasing number of journalists in search of safe havens-from places like Pakistan, Afghanistan, Sri Lanka, and Russia. With CPJ's help, they may be able rock to the music next year.
Best of the blog
Some highlights…
Meredith Greene Megaw
Communications Director
The Committee to Protect Journalists
330 Seventh Avenue
New York, NY 10001
212-465-1004 x105