New York, January 20, 2009–A Venezuelan journalist who recently reported on drug trafficking and corruption was shot to death on Friday in Valencia, a city in the north-central province of Carabobo, according to news reports and interviews.
The Committee to Protect Journalists calls on Venezuelan authorities to conduct an immediate and thorough investigation and to bring all those responsible to justice.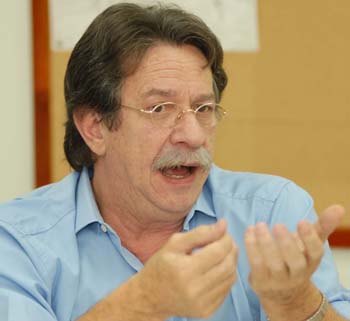 A motorcycle-riding assailant shot Orel Sambrano, left, director of the local political weekly ABC de la Semana and Radio América, around 3 p.m. on Friday outside a video store in Valencia, 95 miles (150 kilometers) west of Caracas, according to press reports and CPJ interviews. (Some initial reports said two assailants were involved.) Sambrano, who was on his way home from Radio América, died from a gunshot wound to the back of his head, according to local press reports.
Sambrano, 62, a practicing lawyer, had worked as a political columnist for the local daily Notitarde for 18 years and was known locally for his investigations and commentary on local politics, Alejandrina Uribe, Notitarde's editor, told CPJ. Sambrano left Notitarde a year ago but had announced his return as a columnist that morning, Uribe said.
Local journalists told CPJ they believed Sambrano was killed in retaliation for his reporting. The journalist had not mentioned any threats, his colleagues said.
Local and national authorities are investigating Sambrano's murder, according to reports in the Venezuelan media. They recovered at least one 9mm shell casing from the scene. Investigators told local reporters that they had not established a motive, but said they believed the gunman was a hired assassin, the national daily El Universal reported.
"We are saddened by Orel Sambrano's death and offer our deepest condolences to his family, colleagues and friends," said Senior Americas Program Coordinator Carlos Lauría. "Venezuelan authorities must conduct a prompt and thorough investigation of his murder and immediately bring all those responsible to justice."
Deadly violence against the press is rare in Venezuela, according to CPJ research. Four journalists have been killed in direct relation to their work since 1992, the most recent in 2006.
Just three days prior to the slaying, however, assailants shot and wounded Rafael Finol, political editor of the daily El Regional in Acarigua, 205 miles (335 kilometers) southwest of Caracas, as he was leaving the paper's offices with several colleagues. Finol, who was recovering, told CPJ that he believed the attack was retaliation for El Regional's pro-government political reporting.