January 2009
News from the Committee to Protect Journalists
A call on Obama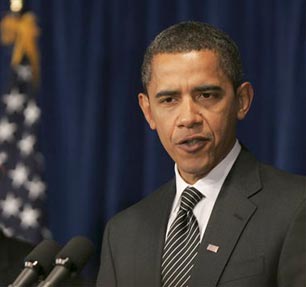 In a January 12 letter to the incoming president, CPJ urged President-elect Barack Obama to reaffirm U.S. leadership on press freedom. Chairman Paul Steiger called on the new administration to end the U.S. military's practice of open-ended detention of journalists, and to investigate fully the deaths of journalists from U.S. forces' fire. "Journalists in many countries who risk their lives and liberty upholding the values of free expression look to the United States for support," Steiger wrote.
CPJ responds to Gaza
CPJ has worked on several fronts to open the Gaza Strip to international journalists, to question Israeli airstrikes on media facilities, and to try to ensure that reporters can work safely. In a letter to Israeli Minister of Defense Ehud Barak, CPJ Executive Director Joel Simon called for restrictions on access to be lifted. "Israel prides itself on being an open society with a free and vibrant press," Simon wrote. "Yet by preventing journalists from covering its military offensive in Gaza, Israel is betraying its own democratic principles. It is also denying the world access to fact-based reporting."

We also demanded an explanation for the targeting of Palestinian media facilities. In a statement, the IDF said it "does not target civilian locations, unless they are used for terrorist activity" but did not elaborate. In the CPJ Blog, Simon outlined our concerns: "Media facilities are civilian structures and cannot be targeted merely for broadcasting propaganda which, after all, is a highly subjective term. The onus remains on the IDF to explain the basis for what seems to be its attacks on media facilities in Gaza."
CPJ petitions Castro to free journalists
On the eve of the 50th anniversary of the Cuban Revolution, CPJ sent a letter to President Raúl Castro calling for the immediate release of all 21 journalists currently imprisoned in Cuba. "The imprisonment of journalists in reprisal for their independent reporting violates international law, including Article 19 of the Universal Declaration of Human Rights and the International Covenant on Civil and Political Rights, signed by your government this year, which provides "the right to freedom of expression," wrote CPJ's Joel Simon.

At the same time, we sent the Cuban Mission to the United Nations more than 500 signed appeals calling for the release of Hector Maseda Gutíerrez, a 2008 CPJ International Press Freedom Awardee. The appeals, many signed by prominent U.S. and international journalists, were gathered during our November 25 award ceremony. Maseda Gutiérrez was detained along with 28 other independent journalists in a 2003 crackdown on journalists and political dissidents. We outlined their plight in a special report titled "Cuba's Long Black Spring."
CPJ reports on journalists slain in 2008
Forty-one journalists were killed because of their work in 2008, a significant drop from 2007. Iraq remained the deadliest country for journalists with 11 deaths. Murder remained the leading cause of work-related deaths–28 of the 41 killed were targeted for their work. Seven journalists died in combat situations; six deaths came in dangerous assignments such as riots or street protests. A list of journalists killed for their work in 2008, with reporting on each case, is available online.

CPJ staffers pay tribute to journalists who lost their lives in 2008 in a video on cpj.org.
CPJ marks 60th anniversary of the Universal Declaration of Human Rights
CPJ spoke out for press freedom as a basic human right as the world marked the anniversary of the Universal Declaration. In a blog post for London's Guardian, CPJ Deputy Director Robert Mahoney condemned government efforts to censor online journalists.

"As the Internet rescues writers and ordinary citizens living under autocratic regimes from the informational Dark Ages so governments are harnessing the very same technology to turn against them," Mahoney wrote. "China's electronic barrier against 'undesirable' content–the Great Firewall–is already legendary. Less well known is that countries like Vietnam, diligent students of their northern neighbor, have erected their own formidable fences to free expression. Governments from Morocco to Malaysia have also invested in the technology to control the new medium. If crafty journalists and bloggers maneuver their message around online censorship walls, the authorities resort to a less sophisticated tactic: imprisonment."
CPJ in the media
Joel Simon appeared on CNN's "International Correspondents." The show, hosted by Fionnuala Sweeney, focused on our census of imprisoned journalists, which found that online journalists now make up the largest professional group in prison.

On the CBS Evening News Simon discussed the how the conflict in Gaza has affected the journalists covering the story.

In a piece for the New York Review of Books, "Dictatorial Designs in Nicaragua," Simon challenges President Daniel Ortega's attacks on Carlos Fernando Chamorro, director of the nonprofit Center for Media Investigations. The government raided the group's office in what CPJ called a politicized investigation. Chamorro, also a television anchor, had charged the Ortega government with widespread corruption
On the CPJ Blog this month
Remembering Deyda Hydara, four years after his murder Madi Ceesay, a 2006 recipient of CPJ's International Press Freedom Award, and the founder of Media Agenda, a journalism training organization, writes a moving first person account of the death of his friend and colleague Gambian journalist Deyda Hydara, on the fourth anniversary of his death. The case remains unsolved.

Norbert Zongo's murder: No justice after 10 years In 1998, Norbert Zongo, a prominent journalist and editor of the weekly L'Indépendant, was found in his torched, bullet-ridden car outside Burkina Faso's capital, Ouagadougou. Mohamed Keita, CPJ's Africa research associate, deplores the continuing impunity that Zongo's killers enjoy.
CPJ people
Meredith Greene Megaw has joined CPJ as director of communications. Megaw is a former television producer who spent 15 years working at various shows and units across ABC News. She produced long-form programming on international and political topics, including profiles of Vice President Dick Cheney, former Israeli Prime Minister Ariel Sharon, and former Pakistani President Pervez Musharaff. Her work garnered several awards, including an Emmy. Meredith worked as interim communications director between August and December, coordinating the program for the CPJ dinner while overseeing our communications strategy and responding to daily requests.
Meredith Greene Megaw
Communications Director
The Committee to Protect Journalists
330 Seventh Avenue
New York, NY 10001
212-465-1004 x105