Washington, November 20, 2008–On the day Ugandan editor Andrew Mwenda was introduced here as a recipient of a CPJ International Press Freedom Award, police back home summoned the journalist for questioning over his magazine's hard-hitting political coverage.
"Right now we don't know why they are looking for us, but you can be sure that regardless of what they do, we will continue to be journalists, even if they torture us or even kill us. That you can trust," Mwenda, founder of The Independent, told reporters at a press conference here today.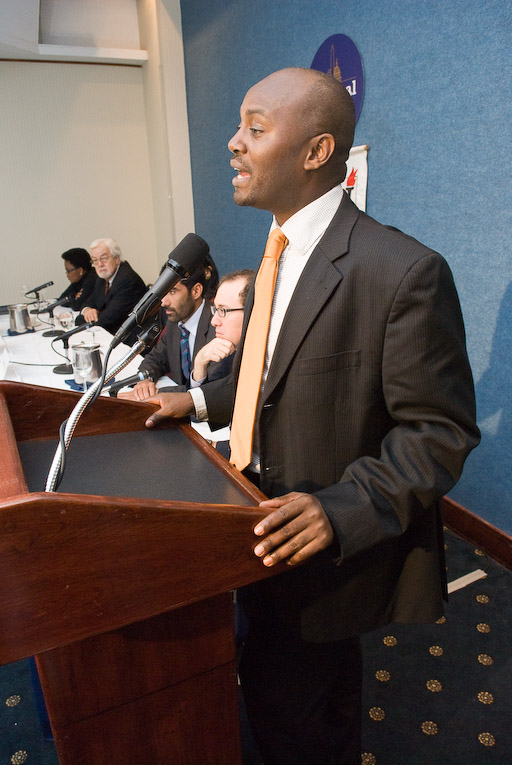 Mwenda was introduced at the National Press Club along with other recipients of CPJ's International Press Freedom Awards, including Danish Karokhel and Farida Nekzad, founders of Afghanistan's Pajhwok Afghan News. Representatives of two other awardees–photographer Bilal Hussein of The Associated Press and imprisoned Cuban journalist Héctor Maseda Gutiérrez–appeared on their behalf. Zimbabwean media lawyer Beatrice Mtetwa, recipient of CPJ's Burton Benjamin Award for lifetime achievement, spoke as well.
Mwenda's assistant, John Rubanjwa, told CPJ from the Ugandan capital, Kampala, that plainclothes agents with the Criminal Investigation Department delivered a summons for Mwenda at 3 p.m. local time today. Charles Bichachi, a top Independent editor who also received a summons, said agents told the magazine they wanted to interrogate editors about coverage deemed "prejudicial" to state security. The agents did not elaborate, he said.
Such summonses are a common tactic in Uganda, where the government regularly deploys security agents to harass, detain, and interrogate critical journalists. Mwenda's magazine has been critical of President Yoweri Museveni's administration, particularly its spending practices and handling of a rebel conflict in the country's north. In all, Mwenda is fighting 21 criminal charges, including sedition and "promoting sectarianism." He has challenged the constitutionality of the charges in court.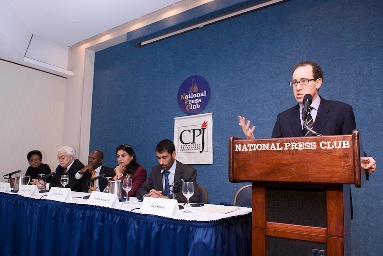 "The journalists and media activists assembled along with me here have risked their lives and liberty to bring us the news." CPJ Executive Director Joel Simon told reporters at today's press conference. Noting the escalating risk to the press in Afghanistan, Simon called the work of Karokhel and Nekzad's news agency more vital than ever. Mtetwa, he noted, has successfully defended numerous journalists facing criminal charges filed by Zimbabwe's repressive regime.
Simon also called for the release of Maseda Gutiérrez, one of 21 independent journalists now imprisoned in Cuba. Only China jails more journalists than the island nation.
Hussein is now free, but he spent two years imprisoned by the U.S. military in Iraq. He was never charged with a crime and the military never produced any evidence to support his detention. Steve Hurst, AP's Baghad bureau chief during Hussein's detention, described visiting the photographer in prison. Hussein was astonished at the situation. "There are real criminals in here with me," the photographer told Hurst, "and they have been released. Why am I still here?" The military has yet to explain.
The awards ceremony will be held at the Waldorf-Astoria in New York on Tuesday, November 25. See details and biographical sketches of the awardees.