August 2008
News from the Committee to Protect Journalists
CPJ Blog launches with a focus on the Olympics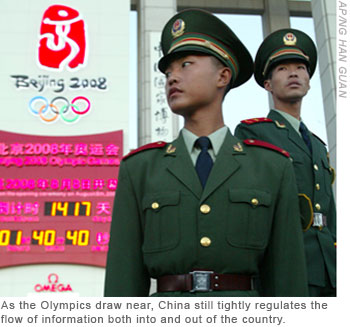 Today on the new CPJ Blog, CPJ Asia Program Coordinator Bob Dietz writes from Hong Kong about how news has made its way out of China on Tibet protests in unusual ways and without the recent heavy-handed reaction of police–based on new rules for dealing with journalists issued last week.
Bob is taking the lead on our blog with his coverage of the situation for journalists in China during the Olympics, but we're also covering everything from a Cuban journalist on a hunger strike to Colombian soldiers who disguised themselves as journalists in a recent hostage rescue.
The blog will give readers insight into the work that CPJ does daily to protect the rights of journalists–through personal stories of journalists who have been jailed, censored, or attacked; news roundups on press freedom issues; and reports from staffers and journalists in the field. Check back regularly or subscribe to the RSS feed to stay up-to-date with our latest postings.
CPJ meets with IOC head in Switzerland to discuss China concerns
Also on the Olympics, last month Paul Steiger and Joel Simon flew to Lausanne to meet with IOC President Jacques Rogge in a July 15 final meeting before the start of the Games this month. They told Rogge of their concerns that the press environment would not be nearly as free and open as China originally pledged when awarded the Games. International journalists in Beijing continue to report incidents of harassment and say their sources are often intimidated, while Chinese journalists operate under a broad array of restrictions.
China remains the world's leading jailer of journalists, with 26 journalists in prison.
In Tunisia, Slim Boukhdhir released
CPJ welcomed the July 21 release of Tunisian Internet journalist Slim Boukhdhir, who was held for eight months after writing articles critical of President Zine El Abidine Ben Ali and the first family. CPJ conducted a fact-finding mission to Tunisia earlier this month as part of a campaign seeking Boukhdhir's release and highlighting the country's alarming press freedom record. The CPJ delegation included board member Cheryl Gould, who wrote about the case for MSNBC.
Boukhdhir was serving a one-year term on what were widely seen as fabricated charges of insulting a public employee, violating "public decency," and refusing to hand over identification to police. Boukhdir was jailed in November 2007 and convicted the following month. Joel Campagna wrote an editorial about Tunisia, "A voice for moderation, perhaps, but oppressive and intolerant nonetheless" for The St.-Paul Pioneer Press, and CPJ's Washington representative Frank Smyth's posted on The Hill Blog a few days later.
In Morocco and The Gambia, CPJ has also been focusing on imprisoned cases. Mustafa Hormatallah, a Moroccan editor at the independent weekly Al-Watan Al An, walked free after eight months in jail, convicted of possessing classified documents obtained through "criminal means." "You have no idea how your solidarity and action helped make my detention bearable and strengthened my commitment to independent journalism," Hormatallah told CPJ last week. Advocacy by CPJ prompted Sen. Richard Durbin (D-Ill) to call for the release of Gambian journalist Chief Ebrima Manneh, a reporter for the state-controlled Daily Observer. Gambian authorities have refused to provide information on the journalist's whereabouts since he was arrested in July 2006.
Staff announcements
Joel Campagna will be leaving CPJ after 11 years. In his time here, Joel has become one the world's leading experts on Middle East media. He will be joining OSI as the head of a new grant-making program that will fund independent media in the region. He will relocate to New York for one year, before moving to Amman, Jordan, with his family. He will be with CPJ until the beginning of September. Joel will leave CPJ with an enormous list of accomplishments, and with the gratitude and respect of journalists throughout the Middle East.
"Joel Campagna has been the heart and soul of CPJ for over a decade. By fighting for the rights of journalists and challenging the region's autocratic governments he has already made an immense contribution to the development of independent media in the Middle East. His new position will allow him to further expand these efforts. We wish him the very best," said Joel Simon.
Denise Abatemarco is also moving on from CPJ. Denise has been accepted into a graduate program at Brooklyn College and will be pursuing a master's degree in mental health counseling. She will stay on part-time as Development assistant through the fall. We wish her success in her new career.
CPJ would like to welcome two new staff members who have joined us in July. Mariwan Hama-Saeed has been hired as the new Middle East and North Africa researcher. Mariwan comes to CPJ with a wealth of experience, having worked as a journalist in various countries throughout the Middle East.
Meredith Greene Megaw has been hired to take on the role of Communications director on an interim basis through the IPFA dinner in November. Meredith previously worked as a producer at various shows across ABC News, including Nightline.