February 2008
News from the Committee to Protect Journalists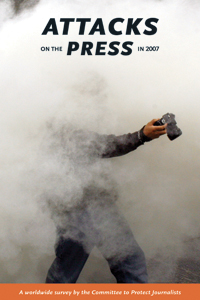 Attacks on the Press to be released in five cities worldwide
CPJ staff and board members will travel around the world to present our annual report, Attacks on the Press, in four international cities on Monday, February 4.
The American Academy in Berlin will host a panel discussion featuring CPJ Board Member Norm Pearlstine, Board Chair Paul Steiger, CPJ Executive Director Joel Simon, CPJ Europe and Central Asia Program Coordinator Nina Ognianova, and Novaya Gazeta Editor-in-Chief and 2007 IPFA award winner Dmitry Muratov. CPJ representatives will then travel to London for a discussion on Wednesday at the Frontline Club.
Al-Jazeera English's Washington Anchor and CPJ Board Member David Marash will participate in a press event at the United Nations in New York with Deputy Director Rob Mahoney and Senior Americas Program Coordinator Carlos Lauria.
Senior Middle East Program Coordinator Joel Campagna will present his regional findings at a press conference in Cairo.
In Hong Kong, Asia Program Coordinator Bob Dietz will meet the press at the Foreign Correspondents Club.
This year's edition features a preface about the fight against impunity by CPJ Board Member and CNN's Chief International Correspondent Christiane Amanpour.
Attacks on the Press will be released simultaneously on our Web site, www.cpj.org.
CPJ advocates for bloggers in Middle East
CPJ reacted swiftly when Fouad Ahmed al-Farhan, a leading Saudi blogger, was jailed in early December 2007. Al-Farhan, who publishes the popular political blog Alfarhan, has been detained by Saudi officials since December 10, 2007, without charge, allegedly for comments posted on his blog.
In letters sent to Saudi leader King Abdullah bin Abdulaziz Al-Saud and President Bush, CPJ called for al-Farhan's immediate release and urged President Bush to advocate for the blogger during his visit to the region in January.
Joel Campagna was recently a featured blogger on the popular Huffington Post Web site, where he discussed the increasing oppression bloggers face in the Mideast. Campagna also testified before the House Middle East and South Asia Subcommittee on January 22 and highlighted press abuses by nations allied with the United States.
CPJ confronts Pakistan after Times reporter deported
Nicholas Schmidle, a journalist whose report "Next-Gen Taliban" appeared in The New York Times Magazine on January 6, found himself expelled from Pakistan five days later, despite having a proper visa and documentation. Schmidle's article contained interviews with anti-government Taliban leaders.
Schmidle told CPJ from London that he was "extremely disappointed at being asked to leave Pakistan," and that his visa had contained "no restrictions whatsoever." In a statement, CPJ's Simon said that "at a time of growing crisis in Pakistan, perhaps the worst tactic for promoting calm is for the government to silence the press," he said.
Following the protest, the government restored Schmidle's visa privileges.
British PM Brown urged to push for press freedom in China
When British Prime Minister Gordon Brown visited China last month, CPJ sent him a letter highlighting the continued repression of press freedom in China. As the nation gears up for the 2008 Summer Olympics in Beijing, the government has still not met the goals it set for a free and open press climate.
The letter drew widespread international coverage. CPJ urged Brown to use his meetings with high-level officials to emphasize the importance of press freedom, and to push for improved conditions for domestic and foreign journalists working in China.
Anthony Lewis at CPJ
Pulitzer Prize-winning writer and CPJ board member Anthony Lewis led a lively lunchtime discussion at our offices on January 16. He spoke at length about his new book, Freedom for the Thought That We Hate: A Biography of the First Amendment.
A diverse group of journalists, students, and members of the media held a dialogue about the changing nature of free speech and the impact the United States' First Amendment has had on the international community.
Listen to Anthony Lewis discuss Freedom for the Thought that We Hate.
HBO and CPJ co-host Baghdad Hospital premiere
A standing-room-only crowd of journalists, activists, and students watched the premiere of the HBO Documentary Films production, Baghdad Hospital: Inside the Red Zone, late last month. The film is the work of Iraqi doctor-turned-journalist Omer Salih Mahdi, who spent six weeks filming inside a Red Zone hospital and in the field with ambulance drivers.
Following the screening there was dynamic panel discussion moderated by Joel Simon, featuring the filmmaker and New Yorker staff writer George Packer, who worked with Mahdi during his time in Baghdad. Fielding a range of questions from the audience, both Packer and Mahdi talked about the continuing deterioration of conditions in Iraq that made it nearly impossible to work as a journalist, or as a doctor.
The film airs on HBO throughout February and March.
Staff news
We are pleased to announce that Borja Bergareche has joined CPJ as our Europe consultant. Bergareche is based in Spain and will keep the European media informed about critical press freedom issues as well as act as CPJ's local contact for breaking stories. He will also communicate with European governmental bodies to promote our advocacy and support the Global Campaign against Impunity. Bergareche currently works as a reporter on the foreign news desk of the Madrid daily ABC, covering the Middle East, Iran, Pakistan, nuclear proliferation, European relations, and Latin America.