Washington, February 27, 2008—Conditions for domestic journalists remain poor in China despite the government's promises to improve the press freedom environment before the Beijing Olympics, the Committee to Protect Journalists told the Congressional-Executive Commission on China today.
Bob Dietz, CPJ Asia Program Coordinator, told the commission in Washington that China is holding at least 25 reporters behind bars because of their work, many on vague security-related charges such as revealing state secrets or inciting subversion of state power.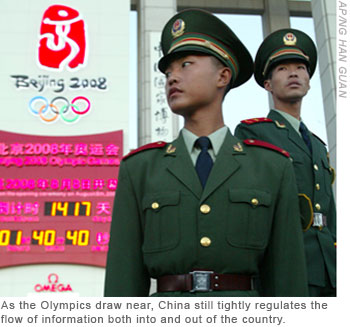 "Media conditions in China do not reflect the sort of change we were assured we would see after Beijing was awarded the 2008 Olympic Games," Dietz said. "The International Olympic Committee and the government assured skeptics that the influx of Olympic ideals would wean the government from its obsession with regulating the flow of information. That has not happened."
China has maintained its status as the world's leading jailer of journalists since 1999, Dietz told the commission. More than half of the journalists behind bars are there for Internet-related activities.
He said that despite having the world's greatest Internet censorship apparatus, the Chinese authorities seem unable to fully stem the flow of frank discussion that takes place via the Internet.
A stream of directives from Chinese propaganda authorities limits coverage of issues from the most sensitive of political topics to the most mundane of news stories. Dietz also pointed out that many Chinese journalists, finding themselves in a competitive media atmosphere, vigorously pursue news stories and try to evade censors' directives.

Dietz told the hearing that CPJ continues to call on governments and the Games' corporate sponsors to press the International Olympic Committee to insist that the Chinese government fully meet its pledge of greater press freedom for the 2008 Games.
Along with a full transcript of the testimony, available here, CPJ also submitted a copy of its report, Falling Short, to the Commission. The report, launched in Beijing in August 2007, outlines the Chinese government's failure to live up to its Olympic promises.