January 2008
News from the Committee to Protect Journalists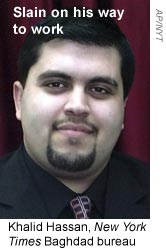 Journalist deaths hit decade high
Since the initial release of our killed list on December 18, one additional journalist death has been confirmed. Iraqi journalist Muhannad Ghanem Ahmad al-Obaidi was murdered in September, raising the 2007 total number of journalists killed to 65.
That number is the highest number in over a decade. Our 2007 report found that the majority of the deaths were in Iraq and Somalia. In Iraq, more than half the deaths were Iraqi nationals. Somalia, long a dangerous country for journalists, has seen a dramatic spike in deaths this year, from one to seven.
One in six journalists in prison held without charge.
In early December, CPJ released its list of imprisoned journalists for 2007. The report found that of the 127 journalists imprisoned this year, one in six were held without charge. The total number is down from 134 in 2006, due mainly to the release of 15 journalists in Ethiopia, which came about in large part because of CPJ's advocacy.
China continues to be the world's leading jailer of journalists, with 29 still in prison as the nation gears up for the 2008 summer Olympics in Beijing. China makes use of a purposely vague "anti-state" charge to hold 22 of the 29 prisoners, with 57 percent of all those imprisoned in 2007 held under such charges, CPJ found.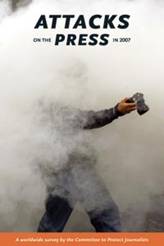 CPJ releases Attacks on the Press next month
Attacks on the Press, our annual worldwide survey, will have an international release in various cities on Monday, February 4.
This year's edition includes analyses of emerging trends as reported by our program coordinators and researchers. Bob Dietz explores the myriad of press freedom issues confronting China as it gears up for the 2008 summer Olympics in Beijing. Carlos Lauría examines how government censors television in Venezuela. Joel Campagna investigates a creeping trend in the Middle East, where governments quietly manipulate press laws. Nina Ognianova explores how the Kremlin's tactics to undermine press freedom are influencing other parts of the region. And Tom Rhodes explores the downturn of press freedom in many new African democracies.
The book features a preface from CNN's Christiane Amanpour as well as an introduction from Joel Simon.
Attacks on the Press in 2007 will be released simultaneously on our Web site, www.cpj.org. Copies of the book will be available through Brookings Institution, www.brookings.edu.
Anne Garrels at CPJ
As part of CPJ's ongoing discussions on Iraq, NPR's Anne Garrels led a riveting lunch talk on December 13 at CPJ's offices. For the past five years, she has reported from Iraq–before the U.S. invasion, during the bombing, and on a regular basis since then.
Anne spoke candidly and in gripping detail about the difficulties facing many Iraqi journalists. She described how instability in the country has created a culture of mistrust, forcing many journalists to work under false names and minimize travel outside of their homes. With the ever-shifting danger in the country, security has become as much of a focus in her bureau as reporting, she said. Anne also talked about her personal experiences on reporting from inside the chaos, and took questions from an engaged group that filled CPJ's conference room.
Listen to Anne Garrels speak about her experiences reporting in Iraq.
Restrictive press bill vetoed in Kurdistan
CPJ's Robert Mahoney and Joel Campagna spent two weeks in Iraqi Kurdistan in late October, examining the press climate and meeting with members of the regional government. Officials listened to CPJ's concerns about a potentially restrictive press bill that includes criminal defamation and the possibility of excessive fines for newspapers deemed to "cause harm."
In an encouraging sign of a commitment to press freedom, the president of the Kurdistan Regional Government, Masoud Barzani, said he would not approve the press bill, which had been passed by Kurdistan's parliament on December 11. The bill was even harsher than the draft reviewed by the CPJ mission to the region.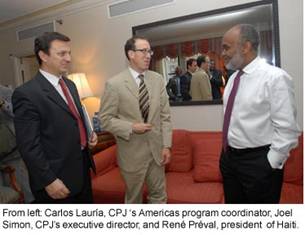 Convictions in Haitian journalist death
In September, Joel Simon and Carlos Lauria met with Haiti's president, René Préval, to discuss press freedom in the Caribbean nation. Préval was receptive to CPJ's concerns, and pledged to give his full support to an independent investigative committee looking into the deaths of journalists.
President Préval has kept his word and there have finally been developments in the 2001 murder case of Haitian journalist Brignol Lindor. Lindor was the news director for local station Radio Echo 2000 and hosted the political talk show "Dialogue." In the early morning hours of December 3, 2001, Lindor was brutally murdered by a mob.
A formerly "missing" court file was located by the investigative committee in September, leading to two life sentences in Lindor's case.
Staff updates
CPJ is delighted to welcome back Kavita Menon, who will rejoin CPJ as a senior program officer beginning in January. Her primary responsibility will be writing proposals and reports for Development.
Denise Abatemarco, CPJ's Development assistant, has been promoted to assistant director of Development and will add the tracking and management of grants to her current portfolio of duties.
Alexandra Hay has left CPJ to pursue a new career abroad. CPJ's wishes her all the best in her future endeavors and extends warm thanks for a year of devoted service as the associated director of Development.
CPJ thanks supporters
CPJ is tremendously appreciative for all the generous support it received during 2007. Your financial support allowed CPJ to monitor and respond to threats against the press across the globe. Thank you for your continued collaboration.
Upcoming
Anthony Lewis at CPJ
Pulitzer Prize-winning writer and CPJ board member Anthony Lewis will join us at our offices on Wednesday, January 16, to discuss his new book, Freedom for the Thought That We Hate: A Biography of the First Amendment.
For more information or to RSVP, please contact Sebastian Dettman at (212) 300-9002 or [email protected]. Space is limited
CPJ and HBO to host film premiere
On January 23, CPJ and HBO Documentary Films will host the New York premiere of the international Emmy award-winning BAGHDAD HOSPITAL: INSIDE THE RED ZONE, a harrowing look inside the ER in one of Baghdad's most dangerous neighborhoods. Filmed anonymously by an Iraqi doctor, who put himself and his colleagues at great risk to create this harrowing special, the film chronicles the chaos inside the ER and the streets of Baghdad. A discussion after the screening will feature the filmmaker, Dr. Omer Salih Mahdi, and New Yorker staff writer George Packer, and will be moderated by CPJ's Joel Simon.
For more information, please contact Denise Abatemarco at (212) 300-9013.