New York, October 10, 2007—An Al-Jazeera cameraman held at the U.S. Naval Base at Guantanamo Bay for five years without charge is in deteriorating health as a result of a hunger strike, his lawyer told the Committee to Protect Journalists. The lawyer also revealed that the U.S. military, in a recent hearing, cited cameraman Sami al-Haj's professional training for the Qatar-based satellite news channel as evidence of involvement in terrorism.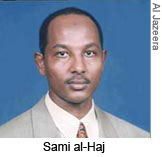 Clive Stafford Smith, an attorney for Al-Jazeera cameraman Sami al-Haj, returned last week from a 10-day visit to Guantanamo Bay where he met with his client. "I cannot talk about what my client said yet, as that has to be unclassified," Stafford Smith told CPJ in an e-mail. "However, I can say that I saw Sami al-Haj twice and am extremely concerned about his welfare."
Stafford Smith said al-Haj began a hunger strike nine months ago to protest his continued incarceration without charge and to object to prison conditions at Guantanamo Bay. The U.S. military has fed the cameraman intravenously and through a tube inserted through his nose. "He is looking very thin and frail. He has obviously lost a significant amount of weight since I last saw him," Stafford Smith said. "My impression is that his mental state has further deteriorated."
In a separate development, Stafford Smith told CPJ that U.S. military officials have cited the cameraman's Al-Jazeera training as evidence of terrorist involvement. The assertion emerged during al-Haj's September 11 Administrative Review Board hearing, a parole type proceeding known as an ARB. Stafford Smith, who was not allowed to attend the hearing, based his comments on his review of the ARB transcript.
Stafford Smith said the transcript cites previously made allegations that he considers inconsequential. He said he was shocked to find a new assertion in this year's transcript—that al-Haj's training with the network is itself considered reason to hold the journalist. Pentagon spokesman Bryan Whitman did not respond to CPJ's request for comment. In earlier, declassified documents, the U.S. military made less explicit links between al-Haj's detention and his work—noting, for example, that he had interviewed Taliban leaders.
"It's a travesty of justice that this open-ended detention has exceeded five years," said CPJ Executive Director Joel Simon. "The U.S. military has made a slew of accusations against Sami al-Haj but has yet to charge him with a crime. This latest accusation brought to light by his lawyer is extremely alarming. After five years, al-Haj should be given due process or be freed at once."
Al-Haj, the only known journalist imprisoned at Guantanamo Bay, was detained by Pakistani authorities at the Pakistan-Afghan border on December 15, 2001, while covering the U.S.-led fight to oust the Taliban. He was transferred to U.S. custody and then transported to Guantanamo in June 2002, where he has remained without charge. U.S. military authorities have made vague accusations that al-Haj worked as a financial courier for armed groups and assisted al-Qaeda and extremist figures, but have never charged him with a crime. Stafford Smith has called the accusations baseless and contends that U.S. interrogators focused almost exclusively on obtaining intelligence on Al-Jazeera and its staff. At one point, he said, military officials told al-Haj that he would be released if he agreed to inform U.S. intelligence authorities about the satellite network's activities. Al-Haj refused, he said.
Over the last several months the lawyer has described al-Haj as being in declining physical and mental health. Last month, U.S. and British psychiatrists reviewed Stafford Smith's notes of conversations with al-Haj and described the journalist as being in a deteriorated mental state, severely depressed, and "passively suicidal."
For background on the al-Haj case, read CPJ's 2006 special report, "The Enemy?" In a letter made public last week, BBC correspondent Alan Johnston said he supported al-Haj's plea for due process and a trial. When Johnston was held captive in Gaza for four months earlier this year, al-Haj issued a statement through his lawyer calling for the BBC correspondent's release.