September 2007
News from the Committee to Protect Journalists
In RUSSIA:
CPJ welcomes conviction in journalist's murder
CPJ welcomes a groundbreaking development for press freedom in Russia. A court in Tatarstan convicted five members of a criminal gang in the 2000 murder of Novaya Gazeta journalist Igor Domnikov. CPJ noted the importance of the August 28 convictions, but urged authorities to vigorously prosecute the masterminds of the crime. It was the first time a court had convicted a suspect in a journalist's murder since Vladimir Putin took office in 2000. During that time, CPJ research shows, at least 14 journalists have been slain in retaliation for their reporting.
In Politkovskaya case, a breakthrough and confusion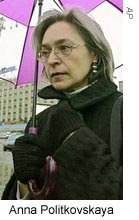 After months of international pressure, including extensive efforts by CPJ, Russian authorities claimed a breakthrough in the October 2006 assassination of another Novaya Gazeta reporter, investigative journalist Anna Politkovskaya. On August 27, Prosecutor General Yuri Chaika announced the arrests of 10 suspects. CPJ welcomed news of the arrests, but called for a transparent investigation and for authorities to publicly disclose evidence of the suspects' involvement. CPJ's caution was warranted–within days, the case began to fray. Three suspects were freed because of an apparent lack of evidence, and the widely respected chief investigator was effectively demoted.
A CPJ delegation traveled to Moscow in January to urge authorities to do more to track down Politkovskaya's killers. In a meeting with Foreign Ministry officials, a spokesman told CPJ that Russia's prosecutor general had opened a criminal investigation into several police officials in Chechnya in connection with the murder.
Writer freed from mental hospital after CPJ letter
CPJ helped stir international outrage with its August 14 protest letter to Russian President Vladimir Putin about a particularly brutal press freedom violation. Opposition activist and writer Larisa Arap was held against her will in a psychiatric hospital for 46 days, apparently in retaliation for her critical reporting on the harsh medical practices used at the facility.
In ETHIOPIA:
CPJ welcomes release of four journalists
CPJ welcomes the release of four imprisoned Ethiopian journalists, but remains concerned for their well-being. The four were pardoned of antistate charges related to their coverage of the country's fraud-marred 2005 elections and post-election violence. Editors Wosonseged Gebrekidan of Addis Zena, Dawit Kebede of Hadar, Goshu Moges of Lisane Hezeb and freelance columnist Tadios Tantu were among 18 journalists jailed for their coverage. CPJ extensively lobbied the Ethiopian government for their release–undertaking a March 2006 mission to the capital, Addis Ababa; meeting with Prime Minister Meles Zenawi; and visiting many of the journalists in prison. In a special report, Poison, Politics and the Press, CPJ concluded that the charges were groundless
While most of the jailed journalists have been acquitted, pardoned, or otherwise freed, at least two remain imprisoned for their reporting. Several of those who were released have fled to Kenya in fear of further government persecution. CPJ is concerned by the government's attempt to reinstate genocide and other charges against nine journalists acquitted in April.
This year, the Committee to Protect Journalists named Ethiopia the world's worst backslider on press freedom .
In the UNITED STATES:
Slain editor Chauncey Bailey recalled at service
On August 30, CPJ Washington representative Frank Smyth attended a memorial dinner for Chauncey Bailey, editor of the Oakland Post. Addressing the crowd in Berkeley, Calif., Smyth noted that Bailey was much like the majority of journalists killed worldwide–a local reporter targeted in retaliation for his reporting on crime and corruption. Bailey, who covered the African-American community, was gunned down on August 2. Attendees included the Bailey's colleagues from the Oakland Post, journalists, and editors from Bay Area newspapers and radio outlets, and professors from the University of California at Berkeley Graduate School of Journalism.
CPJ helps place Iranian online journalist at CUNY
Roozbeh Mirebrahimi, a widely read Iranian blogger, will become the first International Journalist in Residence at City University of New York's Graduate School of Journalism. The program, created jointly by CPJ and CUNY, allows for persecuted journalists to study in the United States.
During a 2004 crackdown on Iranian bloggers and Internet reporters, Mirebrahimi was arrested and detained along with three others. International pressure helped lead to their release after two months in prison, and Mirebrahimi fled with his wife in 2006. He is being tried in absentia in Tehran. Roozbeh now lives in New York and still runs his blog.

Development News:
Ford Foundation contributes $1.5 million to CPJ endowment
We're pleased to announce that the Ford Foundation, a steadfast supporter, has made a major contribution of $1.5 million towards CPJ's endowment.
The New Yorker Festival to benefit CPJ
On October 5, the eighth annual New Yorker Festival will feature a panel discussion that will benefit CPJ. "The New Yorker Town Hall Meeting: Iraq Revisited" will address recent developments in the war in Iraq and the options for the future. The discussion features Ali Abdul-Amir Allawi, former minister of finance in the Iraqi transitional government; Jon Lee Andersona New Yorker staff writer; David Kilcullen, senior counter-insurgency adviser to U.S. Gen. David Petraeus; and Phebe Marr, a historian specializing in the Middle East. It will be moderated by New Yorker staff writer George Packer. Tickets will go on sale through Ticketmaster at noon on September 15.