New York, August 24, 2007—The Committee to Protect Journalists is alarmed by reports that an Al-Jazeera cameraman held at the U.S. naval base in Guantanamo Bay, Cuba, for more than five years without charge is in failing health.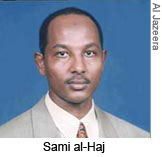 Sami al-Haj, an assistant cameraman for Al-Jazeera who has been on hunger strike since January, has lost nearly 40 pounds, suffers from intestinal, and other ailments, and his mental health is deteriorating, according to recently declassified information provided by his lawyer Clive Stafford Smith.
The information, released by Stafford Smith on August 21, is based on the lawyer's notes from an early July meeting with al-Haj at Guantanamo Bay, his last visit with the cameraman.
"Sami is 40 pounds lighter than he was before his hunger strike began," Stafford Smith said in an e-mail. "His mental health is deteriorating. He is unable to speak English as well as he used to and he is losing his ability to concentrate. Sami is getting increasingly worried, even paranoid, about his suffering." Stafford Smith said that al-Haj complained that prison guards were punishing him "all the time" and said that he might be the next to die in the camp.
Al-Haj began his hunger strike on January 7 to protest five years of detention without trial and prison conditions at Guantanamo Bay, Cuba. He has demanded that he be set free or given a fair trial in a U.S. civilian court. Since January 29, he has been force-fed through a tube inserted through his nose connecting to his stomach, according to his lawyer. Al-Haj, one of nearly 70 men on hunger strike at Guantanamo Bay, according to Stafford Smith, has gone from 205 lbs. to 168 lbs.
"We remain alarmed about the health of Sami al-Haj and the fact that more than five years on he has not been charged with a crime," said CPJ Executive Director Joel Simon. "We are calling for the U.S. government to charge al-Haj or release him. This open-ended detention must end immediately."
"Sami continues with one simple demand—that he be given a fair trial, or freedom," said Stafford Smith. "But as much as he is determined to secure justice, the U.S. military is intent on denying it. When I saw him recently, he was deteriorating both physically and mentally, and he was talking about dying. Ensuring his liberation has never been more urgent."
Pentagon spokesman commander Jeffrey D. Gordon rejected al-Haj's claims. "Sami al-Haj's allegations…were false," Gordon told CPJ. "He is currently more than a 100 percent of his ideal body weight and he continually makes false allegations, so this should not be a surprise that he is saying such things."
Al-Haj, the only known journalist imprisoned at Guantanamo Bay, was detained by Pakistani authorities at the Pakistan-Afghan border on December 15, 2001, while covering the U.S.-led fight to oust the Taliban. He was transferred to U.S. custody and then transported to Guantanamo Bay in June 2002, where he has remained without charge. U.S. military authorities have accused him of working as a financial courier for armed groups and assisting al-Qaeda and extremist figures. Stafford Smith has called the accusations baseless and contends that U.S. interrogators have focused almost exclusively on obtaining intelligence on Al-Jazeera and its staff. At one point, he said, military officials told al-Haj that he would be released if he agreed to inform U.S. intelligence authorities about the satellite network's activities. Al-Haj refused, he said.
For more background on Sami al-Haj, read CPJ's special report, "The Enemy?"
At least one other journalist remains in U.S. custody. Bilal Hussein, an Iraqi photojournalist for The Associated Press, has been held in a U.S. prison in Iraq for over a year without charge. Hussein, a Pulitzer Prize winner, was taken by U.S. forces on April 12 in the western city of Ramadi, the capital of Iraq's Anbar province, and held in a U.S. prison in Iraq for "imperative reasons of security."