Washington, D.C., May 8, 2007—A panel sponsored by the Committee to Protect Journalists and the National Press Club's Freedom of the Press Committee today expressed concern about the ongoing detentions without charge of two journalists by the U.S. military in Iraq and at the U.S. Naval Base in Guantanamo Bay, Cuba.
Associated Press photographer Bilal Hussein and Al-Jazeera camera operator Sami al-Haj, both imprisoned by the U.S. military without due process, were the focus of discussion. Hussein has been held for 13 months, and al-Haj for more than five years.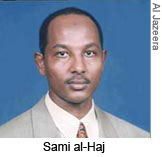 The panel was moderated by Clarence Page, a columnist for the Chicago Tribune and a member of the CPJ board. Panelists included Kathleen Carroll, executive editor and senior vice president of the AP, and Zachary Katznelson, an attorney for al-Haj. Joel Campagna, CPJ's senior program coordinator for the Middle East and North Africa, and National Press Club President Jerry Zremski, Washington bureau chief for The Buffalo News, also took part. The office of the U.S. secretary of defense declined an invitation to participate.
Hussein, a member of an AP photography team that won a 2005 Pulitzer Prize, was taken by U.S. forces on April 12, 2006, in the western city of Ramadi, capital of Anbar province. He has been held in a U.S. prison in Iraq for "imperative reasons of security," according to military officials. To date, Hussein has not been tried or charged with a crime, and the military has disclosed no evidence of criminal wrongdoing.
Carroll noted today that Hussein has not even been questioned since May 2006. In the absence of any evidence, Carroll said, AP believes that Hussein is being held because of his photographic work in Anbar for the AP.
Hussein's detention is not an isolated incident in Iraq. Over the last four years, dozens of journalists, mostly Iraqis, have been detained by U.S. troops, according to CPJ research. While most have been released after short periods, in at least eight cases documented by CPJ Iraqi journalists have been held by U.S. forces for weeks or months without charge or conviction. In all previous detentions journalists were released without charges ever being substantiated.
Al-Haj, the only known journalist imprisoned at Guantanamo Bay, was detained by Pakistani authorities at the Pakistan-Afghan border on December 15, 2001, while covering the U.S.-led fight to oust the Taliban. He was transferred to U.S. custody and then transported to Guantanamo Bay in June 2002, where he has remained without charge. U.S. military authorities have accused him of working as a financial courier for armed groups and assisting al-Qaeda and extremist figures.
Katznelson said that any evidence used to hold al-Haj is classified, so it remains a secret to the journalist, his lawyers, and the public. He noted that U.S. interrogators have focused almost exclusively on obtaining intelligence on Al-Jazeera and its staff. Military officials told al-Haj that he would be released if he agreed to inform U.S. intelligence authorities about the satellite network's activities, Katznelson said, but al-Haj refused. Al-Haj, who has been force-fed while on a hunger strike to protest his incarceration, appeared weak during a recent visit, the lawyer said.
CPJ outlined the case and called for due process in a special report in October 2006, "The Enemy?"

Both Carroll and Katznelson described a pattern in which U.S. military officials have made shifting and unsupported allegations. Katznelson recalled that U.S. interrogators initially accused al-Haj of filming messages for Osama Bin Laden—an allegation that never again surfaced. Among the other unfounded accusations, he said, were assertions that al-Haj had tried to bring Stinger missiles out of Afghanistan and that he ran Jihadist Web sites.
Carroll said the AP had found no evidence of wrongdoing by Hussein, describing a process in which AP would debunk one charge only to have "a new one come along." She said the military at one point alleged that Hussein was involved in the Iraqi insurgent kidnapping of two Arab journalists in Ramadi—a claim AP said it discredited after conducting its own investigation. The two abducted journalists had not implicated Hussein in the kidnapping, she said; they had instead praised him for his assistance when they were released. She said U.S. and Iraqi military officials made no apparent effort to interview the abducted journalists.
"It is unacceptable that these journalists continue to be held without charge or trial," said Campagna. "The message here is that the U.S. military can remove a journalist from the line of duty, hold him for months or years without charge, and not feel compelled to say why. The potential implications for the work of journalists are alarming. If either of these individuals has committed a crime, they should be charged and given a fair trial. If the United States has no intention of doing so, these two journalists should be released at once."
Campagna added: "The United States damages its credibility as a leader of democracy every day these journalists are behind bars without due process."
Although detained in different countries at different times, the al-Haj and Hussein cases have similarities. The U.S. military has made unsubstantiated assertions that both men are threats to U.S. security. Despite months or years in prison, neither has been charged with a crime or tried for an offense. Evidence against them is kept secret. U.S. military authorities have shown an interest in both men's journalistic work. Hussein, for example, has been accused of having advance knowledge of attacks on U.S. troops—an accusation made often by the U.S. military against journalists yet unsubstantiated to this day.