February 2007
News from the Committee to Protect Journalists
---
Attacks on the Press released in four cities worldwide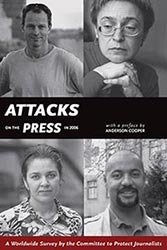 Highlighting the global impact of its advocacy, CPJ released its annual survey of press freedom conditions, Attacks on the Press, in four cities worldwide this week. On Monday, Al-Jazeera English anchor and CPJ board member Dave Marash introduced Joel Simon at the National Press Club in Washington, where program staff presented the year's findings. On the same day in Cairo, Middle East Program Consultant Kamel Labidi led a press conference at the Egyptian Press Syndicate.
In Paris on Tuesday, Deputy Director Rob Mahoney joined two International Press Freedom Award winners, Aboubakr Jamai of Morocco and Alexis Sinduije of Burundi, at a press conference targeting press freedom trends in Africa. Later that day, Asia Program Coordinator Bob Dietz hosted an event in Hong Kong at the Foreign Correspondents Club.
It was the earliest launch of the book to date. CPJ's annual report is the world's most comprehensive resource on press freedom issues, analyzing media conditions in 120 nations and documenting hundreds of press freedom abuses worldwide. CNN's Anderson Cooper wrote the preface to this year's edition.
Copies of Attacks on the Press may be ordered through Brookings Institution Press.
An online version is available on CPJ's Web site.
After CPJ's Russia mission, Putin vows to protect journalists
CPJ's mission to Moscow in January was front page news throughout Russia. In the aftermath of the visit, President Vladimir Putin pledged in his annual press conference to protect journalists. Putin's February 1 comments marked his first acknowledgement of the deteriorating press freedom climate during his administration. "Truly, both in our country and others, the persecution of journalists is one of the most serious problems, and we recognize the degree of our responsibility for that," Putin said.

The Russian president's admission came one week after Foreign Ministry officials told a CPJ delegation that the prosecutor general is investigating several police officials in Chechnya who may have killed Novaya Gazeta reporter Anna Politkovskaya because of her reporting on torture allegations. The news, announced at CPJ's press conference, marked a breakthrough in the case and was widely covered in the local and international media. Government officials fueled the coverage by initially disputing CPJ's account. They later backtracked, and CPJ has stood by its initial report.
CPJ Chairman Paul Steiger, managing editor of The Wall Street Journal, and board member Norman Pearlstine, former editor-in-chief of Time Inc., joined Simon and Europe Program Coordinator Nina Ognianova for meetings with journalists and government officials.
The CPJ delegation also met with Ella Pamfilova, chairwoman of the government human rights council, and delivered more than 400 advocacy cards calling on Putin to bring an end to an alarming string of unsolved journalist slayings. Among those signing the cards were New York Times Executive Editor Bill Keller, New Yorker Editor David Remnick, CBS News correspondent Lara Logan, and press freedom activist Myroslava Gongadze, widow of the slain Ukrainian reporter Georgy Gongadze. Pamfilova promised to deliver the postcards directly to Putin.
At least 13 journalists, including Politkovskaya, have been killed in contract-style murders in Russia since Putin came to power in 2000. None of the cases have been solved. Read more about the CPJ mission to Moscow.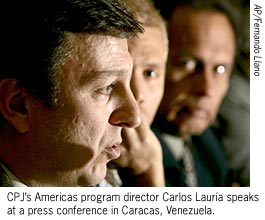 In Venezuela, CPJ criticizes lack of transparency in broadcast case
At a well-attended press conference in Caracas, Americas Program Coordinator Carlos Lauría and CPJ board member Victor Navasky expressed alarm about the lack of transparency in President Hugo Chávez Frias' decision not to renew the broadcast concession of the privately owned television station RCTV. The January 12 press conference concluded a week-long joint mission with Instituto Prensa y Sociedad (IPYS).
As Chávez was inaugurated for his third term, the CPJ delegation examined Venezuela's highly polarized press conditions in meetings with officials and journalists. Administration officials said they pride themselves on promoting free expression in the context of what they call "socialism of the 21st century." But journalists told the delegation that the government punishes critical news outlets by, among other things, blocking access to government events and officials, withholding public advertising, filing criminal defamation complaints, and imposing content restrictions.
Lauría is working on a special report for release in April. CPJ detailed the RCTV case in its January 12 news alert.

Development news
CPJ is very grateful to the Herb Block Foundation for a $25,000 grant.