CPJ Update
November 16, 2005
News from the Committee to Protect Journalists

---
CPJ awardee held hostage by lawsuits in Brazil
Unable to receive International Press Freedom Award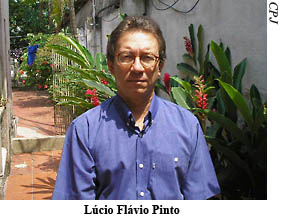 Two of the four people being honored this year by the Committee to Protect Journalists with an International Press Freedom Award will be missing from our presentation ceremony in New York on November 22. Prison walls prevent Internet journalist Shi Tao from leaving China. There are no bars to keep Lúcio Flávio Pinto in Brazil. Instead, a tangle of punitive lawsuits has made the investigative reporter a virtual hostage in his Amazonian hometown.

Pinto, editor of the semimonthly newspaper Jornal Pessoal, has taken on big business interests by reporting on corruption and deforestation in the Amazon state of Pará. He has been forced to mount his own legal defense because lawyers will not take his case, fearing retribution by the powerful people who have brought criminal and civil defamation suits against him. The journalist must appear in court at least three times a week and is constantly delving into law books to research his defense. "That's currently my main job, the one I devote most of my time to," Pinto says.

CPJ has condemned the harassment and is calling on the Brazilian government to repeal an infamous 1967 press law, which has been used repeatedly to silence critical reporting by Pinto and other journalists throughout Brazil.

Pinto's daughter, Juliana da Chuna Pinto, will accept the award on her father's behalf.

To read CPJ's report from Brazil on the Pinto case: http://www.cpj.org/news/2005/Brazil15nov05na.html

For background and an interview with Pinto:
http://www.cpj.org/awards05/pinto.html.

When guests gather at the Waldorf-Astoria next week, we will also honor Galima Bukharbaeva, former Uzbekistan correspondent for the Institute for War & Peace Reporting; and Beatrice Mtetwa, a media lawyer and defender of press freedom in Zimbabwe. The late Peter Jennings will be honored with the Burton Benjamin Memorial Award.

For more information on the awardees:
http://www.cpj.org/awards05/awards_release_05.html.


Journalists aided by CPJ to attend dinner

Each year, CPJ attracts hundreds of press freedom supporters to its annual benefit. This year, we are pleased that Daniel Coronell and Thomas Kamilindi, two journalists who were helped by CPJ's Journalist Assistance Program, will be in attendance.

Coronell, an investigative reporter in Colombia, joined the Knight Fellows at Stanford University this fall, after receiving death threats against himself, his wife, and his young daughter because of his reporting.

Kamilindi, a radio journalist in Rwanda, joined the Knight Wallace Fellows at the University of Michigan to escape threats and harassment in retaliation for outspoken reporting on human rights violations.

Through its Senior Research Fellows Program CPJ places journalists whose lives are in danger in journalism fellowships in the United States. In addition to Stanford and Michigan, the Nieman Program at Harvard University and the Humphrey Program at the University of Maryland participate in the program.

Still time to buy tickets

If you have not yet bought tickets to the International Press Freedom Awards dinner at the Waldorf-Astoria, don't wait any longer. Call Bill Butler or Maria D'Amato at 212-573-6933. The dinner is at the Waldorf-Astoria in New York City on Tuesday, November 22.

Fall issue of Dangerous Assignments out now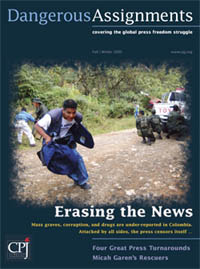 The latest issue of CPJ's magazine Dangerous Assignments is now available. Elisabeth Witchel's report on Zimbabwe's exiled press was picked up by several online publications in Africa and was reprinted in the independent Zimbabwe newspaper, The Standard. This fall issue also looks at self-censorship in Colombia; the unsolved murders of a dozen journalists in Russia; and the struggles of the emerging independent media in post-tsunami Aceh, Indonesia.
To read Witchel's report click here.
To read an online version of Dangerous Assignments:
http://www.cpj.org/Briefings/2005/DA_fall05/DA_fall-05_FINAL.pdf
To order a subscription: [email protected]

CPJ travels to Colombia to issue report on self-censorship
A special report by CPJ's Bogotá-based stringer Chip Mitchell, detailing the effects of rampant self-censorship in Colombia's news media, was released at a conference in Bogotá on October 29. "This report makes clear that the problem is extremely widespread," said CPJ Deputy Director Joel Simon, who moderated the panel discussion. He called on the Colombian government to investigate abuses and safeguard press freedom.
CPJ's report, "Untold Stories" cited threats to journalists from all of the country's armed groups, including leftist guerrillas and right-wing paramilitaries, and charged that the administration of President Álvaro Uribe had contributed to a climate of fear by accusing journalists of having ties to the guerrillas, by failing to investigate abuses, and by pressuring media outlets not to air controversial stories.
To read the report:
http://www.cpj.org/Briefings/2005/DA_fall05/colombia/colombia_DA_fall_05.html

CPJ campaigns against Ethiopian media crackdown

As political unrest grew in Ethiopia this month, the government unleashed a crackdown on journalists, imprisoning at least eight and threatening to charge some with treason, an offense that carries the death penalty.
CPJ's Africa Program continues to research and report on the situation and has issued several news alerts which were picked up by international media. A letter of protest was sent to Ethiopian Prime Minister Meles Zenawi on November 8. In addition, CPJ's Africa Program has met several requests for broadcast interviews on the crackdown. Africa Program researcher Alexis Arieff conducted a telephone interview with Ethiopian Information Minister Berhan Hailu, questioning him about the government's detention of journalists and its "wanted" list of prominent media figures.
To read our most recent news alert:
http://www.cpj.org/news/2005/Ethiopia14nov05na.html