CPJ Update
November 15, 2004
News from the Committee to Protect Journalists
---
Pentagon releases report on journalists' deaths
Eighteen months after CPJ filed a Freedom of Information Act request for a report about the U.S. Army's investigation into the April 8, 2003, shelling of the Palestine Hotel in Baghdad, the Pentagon finally released an edited version of its report about the incident. The Pentagon concluded that coalition forces bore "no fault or negligence" in the shelling, which killed two journalists and wounded two others.

While CPJ welcomes the release of the U.S. Central Command inquiry, we question its main findings and have called on the Pentagon to follow through on earlier military recommendations intended to increase journalist security. CPJ's own investigation into the incident, released in May 2003, concluded that the attack, though not deliberate, was avoidable–a position we maintain.

To read more about the Pentagon's report, and CPJ's reaction to it, please click here:
http://www.cpj.org/news/2004/Iraq05nov04na.html

To download the Pentagon report as a PDF document, please click here:
http://www.cpj.org/Briefings/2003/palestine_hotel/Army_rep_Pal_hotel.pdf (Please note: this is a large document, so please allow for a long download time.)

To read CPJ's investigation, "Permission to fire," please click here:
http://www.cpj.org/Briefings/2003/palestine_hotel/palestine_hotel.html

Tijuana special report
Feuds between rival drug cartels over lucrative drug smuggling routes claimed the life of a journalist in Mexico's border city of Tijuana. Francisco Ortiz Franco, co-editor of the muckraking weekly Zeta, was gunned down in June in broad daylight in a quiet neighborhood. Although federal prosecutors have publicly linked the murder to a brutal drug cartel that Ortiz Franco had written about, no arrests have been made, and journalists fear for their safety.
CPJ Deputy Director Joel Simon and Americas Program Coordinator Carlos Lauría visited the troubled city for a week in September, interviewing police investigators, prosecutors, analysts, and journalists. Their special report, "Free-Fire Zone," investigates the murder and the powerful drug cartels of Tijuana.
To read the English version, please click here:
http://www.cpj.org/Briefings/2004/tijuana/tijuana.html

For the Spanish version, please click here: http://www.cpj.org/Briefings/2004/tijuana_sp/tijuana_sp.html

Washington, D.C. press conference scheduled for awardees
CPJ and the Freedom of Press Committee of the National Press Club will host a press conference introducing the winners of CPJ's 2004 International Press Freedom Awards at the National Press Club in Washington, D.C., on Thursday, November 18 from 12:30 p.m. to 1:30 p.m. in the Peter Zenger Room. For more details, please contact CPJ Communications Coordinator Wacuka Mungai at (212) 465-1004 ext. 105.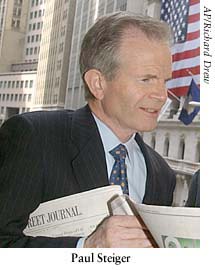 CPJ board elects vice chair
On October 21, CPJ's board of directors elected Paul Steiger, managing editor of The Wall Street Journal and a vice president of Dow Jones & Company, to serve as board vice chairman. Under Steiger's leadership, The Wall Street Journal's reporters and editors have won 13 Pulitzer Prizes. He is the recipient of numerous awards for his journalism, and in 1999, he was elected to the Pulitzer Prize Board. He joined CPJ's board in 2003.
To read more, please click here:
http://www.cpj.org/news/2004/CPJ26oct04na.html


New Dangerous Assignments now available
The fall/winter issue of Dangerous Assignments, CPJ's biannual magazine, is now available online. To download it as a PDF, please click here:
http://www.cpj.org/Briefings/2004/DA_fall04/DA_fall04.pdf
To order hard copies of the magazine, contact CPJ at (212) 465-1004.