IN THE WAKE of September 11, 2001, journalists around the world faced a press freedom crisis that was truly global in scope.
In the first days and weeks after the terrorist attacks on New York City and Washington, D.C., governments across the globe–in China, Benin, the Palestinian Authority Territories, and the United States–took actions to curb reporting on the assault and its aftermath. While the world focused on Manhattan and Kabul, leaders in Eritrea and Zimbabwe seized the moment, launching crackdowns to silence all independent media.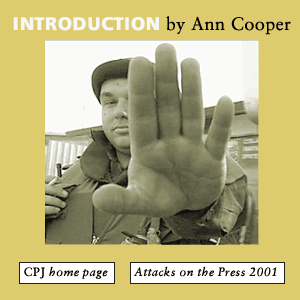 And in Afghanistan itself, where hundreds of journalists deployed to cover the "war on terrorism," reporters and photographers were assaulted, censored, and even murdered. In 16 deadly November days, eight journalists were killed in Afghanistan, pushing the year's worldwide total to 37.
The 2001 death toll was up dramatically from the 24 who died a year earlier, and it was the worst since the first half of the 1990s, when dozens of journalists died during conflicts in Algeria, Bosnia, and Tajikistan. The toll is just one of the year's grim statistics and stories:
After four years of steady decline, the number of journalists in prison jumped nearly 50 percent–from 81 in 2000 to 118 in 2001. More than two-thirds of that alarming increase came from little-noticed crackdowns in Eritrea and Nepal, carried out after September 11. China, already the world's leading jailer of journalists, arrested eight more, ending the year with a total of 35 journalists behind bars.
Invoking "national security," governments around the world sought new restrictions on the press or unleashed new intimidation. As justification, some cited U.S. actions after September 11, such as the State Department's attempt to censor a Voice of America interview with Taliban leader Mullah Omar. "If the most celebrated democracies in the world won't allow their national interests to be tampered with, we will not allow it, too," said Zimbabwean information minister Jonathan Moyo. Then he denounced as "terrorists" the country's independent journalists, who have endured violence, jail, and torture at the hands of the state.
The United States and Israel ignited press freedom controversies by bombing two media outlets. Al-Jazeera's bureau in Kabul was bombed in November by the United States as part of its attack on Taliban territories. In a letter to Al-Jazeera, the Pentagon offered no apology to the Arabic-language satellite television station and called its building "a known al-Qaeda facility," referring to the Taliban-supported terrorist group blamed for the September 11 attacks. Israel was equally unrepentant for its December bombing and bulldozing of Voice of Palestine's radio facilities in the West Bank. In January 2002, Israel struck again, this time destroying the Palestinian Broadcasting Corporation building in Ramallah. International humanitarian law prohibits deliberate attacks on civilian facilities unless they are used for military purposes.
These incidents represent major setbacks for press freedom, but is the damage permanent? Some international experts suggest that the war on terrorism, which is likely to continue for years, signals an end to the era of human rights–the post-Cold War period when building democracy and respect for fundamental liberties became central foreign policy objectives.
A decade ago, the collapse of authoritarian communist regimes brought an explosion of press freedom around the world. More recently, the gains have slowed, with key indicators of press abuse tending to rise and fall each year in concert with conflicts around the world. In 1994, for example, wars in the Balkans, Rwanda, and Algeria sent the death toll soaring to 72, while 173 journalists languished in jail–74 of them in a single country, Turkey, which harshly suppressed reporting on Kurdish separatists. As the conflict in Turkey has abated, the number of journalists in jail has declined, though 13 remained there at the end of 2001, a record surpassed only by China and Nepal. Burma, another perennial offender, held 12 journalists at year's end.
The conflict in Afghanistan and the larger war on terrorism have already taken a toll on press freedom, but it seems premature to draw conclusions about a long-term impact. In the two decades since CPJ's 1981 founding, press freedom has become a worldwide movement, supported not just by international organizations such as CPJ but also by dozens of grassroots journalists' groups around the world. The press freedom gains achieved by all of them form a crucial bulwark against more general human rights violations.
Despite the conflict in Afghanistan, there were important gains in 2001, even in countries with some of the worst press freedom histories. Yugoslavia's independent journalists, scrappy survivors of Slobodan Milosevic's ruthless dictatorship, breathed easier, if not completely freely, for the first time in a decade. In 2001, Syrians finally read independent newspapers–the first published outside of state control in nearly 40 years. And formal censorship was lifted in Sri Lanka, although other pressures remain.
Some of the year's other positive developments affirmed our conviction that documenting and publicizing press freedom violations can force recalcitrant countries to take action. CPJ's Africa program conducted intensive advocacy on Ethiopia prior to a fact-finding mission in September, with the result that seven journalists were released from prison; at year's end, only one journalist remained in an Ethiopian jail. Meanwhile, two CPJ International Press Freedom awardees, in prison when their awards were announced in 1999 and 2000, were each released in 2001, before serving out their full sentences. Jesús Joel Díaz Hernández, the 1999 awardee from Cuba, was freed after serving half of his four-year sentence, while 2000 awardee Mashallah Shamsolvaezin was spared a year of his 30-month sentence when Iran freed him in September.
These releases are powerful evidence that even the most hard-line opponents of press freedom are not immune to international pressure. (Cuba and Iran were both on CPJ's 2001 Ten Worst Enemies of the Press list.) By documenting and publicizing abuses against journalists around the world, CPJ tries to ensure that those who would suppress critical reporting will only attract greater scrutiny.
This strategy applies both to governments and nonstate actors who violate press freedom, such as the guerrillas in Colombia and the kidnappers who took Wall Street Journal reporter Daniel Pearl in January 2002. As this book went to press in late February, CPJ learned that Pearl had been killed. This cruel and pointless murder served no purpose, political or otherwise. Pearl's killers gained nothing, not even publicity for their views.
An important question, though, is whether the international spotlight will continue to shine as brightly on press freedom violations in the post-September 11 world. Will Western governments–many of which have frequently denounced press freedom abuses since the Cold War era ended–now be more reluctant to speak up?
The war on terrorism, for example, gives Uzbekistan a new strategic importance because of its border with Afghanistan. Will that make democracies turn a blind eye to Uzbekistan's undemocratic regime of prior censorship and its dubious distinction as the region's leading jailer of journalists?
Does Russia's enthusiasm for the new war mean the West will forgive President Vladimir Putin's wily tactics for wresting control of private broadcasting, and his military's fierce intimidation of journalists who dare report on the army's human rights abuses in Chechnya?
And in exchange for China's support of the war, will the international community be silent about its imprisonment of journalists such as 2001 CPJ International Press Freedom awardee Jiang Weiping? Jiang exposed sensational abuses by a local official after the government encouraged reporters to help ferret out official corruption. But taking the government at its word earned him eight years in prison, while the powerful, corrupt official won a promotion.
Jailing journalists is a highly effective means of stifling dissent or unwelcome questions, so the international community must continue to make it costly for those countries that do imprison their journalists. But there are signs that the political cost has declined somewhat since the war on terror was declared; the crackdowns that left 11 in prison in Eritrea and 17 in Nepal, for example, were carried out swiftly and with little international outcry.
An American example in 2001 could embolden leaders in countries eager to suppress reporting. For the first time in CPJ's 20-year history, a U.S. journalist is included on the annual imprisoned list. Houston-based free-lancer Vanessa Leggett spent more than five months in jail for refusing to turn over her research to a grand jury. (Leggett was finally released on January 4, 2002).
In a letter sent to U.S. attorney general John Ashcroft in August, CPJ noted that, "By detaining Vanessa Leggett, the U.S. government is effectively reducing the stigma associated with the jailing of journalists. This sends exactly the wrong signal to authoritarian governments, who may now show even less restraint in using state power to restrict press freedom."
It is no exaggeration that the United States, with its First Amendment and its fiercely competitive media, is the world's press freedom beacon. While the government does attempt to influence the work of U.S. journalists, they are in a strong position to resist such pressure.
But in 2001, when the U.S. government complained about Al-Jazeera's coverage of the war on terror and urged American networks to censor tapes of al-Qaeda leader Osama bin Laden, other governments took careful note, and their journalists watched in alarm. While no U.S. journalists suffered reprisals from those actions, President Putin's spokesperson in Russia said that the stern talk from U.S. officials just might make a good model for new restrictions on Russia's media.
In response, one journalist lamented, "Here in Russia the authorities are always most eager to borrow from the worst elements of western experience."
---
Ann Cooper is the executive director of the Committee to Protect Journalists. Before joining CPJ in 1998, she was a foreign correspondent for National Public Radio for nine years, serving as bureau chief in Moscow and Johannesburg.