Sidebar: Press phobia
By Argwings Odera
Journalists with foreign media credentials are finding it increasingly difficult to gain accreditation for covering events involving President Uhuru Kenyatta.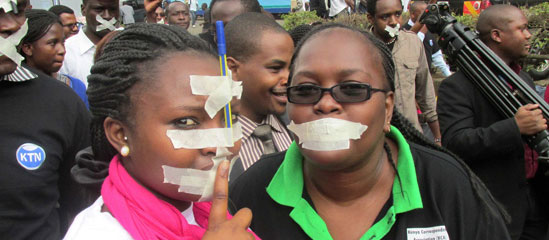 The Jubilee Alliance, which ascended to power in March 2013 under Kenyatta and his running mate, William Ruto, accused foreign journalists early on of expecting a gory repeat of the 2007 post-election violence that left more than 1,000 dead and landed Kenyatta and Ruto in the International Criminal Court (ICC) at The Hague. (Charges against Kenyatta were eventually dropped, but Ruto is still under investigation).
More in This Report
In Print
I experienced the administration's reticence firsthand in July 2014, while freelancing in Kisumu city. Armed with my press card, I was on my way to cover a seemingly innocuous event—the town's July trade fair, known as the Kisumu Agricultural Society of Kenya Show, in which lettuce and bovines are annually showcased.
Normally, officials beg and even pay journalists to cover such mundane annual events. But that was not the case with the 2014 Kisumu fair. There was speculation that the president would preside over the function's August opening, and show officials were nervous. The previous day's Standard newspaper bore the headline: "Kisumu Youth Urge Uhuru to Visit Kisumu During ASK Show." If the president graced the occasion, he faced the potential for a less-than-friendly reception in the opposition party stronghold, and judging from the security preparations, it appeared he would make a defiant entry into the lakeside town. Security bordered on the absurd, with mass stop-and-search operations throughout the poorer settlements.
When a show official scrutinized my credentials at length, I assumed he was searching for a reason to deny me a pass. Eventually, he said that I did not have a credential from the Kisumu County director of information, despite the fact that aside from journalism associations, only the Media Council of Kenya is legally mandated to accredit journalists.
The then-secretary general of the Kenya Union of Journalists, Jared Obuya, intervened, only to be told that the county director of information would veto any journalist wishing to cover the event – a claim that was undermined by the fact that there was no county director of information. In the end, the president was a no-show, anyway.
Argwings Odera is a freelance investigative journalist based in Nairobi.