How Kenya is failing to uphold its commitment to a free press
Kenya's constitution guarantees freedom of the media, but President Uhuru Kenyatta's Jubilee coalition has introduced several bills that undermine rather than enforce that principle. Journalists are vulnerable to legal harassment, threats, or attack, while news outlets are manipulated by advertisers or politician-owners. The deteriorating climate comes at a crucial time for Kenya's democracy, security, and economy. A CPJ special report by Sue Valentine and Tom Rhodes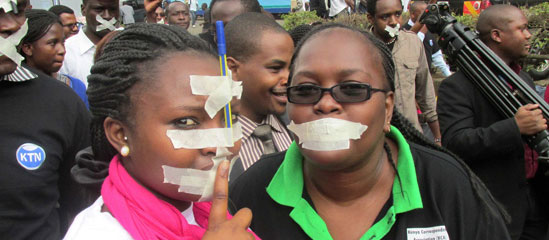 Published July 15, 2015
TABLE OF CONTENTS
The deteriorating climate for press freedom comes at a crucial time for continued development of Kenya's democracy and economy.
1. How media ownership and advertising curb critical reporting
Tight control over Kenyan news dates to colonial times. These days, a handful of big companies, some owned by politicians, dominate the media landscape. The government intrudes into newsgathering and dissemination, and advertisers hold sway over newsrooms. Technological advances have not brought greater access to objective or critical news.
2. Media contend with lawsuits, restrictive bills, legal limbo
The Kenyan government has introduced a series of laws that undermine self-regulation and allow for harsh fines and jail terms for journalists. Several of the laws have stalled or been tied up in court, but the threat of punitive action and the uncertainty surrounding the laws' implementation is enough to make journalists pause before airing or publishing sensitive stories.
By Argwings Odera
3. Critical journalists silenced by threats of arrest or violence
Kenyan journalists say they are routinely threatened, intimidated, and even attacked, and that government authorities are often the culprit. The harassment takes place in a climate of almost total impunity. Sensitive topics include national security, extrajudicial killings, the International Criminal Court, corruption, and land-grabbing.
Sidebar: Covering the International Criminal Court
By Robert Wanjala
Conclusion and Recommendations
CPJ's recommendations to Kenyan authorities.
Gallery: Cartoons by Godfrey "Gado" Mwampembwa
Corruption, the government, and press freedom are frequent subjects for Godfrey "Gado" Mwampembwa, a political cartoonist in East and Central Africa. Gado, whose work appears in The Nation and other Kenyan and international newspapers, shares a selection of cartoons on the 2013 Kenyan election and problems facing the country's press.
Sue Valentine is CPJ's Africa program coordinator. She worked as a journalist in print and radio in South Africa beginning in the late 1980s, including at The Star newspaper in Johannesburg and as the executive producer of a national daily current affairs radio show on the SABC, South Africa's public broadcaster. Tom Rhodes is CPJ's East Africa representative, based in Nairobi. Rhodes is a founder of southern Sudan's first independent newspaper. Follow them on Twitter at @CPJAfrica.
(Photo by CPJ/Tom Rhodes)