Nicaragua's president ignores the news media, except to harass his critics. By Carlos Lauría and Joel Simon
MANAGUA, Nicaragua
On the afternoon of April 2, a caravan of official limousines sped through the streets of Managua toward the international airport. For the few Nicaraguans who happened to observe the procession, it was the first indication that President Daniel Ortega was embarking on an overseas trip.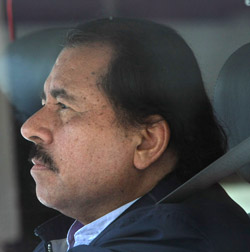 Where he was going and what he would be doing would be a mystery.
The next morning, the Managua-based daily La Prensa published a front-page story reporting that Ortega had left the country on an extended trip to Cuba and Venezuela in advance of the Summit of the Americas in Trinidad. La Prensa, the country's most influential paper, criticized Ortega for leaving precipitously and failing to notify the National Assembly as required by law. The only journalists to accompany the president were representatives of what Nicaraguans call the "official" media—outlets controlled by Ortega's family or his party, the Sandinista National Liberation Front (FSLN). The pro-Ortega newscasts played to form by repeatedly running a brief clip of Cuban President Raúl Castro greeting his Nicaraguan counterpart.
Two days later, Ortega unexpectedly returned to Nicaragua without explaining the motives, objectives, or itinerary for the trip.
The episode is indicative of a communications strategy fashioned by Ortega and his wife, Rosario Murillo, a virtual prime minister who serves as Nicaragua's communications czar. Driven by decades-old hostilities toward the media, the Nicaraguan leader and his wife have defined private news media as direct political challengers and have sought to marginalize their influence. The first rule is to ignore the private media, which Ortega and Murillo have variously described as CIA-funded and controlled by an elite class derisively termed the oligarchy. To ensure that the Ortega administration's views reach the public "uncontaminated" by critical media, government officials maintain contact with only a handful of pro-government outlets controlled by the president's family or party. Even with those outlets, Ortega does not grant interviews, relying instead on sympathetic journalists to publish his prepared statements and cover his public events.
Critical journalists, on the other hand, face legal harassment and attacks on their character; Ortega has described them as "children of Goebbels" and enemies of the Nicaraguan people. The official media has followed up with smear campaigns intended to discredit independent reporters. Journalists and other critics of the Sandinista government have found themselves defendants in at least four criminal defamation lawsuits. And the Ortega administration has manipulated government advertising and access to official sources in ways designed to punish critical media and reward allies.
Latin American leaders across the political spectrum, from Venezuela's Hugo Chávez to Colombia's Alvaro Uribe, have pursued similar media strategies. But the degree to which Ortega has sought to insulate himself from public scrutiny is unusual in the region. His policies have threatened institutions that serve as a check on power and have jeopardized foreign aid important to the country's economic well-being.
Revolution déjà vu
Ortega's mistrust of the media has its roots in the first Sandinista government, which he led from 1979 to 1990. "Ortega is living a revolution déjà vu: Thirty years after the FSLN victory the enemy is still the same," wrote Eduardo Marenco in an April report for the Media Observatory at the Center for Media Investigations (CINCO), a nonprofit group that promotes media research, democracy, and investigative journalism.
Ironically, the 63-year-old Ortega might never have come to power without the news media, particularly La Prensa, a harsh critic of the dictator Anastasio Somoza. The 1978 assassination of the daily's editor, Pedro Joaquín Chamorro, inspired the widespread public outrage that helped topple the Somoza regime and bring the Sandinistas to power.

The Ortega-led Sandinista government saw media—domestic and international—as central to its political project. After the revolution, Pedro Joaquín's son Carlos Fernando edited the Sandinista party newspaper Barricada. The Sandinista government revamped state-owned radio to emphasize a populist message. The FSLN courted the international press that flooded to Nicaragua, routinely making its leadership available for interviews with a wide range of foreign outlets.
But relations soured with Nicaraguan news outlets that had turned critical of the Sandinistas. Ortega and the Sandinista leadership came to see most domestic media as mouthpieces for the U.S.-backed Contra rebels, a collection of anticommunist groups operating out of Honduras and Costa Rica with financial support from the Reagan administration. The Sandinistas' anger was directed primarily at La Prensa. Sandinista officials claimed then—as many still do today—that the CIA wrote headlines and planted articles in La Prensa, accusations that are dismissed by the paper. Citing the Contra war as justification, the government shuttered La Prensa several times throughout the 1980s.
In 1990, in an effort to end the stalemate created by more than a decade of civil war, Ortega agreed to hold national elections. Confident of victory when he agreed to the vote, Ortega was stunned when Pedro Joaquín Chamorro's widow, Violeta, defeated him at the ballot box, a loss he blamed in part on the news media. His disdain for the press seemed to grow during the 16 years he spent planning a political comeback while Nicaragua was governed by pro-market, conservative (and often corruption-tainted) politicians.
Ortega's feud with the press intensified when he was caught up in a personal scandal that nearly ended his political career. In 1998, Ortega's adopted stepdaughter, Zoilamérica Narváez, publicly accused him of molestation and sexual harassment that began when she was 13 and lasted for years. The scandal sparked a vicious debate that analysts say deepened Ortega's tendencies toward secrecy.
The scandal might have felled a lesser politician, but Ortega was able to mobilize supporters by claiming he was the victim of a political conspiracy. He deftly cut a deal with rival Arnoldo Alemán, the notoriously corrupt leader of the center-right Liberal Constitutional Party (PLC). The Ortega-Alemán deal, known in Nicaragua as "El Pacto," allowed the Sandinistas and the PLC to dominate national politics while shielding both leaders from possible legal troubles. The deal with Alemán propelled the one-time leader back into office with 38 percent of the vote in the 2006 presidential vote.
Elections spark charges, conflict
But it was the November 2008 municipal elections, which were tainted by widespread allegations of government fraud and manipulation, that triggered a significant deterioration in press freedom conditions. Two opposition parties were disqualified before the vote; independent observers, local and foreign, were denied authorization to monitor the elections; and ballots were dumped and destroyed. Massive protests erupted after the Supreme Electoral Council, controlled by the Sandinistas, announced that the ruling FSLN party was leading in 105 of 146 mayoral races nationwide, including the hotly contested vote in the capital, Managua.
Ortega responded by lashing out at critics, particularly those in the media. "Some media have tried to plot against the election by promoting a campaign to instill fear," Ortega said at the time. As FSLN militants confronted angry demonstrators, they also turned on journalists covering the protests. On November 19, 2008, more than a dozen masked assailants armed with guns, sticks, and stones stormed the studios of the three main private radio stations in the city of Leon—Radio Darío, Radio Metro Estéreo, and Radio Caricias—and destroyed their equipment, the Nicaraguan Center for Human Rights said in its annual report.
In Managua, Sandinista protesters attacked Iván Olivares, a reporter for the newsweekly Confidencial. He was stabbed with a bayonet while covering a clash between pro- and antigovernment protesters. FSLN supporters were accused of smashing the windows of marked press vehicles belonging to the national television stations Canal 2 and Canal 8, La Prensa reported. Opposition activists also attacked Sandinista journalists. In Managua, several unidentified assailants stabbed and kicked Nicolás Berríos Santana, a reporter for Nueva Radio Ya, on November 12, 2008.
While anti-press violence has been episodic, other forms of harassment have been systematic. Since taking office in January 2007, Ortega has followed his predecessors' practice of manipulating the distribution of government advertising, imposing de facto advertising embargoes on critical media while rewarding the official press. Confidencial reported that the government spent 80 percent of its US$3.5 million advertising in 2007-08 for spots on Channel 4, which is run by Ortega's sons (and, according to some reports, owned by the presidential family).
The government uses the official media apparatus—Channel 4, the radio station Nueva Radio Ya, and the news Web site El 19—to conduct character attacks against critics. These efforts are supported by e-mail news services—called Nicaragua Triunfa and Nicaragua, cómo vamos—and the FSLN-owned Radio Sandino. In March, for example, Channel 4 aired a series of spots attacking the director of the Managua-based daily El Nuevo Diario, Francisco Chamorro (cousin of Carlos Fernando Chamorro), and its news editor, Danilo Aguirre, as "fascists." The paper's dismissal of a reporter (for performance, her bosses said; for union activism, she said) became fodder for a smear campaign complete with images linking Chamorro and Aguirre to Nazi swastikas.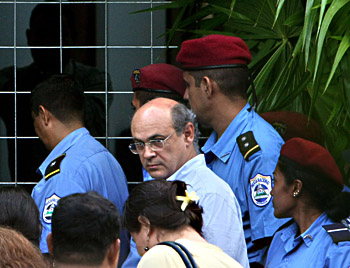 But Ortega has taken heaviest aim at Carlos Fernando Chamorro, the one-time Sandinista editor turned multifaceted journalist and government critic. Chamorro runs the magazine Confidencial, serves as president of CINCO, and hosts the television news programs "Esta Semana" (This Week) and "Esta Noche" (This Night). It was on "Esta Semana" that Chamorro exposed a multimillion-dollar extortion scheme involving the Sandinista Party and influence peddling in the judiciary. After the 2007 story aired, Channel 4 and Nueva Radio Ya broadcast unfounded spots linking Chamorro to international drug trafficking (among other things).
Official media staffers tend to see those in private media as political adversaries. Dennis Schwartz, general manager of Nueva Radio Ya, said the Chamorro family had imposed a "media dictatorship" in Nicaragua. "They belong to the oligarchy, and nobody can touch them. The conservative media are always emphasizing the negative; they never highlight what's positive," Schwartz said in an interview with CPJ.
The government stepped up its attack on Chamorro in September 2008, when it began an investigation into more than a dozen nonprofit organizations accused of illegally funneling money from foreign governments to other civil society groups. Chamorro's media research group CINCO was among those targeted. In October, police raided CINCO's Managua offices, seizing documents and computers. The judge who ordered the raid cited potential money laundering, and prosecutors subjected Chamorro to extensive questioning. In February, after an international outcry, the Nicaraguan attorney general dropped the criminal case against CINCO and the other organizations.
Firing up the loyalists
The legal harassment against Chamorro follows a pattern pursued against other well-known Nicaraguans who were once leading Sandinista members. Notable among them were priest and poet Ernesto Cardenal, 83, convicted in August on a trumped-up defamation charge, and the women's rights activist and journalist Sofía Montenegro, whose offices were raided in October after she denounced Ortega for outlawing abortion even in cases in which it is necessary to save the mother's life.
Ortega's crackdown on the media and other critics was intended to weaken civil institutions in time for the November 2008 municipal elections, several sources told CPJ. Indeed, the attacks served to fire up Sandinista loyalists who took to the streets to defend the government against electoral fraud allegations.
In his analysis of the government's communication strategy, the Media Observatory's Marenco wrote that Ortega "still perceives the media as a war instrument." Ortega himself used similar language in a March interview with Al-Jazeera English, the only interview he's done since taking office. Ortega told David Frost that Nicaragua is fighting "a media war, a war of ideas."
Ortega has made himself an isolated and secretive figure: He has never given an official press conference, his political agenda is virtually unknown, his government officials are inaccessible, and his health is apparently a state secret. Published reports frequently note the widespread public speculation, thus far unconfirmed, that Ortega suffers from lupus, a chronic autoimmune disease. The government's communication strategy is strictly controlled by Rosario Murillo; no official in the executive branch will talk to the media without her authorization. Two officials who challenged Murillo's hermetic policy by providing information to La Prensa were immediately fired, said the paper's director, Jaime Chamorro Cardenal, brother of Pedro Joaquín.
"We decide what we want to say, and when we want to say it," the government's top human rights official, Omar Cabezas Lacayo, told CPJ. "As human rights ombudsman, I have no respect at all for the private media's ethic, which is clearly supported by the CIA." Rafael Solís, vice president of the Supreme Court and an Ortega confidant, said that the government centralizes communication to avoid disagreement. "Murillo," he said, "wants the government to have a single voice. It is just a matter of style."
International donors have a different perspective. They see the deterioration of civil institutions—combined with evidence of systematic fraud in municipal elections—as indications that the government is not committed to democracy. They worry that Ortega may seek to retain power by amending the Constitution to allow an additional term in office. As a result, the U.S. government-backed Millennium Challenge Corporation has withdrawn US$62 million in aid for development, while the European Commission and other European donors have frozen US$65 million in operating aid. Both the United States and the European Union have insisted that the Nicaraguan government address allegations of electoral fraud.
Nicaragua's deteriorating economy, which has been hit hard by the global downturn, may limit Ortega's options. The government needs international assistance so the president might try to reach agreements with European donors in which past sins are forgiven in exchange for commitments to fair elections and respect for press freedom and other human rights. But some critics, citing Ortega's polarizing style, fear he could instead provoke a destabilizing crisis in hopes of solidifying power. "Ortega always plays to exacerbate crisis so he can negotiate at the edge of the abyss," said Sergio Ramírez, an internationally recognized writer who served as vice president from 1984 to 1990.
But the modulating force of the news media has been rendered moot by Ortega, a minority-supported president whose political power is dependent on mobilizing his Sandinista base, not on speaking to the center. Ortega's autocratic tendencies are more likely to be realized in a climate of secrecy and isolation, making the press freedom battle a harbinger of a broader struggle for democracy in Nicaragua.
Carlos Lauría is CPJ's senior program coordinator for the Americas. Joel Simon is CPJ's executive director.
CPJ's recommendations to President Daniel Ortega
Refrain from using inflammatory language, such as labeling critics "enemies" of the Nicaraguan people.
Ensure all media, including critical outlets, have equitable access to public events. Grant interviews and conduct periodic press conferences.
Ensure that the judiciary, the attorney general's office, and other instruments of government are never used to harass or intimidate critics.
Condemn physical attacks on the media publicly, and insist they be promptly and thoroughly investigated.
Insist on an end to systematic campaigns aimed at discrediting critical journalists, particularly efforts carried out by media outlets sympathetic to your government.