After Jehad Ali's leg was shattered by assailants in Iraq, colleagues raised money, and surgeons in California offered help. Now, Ali has cleared another big hurdle: He's gained permission to enter the United States. By Robert Mahoney
Jehad Abdulwahid Hannoon knows it's remarkable that he is alive. The gunmen who felled the Al-Iraqiya TV cameraman on a south Baghdad street took him for dead. When they realized their mistake, they went looking for him at local hospitals, but he managed to give them the slip.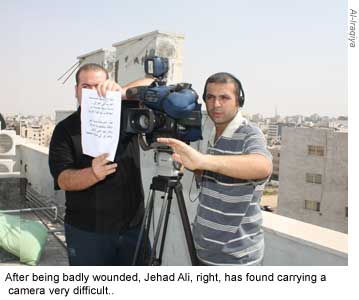 The 27-year-old journalist, commonly known as Jehad Ali, not only clung to life but vowed to recover from crippling injuries and take up his camera again. His determination to rebuild his strength through swimming led to a chance encounter with a CBS News crew that opened the door to a foreign press community eager to help with money and contacts to get him out of Iraq for medical treatment.
Now, having finally gained permission to enter the United States, Ali is hoping for another stroke of good fortune–successful surgery in a California hospital to repair his bullet-shattered right leg.
Ali's story began on the morning of December 27, 2005, when he and a colleague were walking from their Sunni neighborhood to the Al-Iraqiya office. A car sped toward the two men. "I am not sure whether the gunmen fired two or three bullets into my right thigh," Ali told CPJ in Baghdad. "I fell to the ground when they fired the first bullet at me. … I was conscious but collapsed in pain."
His colleague escaped. An assailant with an AK-47 assault rifle got out of the car and continued to fire on Ali, whose work for Al-Iraqiya, a state-run television station set up with U.S. aid in 2003, had led to repeated threats against his life. Fliers had been handed out at mosques in several Sunni areas where al-Qaeda was known to be active, saying that it was acceptable "to shed the blood" of Ali and two of his co-workers. Numerous Al-Iraqiya reporters have been targeted because of their work. CPJ research shows that the Iraq Media Network, which includes Al-Iraqiya, has seen 27 of its staffers killed since the 2003 U.S.-led invasion, more than any other news organization.
Iraq by the numbers
135 journalists and 50 support workers have died in direct connection to their work in Iraq.
88 percent of media deaths are Iraqis.
70 percent of media deaths were murders; 30 percent were combat-related.
79 percent of killings were committed by insurgent forces. U.S. forces were responsible for12 percent of deaths.
62 percent of victims worked for Iraqi news organizations; 38percent worked for international news organizations.
27 employees of Iraq Media Network, which includes Al-Iraqiya and Al-Sabah newspaper, have been killed, the highest death toll among news outlets.
38 Iraqi journalists have gone into exile due to work-related persecution.
Even after the United States stopped funding Al-Iraqiya in 2005, its employees continued to be targeted for attack because of the station's pro-government line. They are just some of the hundreds of journalists and media support workers associated with Western or Western-funded media companies who have suffered threats or attacks from various militias operating in Iraq.
As sectarian and anti-Western violence raged from 2004 to 2007, many Iraqi reporters with foreign news outlets tried to keep their profession secret to protect themselves. Some moved from their homes into safe houses or lived in the news bureaus where they worked. Their workload and exposure to danger increased during this time because they were deployed in areas that had become unsafe for foreign journalists.
Eventually, the threats and stress became intolerable for many Iraqi staff members, and they turned to their employers for help in resettling in the West. For the first four years following the invasion, however, the United States set security clearance so high for Iraqi refugees that mere hundreds were admitted annually, according to Western journalists working in Iraq and U.S. officials.
Even those with good prospects of gaining admission to the United States have faced a long and laborious process to secure travel documents. Ali, for instance, did not qualify for a U.S. visitor visa because he had no assets in Iraq that would ensure his return home. So he applied instead for humanitarian parole, which would allow him to enter the country for medical treatment. Ali had the help of U.S. lawyers, a guarantee from doctors, and proof of funding for his stay, but his application still took six months to assemble. In August, the Department of Homeland Security (DHS)–which this year increased the volume and speed of handling Iraqi applications–approved Ali's request to travel to California for medical treatment.
Ali, a heavy-set young man with a pronounced limp, remained stoic throughout, trusting that the power of his story and the help of his colleagues would eventually move the bureaucracy to action.
Speaking in Arabic with a CBS producer acting as interpreter, he patiently recounted the events of that violent December day. After the initial round of shooting, Ali recalled, he flattened himself against the ground only to be struck again repeatedly. He suffered 11 bullet wounds in all, the most serious to his leg, where one round took out an inch-long chunk of his femur.
The attackers did not approach after they stopped firing but instead drove off, in the apparent belief that he was dead. "I lay there for a while, and then people came out and saw I was still alive," said Ali, even now expressing astonishment at the courage of those who, ignoring the possible presence of informers, risked their own safety to help a victim. He was driven to Baghdad's Yarmouk Hospital, where doctors stopped the bleeding in his leg.
But Ali was not yet out of danger. The gunmen had gotten wind of his rescue and were hunting him: "A doctor at the hospital came to ask me to leave, saying that three to four armed men were waiting for me outside." Weak and still in pain, he called Al-Iraqiya, which sent an armored car to take him to another hospital.
Once he'd sufficiently recovered, Ali began the long search for a doctor who might be able repair his right femur. "I knocked on all doors," he said. "I asked government officials, the Red Crescent–I even asked religious figures to help me. Nobody provided financial assistance or helped me find a place to get treatment."
So Ali helped himself. In order to rebuild his leg muscles and control his weight, he spent a sizable chunk of his modest salary on fees for the use of the swimming pool at the Al-Mansour Melia Hotel. It was there that he ran into a crew from CBS News, which had set up its local bureau in the hotel. Ali asked the crew for help, and they introduced him to the network's chief international correspondent, Lara Logan.
"When I first met him and saw what he needed, my heart sank," Logan told CPJ. "Here was this kid who had taken so many bullets and survived. … I was just overwhelmed by his personal sense of responsibility. He was sleeping at the [Al-Iraqiya] office because he couldn't go home. … He would go out after curfew for X-rays, he was going to the pool to get better. You meet a lot of people when you are out on the road who have a feeling of entitlement, as a victim. Jehad was never like that."
Logan contacted Dr. Randolph Sherman, head of plastic and reconstructive surgery at the University of Southern California in Los Angeles, whom she had come to know for his humanitarian work with Iraqi surgeons. "I made calls," Sherman told CPJ, "and got hold of the combat support hospital that looked at Jehad." Armed with X-rays and a thorough medical assessment by American doctors in Baghdad, Sherman determined what it would take to help Ali.
Sherman has secured the pro bono services of one of California's top orthopedic surgeons, Dr. Donald Wiss, to treat Ali; a local hospital, the Henry Mayo Newhall Memorial Hospital in Valencia, has offered a discounted rate for his stay. "After that, he will probably be staying at my house," Sherman added with a laugh.
Logan, who began raising money last year to send Ali to the United States, approached CPJ for help. "I was absolutely astounded by the response," she said. Money poured in from friends, colleagues, and journalists, including big-name news anchors. By late summer, funds stood at around $50,000. "I was very proud," Logan said. "Someone in Iraq in Jehad's condition didn't normally survive. But he had. He had no big network to take him on … no one to turn to. So I said, 'Well, he's a journalist and they have organizations….' That's when I contacted CPJ."
Despite Jordan's tightening of visa regulations for Iraqis this year, Ali obtained a temporary permit in July and left Baghdad for the relative safety of Amman to wait out his parole request. While there, he tried to pursue his goal of returning to work as a cameraman by doing some assignments for Al-Iraqiya. He was strong enough to film with a tripod-mounted camera carried by an assistant, but he couldn't walk with a 20-pound-plus Betacam on his shoulder as he once did.
"Now even when I just walk or stand for some time my back hurts and I begin to have a headache," Ali said after his arrival in the Jordanian capital. Just as the prospect of a long and frustrating wait in Amman loomed, the DHS in Washington approved Ali's application.
"First, I am happy because I will get the surgery that will enable me to work again and live the life I had before I was shot," Ali said in reaction to the news. "And second, I am thrilled that I will finally come to the United States, the developed country that has so much to offer."
Ali is exceptional because of the high-profile media backing his case has attracted. But in one way, he is typical of the many reporters, camera operators, fixers, interpreters, and drivers who have risked their lives by working for foreign or Western-financed news organizations and now want safe passage out of Iraq.
"We unquestionably have a moral obligation to Iraqis at risk because of their association with Americans," said The New Yorker's George Packer, who has reported from Iraq and written articles and a play on the United States' debt to Iraqis threatened for their work. "Soldiers, I know, have a code that you don't leave your buddy on the battlefield, and in this case it doesn't matter if that battlefield's an office in the Green Zone or an American news bureau."
For several years after the invasion in 2003, Washington made no special provision to resettle Iraqis, and the backlog of applicants waiting for vetting lengthened as the flood of refugees overwhelmed U.S. missions in the region. "No official in DHS or the State Department wanted to be responsible for letting in the next Mohamed Atta," Packer said, referring to one of the 9/11 hijackers. "There was no professional upside to streamlining the process."
In the fiscal years 2003 to 2006, the annual number of Iraqis resettled in the United States never exceeded 500. Meanwhile, the number of Iraqi civilians uprooted by the war surged. According to Todd Pierce of the State Department's Bureau of Population, Refugees, and Migration, some 4.7 million Iraqis have been displaced since 2003, and of those, about 2 million have fled as refugees.
With the increased violence came increased pressure from U.S. humanitarian groups, media, and politicians for an expanded resettlement program, particularly for those Iraqis who had worked for U.S. interests. Media attention and advocacy won results in September 2007, when Congress passed a measure sponsored by Sen. Edward Kennedy and backed by CPJ to help Iraqis under threat for their links to the United States. The Refugee Crisis in Iraq Act (cosponsored by a bipartisan group that included Senators Carl Levin, Sam Brownback, Joseph Lieberman, and Gordon Smith) was signed into law by President George W. Bush in January. It expands the allowable number of visas and speeds up the process for issuing them, and has set a target of receiving 12,000 Iraqi refugees in fiscal year 2008.
First in line under the new legislation are those Iraqis and their families who worked for the U.S. military and government. The act also covers journalists with affiliations to American media. In the spring, the U.S. embassy in Baghdad began accepting in-country refugee applications for the first time.
Word of the new visa program has spread among the local staff of foreign news outlets in Baghdad. "About 70 percent of the workers with me in the bureau applied or are wishing to do so, including journalists, guards, and drivers," said Mudhafer Abbas of The New York Times. Despite the improvements, he and other journalists in Baghdad still think they are treated less fairly than others. "It's easier for many other nationalities to get a visa to the States," Abbas told CPJ.
The administration is moving to speed up processing of applications, and the DHS has sent staff on a so-called "circuit rider" program to interview applicants for their security clearance.
Packer said the situation appears to have improved. "Since the Kennedy bill, cases are moving more quickly and more cases are moving," Packer said. "Most of the Iraqis I know who have been trying to get here for the past year have made it. … I still fault the administration for taking this long, and for continuing to make it difficult, but I want to give credit where credit is due."
For now, Ali can set aside the political obstacles and focus on his health. "All I am thinking of right now is to get the surgery," he said, "and to be able to carry a camera again."
Robert Mahoney, CPJ's deputy director, led a mission to Iraq in May.