To request a printed copy of this report, e-mail [email protected].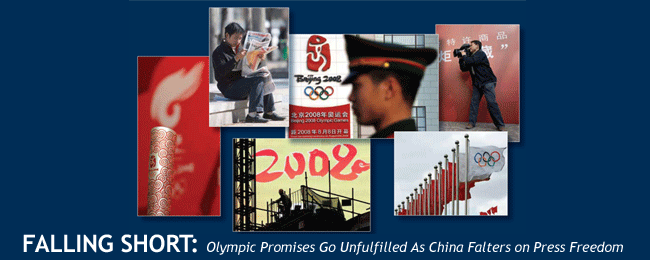 i. About This Report
The Committee to Protect Journalists, which first published Falling Short in August 2007, updated and reissued this report in June 2008. The bulk of the report was researched and written by Kristin Jones, former senior Asia research associate for CPJ, and Bob Dietz, CPJ's Asia program coordinator.
Updating for this edition was led by Sophie Beach, executive editor of China Digital Times, and CPJ research associate Madeline Earp.
In its bid to host the 2008 Games, China promised the International Olympic Committee (IOC) that it would allow the media complete freedom. Yet CPJ research shows that domestic journalists face severe threats and restrictions, while foreign media are obstructed. In the months leading up to the Games, CPJ has repeatedly urged Chinese leaders, IOC officials, and corporate sponsors to ensure that Beijing fulfills its Olympic promises. This report describes press conditions in detail and makes known our recommendations for change.
CPJ gratefully acknowledges the vital work of several contributing writers. Chapter 3, "Commerce and Control: The Media's Evolution," was written by David Bandurski, a freelance writer and media expert based in Hong Kong. Ashley Esarey, a political science professor at Middlebury College in Vermont who has written extensively about the Chinese media, wrote the Chapter 5 sidebar, "The Media Managers." Esarey also provided guidance for Chapter 5, "Censorship at Work: The Newsroom in China." Earp wrote the Chapter 8 sidebar, "Defending the Press." The Chapter 9 sidebar, "Search Engines Sift and Censor," was written by Xiao Qiang, director of the China Internet Project at the University of California Berkeley Graduate School of Journalism. Xiao also provided guidance for Chapter 9, "Online Rules: A Study in Paradox." Jonathan Watts, Beijing correspondent for The Guardian and member of the Foreign Correspondents Club of China, wrote Chapter 10, "Opportunity Dissolves: Foreign Media Still Obstructed." Jocelyn Ford, who reports from Beijing for U.S. public radio programs, wrote the sidebar for that chapter, titled "Guidelines for Reporters on the Ground."
CPJ also wishes to acknowledge the important research by Benjamin Liebman of the Columbia University School of Law and Chen Zhiwu of the Yale University School of Management, which is cited in Chapter 7, "The Libel Card: Suits that Inhibit." CPJ also acknowledges the valuable research conducted by the OpenNet Initiative, a partnership of four academic institutions, which is cited in Chapter 9. We are grateful to Li Datong for allowing us to reprint excerpts of his address to the Society of Publishers in Asia, and to Pu Zhiqiang for allowing use of his letter in defense of clients Chen Guidi and Wu Chuntao.
Translations of Chinese laws were provided by the law firm TransAsia and by the Congressional-Executive Commission on China. We are also grateful to Roland Soong, New Century Net, and Trans-Perfect for other translations used in this report. New Century Net graciously granted reprint rights to Cheng Yizhong's 2005 remarks in acceptance of the 2005 Guillermo Cano Award. Soong's blog, EastSouthWestNorth, was an important source throughout.