Majority are murdered; worldwide death toll rises


New York, December 20, 2006–Violence in Iraq claimed the lives of 32 journalists in 2006, the deadliest year for the press in a single country that the Committee to Protect Journalists has ever recorded. In most cases, such as the killing of Atwar Bahjat, one of the best-known television reporters in the Arab world, insurgents specifically targeted journalists to be murdered, CPJ found in a new analysis.
Worldwide, CPJ found 55 journalists were killed in direct connection to their work in 2006, and it is investigating another 27 deaths to determine whether they were work-related. Detailed accounts of each case are posted on CPJ's Web site. The figures reflect increases from 2005, when 47 journalists were killed in direct relation to their work, while 17 others died in circumstances in which the link to their profession was not clear. CPJ, founded in 1981, compiles and analyzes journalist deaths each year.
Afghanistan and the Philippines, with three deaths apiece, were the next most dangerous datelines in 2006. Russia, Mexico, Pakistan, and Colombia each saw two journalists killed. All are traditionally dangerous countries for the press, CPJ research shows.
But for the fourth consecutive year, Iraq was in a category all its own as the deadliest place for journalists. This year's killings bring to 92 the number of journalists who have died in Iraq since the U.S.-led invasion of March 2003. In addition, 37 media support workers–interpreters, drivers, fixers, and office workers–have been killed since the war began.
Only four journalists died in Iraq in 2006 as a result of crossfire or acts of war, CPJ's analysis found. The other 28 were murdered, half of them threatened beforehand. Three were kidnapped and then slain, CPJ found.
"The deaths in Iraq this year reflect the utter deterioration in reporters' traditional status as neutral observers in wartime," said CPJ Executive Director Joel Simon. "When this conflict began more than three and half years ago, most journalists died in combat-related incidents. Now, insurgents routinely target journalists for perceived affiliations–political, sectarian, or Western. This is an extraordinarily alarming trend because along with the terrible loss of life, it is limiting news reporting in Iraq–and, in turn, our own understanding of a vital story."
The viciousness of the onslaught in Iraq was shown on October 12 when masked gunmen attacked the Baghdad offices of the fledgling satellite TV channel Al-Shaabiya and executed 11 people, five of them journalists. It was the deadliest single assault on the press since the 2003 invasion.
Here are other trends about Iraq that emerged in CPJ's analysis:
• Thirty of 32 journalists killed were Iraqis, continuing a two-year trend in which local journalists have made up an overwhelming proportion of the casualties. CBS cameraman Paul Douglas and soundman James Brolan, both London-based, were the only foreign journalists killed in Iraq in 2006. Among the Iraqi victims was Bahjat, correspondent for the satellite channel Al-Arabiya and former reporter for Al-Jazeera. CPJ honored Bahjat posthumously in November with its International Press Freedom Award.
• Murder now accounts for 61 percent of deaths in Iraq since the war began. The incidence of murder began to increase 20 months ago and accelerated in the past year. Crossfire and combat-related incidents had been a more frequent cause of media deaths in the first two years of the war.
• The 2006 toll jumped 45 percent from the 22 deaths recorded in 2005.
• The war in Iraq is the deadliest conflict CPJ has documented. Iraq has far surpassed the Algerian civil conflict of the 1990s, which took the lives of 58 journalists.
• The 2006 tally in Iraq is the highest in a single country since CPJ was founded in 1981. The second deadliest years were 2004 in Iraq and 1995 in Algeria, both of which saw 24 journalists killed.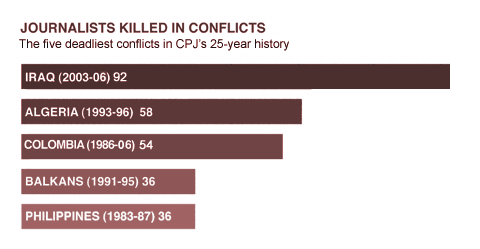 Worldwide, murder was the leading cause of journalist deaths in 2006, accounting for about 85 percent of cases. (About 11 percent died in combat incidents and 4 percent while covering dangerous assignments such as protests.) CPJ research found that little progress was reported in investigations into the vast majority of cases, reinforcing long-term research showing that less than 15 percent of journalist murders result in convictions.
Among those slain was Russian Anna Politkovskaya, a leading investigative journalist and critic of President Vladimir Putin. She was shot, contract-style, in her Moscow apartment building on October 7.
"When an internationally renowned reporter can be gunned down in her own apartment building and the perpetrators walk away free, it has a devastating effect on the press. Fewer tough questions are asked, fewer risky stories are covered," Simon added. "Her case shows why impunity is such a serious threat to press freedom, not only in Russia but in nations such as the Philippines, Colombia, Mexico, and Pakistan."
Politkovskaya was among eight female journalists killed in 2006. In the Central Asian nation of Turkmenistan, reporter Ogulsapar Muradova of Radio Free Europe/Radio Liberty was killed in prison under unexplained circumstances in September. Muradova was a critic of President Saparmurat Niyazov. And in southern Lebanon, an Israeli missile killed freelance photographer Layal Najib in July as she was traveling by taxi to cover civilians fleeing north.
The deadliest nations include such disparate places as the Philippines and Afghanistan. Two of the victims in the Philippines were radio commentators, continuing a trend CPJ has documented over several years. In strife-ridden Afghanistan, two German radio journalists were among the three casualties.
In Latin America, two nations with long histories of violence against the press appeared on the 2006 list of dangerous places. In Colombia, two provincial journalists known for tough reporting on paramilitary activities were slain. In Mexico, a local crime reporter was murdered in the eastern city of Veracruz, and a U.S. freelance journalist was shot to death during civil unrest in the southern state of Oaxaca. CPJ is investigating the disappearance of a northern Mexican journalist and the slayings of five others in circumstances that are not yet clear.
In sub-Saharan Africa, one journalist was killed in direct connection to his work in 2006. Martin Adler, an award-winning Swedish photojournalist, was shot while filming a June demonstration in Somalia's capital, Mogadishu.
CPJ applies strict standards for each entry on its annual list of journalists killed; researchers independently investigate and verify the circumstances behind each death. CPJ considers a case as work-related only when its staff is reasonably certain that a journalist was killed in direct reprisal for his or her work; in crossfire; or while carrying out a dangerous assignment.
If the motives in a killing are unclear, but it is possible that a journalist died in direct relation to his or her work, CPJ classifies the case as "unconfirmed" and continues to investigate. CPJ's list does not include journalists who are killed in accidents–such as car or plane crashes–unless the crash was caused by hostile action (for example, if a plane were shot down or a car crashed trying to avoid gunfire). Other press organizations using different criteria cite higher numbers of deaths than CPJ.
A final list of journalists killed in 2006 will be released on January 2.