By Kristin Jones
Watson sees his contributors vanish. In cyberspace, the most repressive law trumps all.
Main Story: The Enemy? | Sidebar: Slipping from Sight | Statistics: Prison Snapshot

Less than two years after a Long Island techie named Watson launched an online news site, his contributors began to vanish. The disappearances haven't stopped.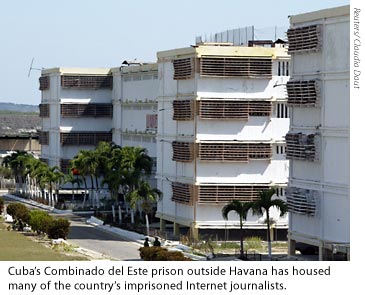 Across the United States, news outlets like his are under attack. Sources and contributors to the newly founded Freedom Newspaper in Raleigh, N.C., have been rounded up and questioned; someone apparently hacked the editor's e-mail account to find a list of their names. In Miami, an editor remembers a day three years ago when she believed that every one of her reporters would be arrested, charged, and sentenced. It is little comfort that only a dozen of them are in prison, some serving 23-year sentences.
These news outlets–all of them online–are the targets of governments in China, the Gambia, and Cuba. These days, news crosses borders and so do attacks on the media. Governments with the worst press laws apply them to the Internet with effects that reverberate in countries with the strongest safeguards. In this decade, this has meant the imprisonment of more than three dozen journalists writing for online publications based in the United States and Europe, and several others whose Web logs were hosted in these regions.
"CubaNet has always been a target of the Cuban government," said Rosa Berre, editor of the 12-year-old Miami Web site. CubaNet, the Miami news site Nueva Prensa Cubana, and the Madrid online magazine Encuentro en la Red may have few readers in Cuba, where the government severely restricts Internet access, but the sites have provided Cuban journalists with unprecedented global reach. In 2003, Cuban authorities cracked down on island journalists who used telephones, fax machines, and occasional Internet connections to send local news and commentary to Web sites in the United States and Spain. Twenty-three of the 24 journalists now jailed in Cuba were contributors to U.S. or European Web sites, according to CPJ research.
"It was terrible for us from the human point of view," said Berre, a U.S. citizen since 1993.
The Internet was once seen as a borderless realm free of government intervention, but that founding ideal of the World Wide Web has taken a beating in the past four years. More states impose restrictions on their citizens' access to the Internet and their right to post content, more are monitoring online activity, and, in some cases, nations are jailing Internet users who break local rules.
"All countries are trying to control and monitor what their citizens do online–just the focus differs," said Nart Villeneuve, a noted University of Toronto researcher who specializes in Internet censorship issues. "In some countries such as China, the focus is on political dissidents and Falun Gong. In others, it's copyright or terrorism."
Some governments try to influence others, as Russia did when it pressured Lithuania's state security to close a pro-Chechen news Web site in 2004. Vietnam, intent on censoring political speech, is trying to emulate the firewalls erected by neighboring China. Yet even the most sophisticated firewalls fail to control everything flowing through a global network.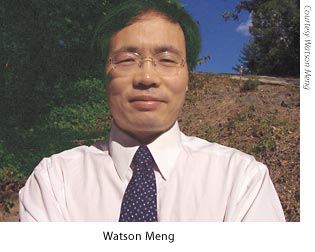 Just ask Watson Meng, a 41-year-old former software engineer who founded Boxun News, a popular and sometimes controversial online forum that Internet writers in China use to air news and opinions unwelcome at home.
"Boxun was blocked in April or May 2000, less than two months after it was launched," said Meng, who started the Web site from his home on Long Island in New York and now runs it from North Carolina. But the timing of hits to the site indicates that most readers are in China, he said, accessing it through third-party or proxy servers that hide their identities.
When he launched the site, Meng recalled, "I did not know the words 'citizen journalists' but I did observe that many Chinese Internet users spent hours a day to publish opinions on BBS." Online bulletin board systems, or BBS, became popular forums for posting opinions in China in the late 1990s. So, Meng said, "I decided to develop a platform."
Unlike CubaNet, which relies on a relatively formal network of journalists in Cuba, Boxun draws contributors from around China through an open system of registration. The editors select pieces for their writing style and, to some extent, their ideological bent. "If a certain article tries to argue that democracy is not good, then that's nonsense and we won't post it," Meng said. "But we try to maintain a great degree of openness. We post many opinions that the editors don't like."
Most contributors write under pseudonyms, and many take advantage of their perceived anonymity to strike hard in their criticism of the Chinese Communist Party.
Yet Boxun's strength, the ability to work outside a formally established system, is also a point of vulnerability. In 2002, Meng lost touch with two contributors, Wang Di and Lu Xinhua. It was not until 2004 that he received confirmation that they had been arrested, the beginning of a disturbing trend that has continued to this day. Meng's inbox is full of arrest warrants, prosecution statements, and verdicts in the cases of Huang Jinqiu, Zheng Yichun, Zhang Lin, Li Jianping, Li Yuanlong and Li Changqing–all former Boxun contributors now jailed, their writings for Boxun cited by prosecutors as proof of their crimes against the state.
About a quarter of the 32 journalists CPJ has documented as being imprisoned in China wrote for news Web sites hosted in Western Europe and the United States, some of them affiliated with the spiritual movement Falun Gong, which is banned in China.
The actual number of jailed Internet writers may be much higher. The fact that so many of Boxun's contributors use proxy servers and pseudonyms means that some of them simply disappear without a trace, their fates and even their identities unknown. "We just cannot reach them anymore," Meng said.
When Pa Nderry M'bai discovered that a list of supposed sources and contributors to his Raleigh-based Web site, Freedom Newspaper, had been printed in a pro-government newspaper in the Gambia, the journalist sought legal advice. Authorities in the Gambia arrested more than a dozen people on the list, including three journalists, for their association with the online newspaper, which has a reputation for criticizing Gambian President Yahya Jammeh and his ruling party.
M'bai, a Gambian who immigrated to the United States in 2004, told CPJ that he believes someone in the United Kingdom hacked into his e-mail account and supplied the list to Gambian officials. Although Freedom Newspaper is "a legitimate media organization operating legally in the U.S.," M'bai said, he found little recourse in U.S. law because "the hacking was done outside the jurisdiction of the United States." In the end, he made public appeals to international organizations including CPJ, and wrote letters to the U.S. departments of Homeland Security and State.
Global law offers scant protection to the press when national standards come in conflict. Still unclear, for example, is the question of where Internet communication takes place. Does it occur where an Internet writer is typing, where a Web site is hosted, where it is edited, where a reader views it, or in some other, undefined cyberspace?
"International law does not answer this question," said Jonathan Zittrain, a professor of Internet governance at Oxford University and a co-founder of Harvard's Berkman Center for Internet and Society. "Each state will have its own view of when its own laws are implicated. … And if a state can get its hands on someone, the fact that the person's objectionable actions took place elsewhere is rarely of any moment."
In this treacherous landscape, it is often left to individual writers and editors to make difficult decisions about whether or when to censor themselves, and how best to protect journalists working in high-risk situations.
New media that become targets are sometimes vulnerable to accusations that they are putting writers in danger. Some exiled Gambian writers believed that M'bai had failed to take adequate care with his sources and contacts, an accusation he rejects. Similarly, Hong Kong-based blogger Roland Soong has criticized Boxun for revising information posted by an anonymous contributor in China, whom authorities later identified as journalist Li Changqing and jailed for three years for spreading false information about dengue fever. Meng defends Boxun's decision to boost Li's estimate of new cases of the disease, saying the revised number was based on information from other sources and was closer to the figure eventually acknowledged by the government.
Despite the risks, Meng said he believes that Chinese residents writing for overseas Web sites are safer than those who write on local Web forums. "If they post something in China, their identity can be easily tracked down," he said. "They have to come to Boxun through proxies, and even we can't see who they are."

Meng said he advises writers to avoid posting information or photographs that might tip authorities about their identity and to ensure that at least one trusted person knows what they are doing. That way, public appeals can be made quickly if necessary.
Notably, the jailing of journalists for CubaNet and Boxun has not slowed submissions to the sites, nor has it discouraged writers from posting banned commentaries, their U.S.-based colleagues said. The editors have not considered shutting down the news sites.
"No, never," insisted Berre, CubaNet editor. "We will try to maintain the independent press as long as we can." After the 2003 crackdown, CubaNet stopped posting bylined reports from Cuba for almost a year as a way to safeguard its contributors. But some of the writers objected, and the editors ultimately decided that posting authors' real names, with their permission, could raise their international profiles and provide some protection from arrest and mistreatment. A small number of the contributors jailed in 2003–including Raul Rivero and Manuel Vásquez Portal–were freed partly because of such attention.
Like other writers in Havana, Roberto Santana Rodríguez began contributing to CubaNet in 2004 under his own name and with knowledge of the risks he took. Though he now faces regular government harassment, he said he has no regrets. "When one decides to take this step forward, one finds that there is no way back," Santana wrote in an e-mail to CPJ. "There is nothing to lose and so much to gain. One has an obligation to one's compatriots, to one's country, and to the readers."
Despite the resolve of writers and editors, jailing journalists is a time-tested way to silence news organizations. Readers worldwide are affected by these attacks. Boxun and similar Web sites are well-placed to get information out of China quickly, skirting government bans on breaking news reporting. CubaNet, Nueva Prensa Cubana and Encuentro en la Red play significant roles in supplying a global audience with island news and commentary that they otherwise could not obtain.
Although some jailed Cuban writers have been freed, diplomacy has not fully caught up with journalism's electronic shift. When Zhao Yan, a Chinese citizen and a researcher for the Beijing bureau of The New York Times, was detained in September 2004, U.S. officials quickly came to his defense, publicly calling on their Chinese counterparts to release the journalist. The imprisonment was seen as an attack on the freedom of a U.S. publication to report the news. By contrast, the jailing of contributors to Boxun, also U.S.-based, receives little public attention or international diplomacy. Meng believes that government and media attention in the cases of imprisoned Boxun writers could help win early releases and forestall the mistreatment that Li Changqing, Huang Jinqiu and others have suffered in prison.
Part of the difference, Meng believes, is that he gears his news toward Chinese readers. News of imprisoned journalists appears on his news site in Chinese and doesn't receive the same exposure as it would in an English-language publication. The fact that the publication exists in cyberspace, without an evident physical presence in the United States, is also a distinguishing factor. So is the fact that the site is a forum for citizen journalists, a concept still murky in the American public's mind.
"We are not recognized as a mainstream news service," Meng lamented. "I understand, Boxun is a new model."

Kristin Jones is senior research associate for CPJ's Asia program.