By Carlos Lauría and Sauro González Rodríguez
Political influence permeates radio news in Brasil's remote northeast. Radio hosts and independent journalism are its victims.
FORTALEZA, Brazil
Radio reigns as the most popular news medium in the isolated, impoverished Brazilian Northeast where on-air commentators are passionately populist and widely known figures. Many are closely tied to politically owned or controlled radio stations, which are booming in number throughout the interior, often in defiance of the law.
Outsized, outspoken, and highly partisan, these commentators have also become targets of violence. Five radio journalists have been killed in as many years in this region alone, making the Brazilian Northeast one of the deadliest areas for journalists in the Americas.
Throughout the Northeast interior, radio commentators are routinely involved in politics, campaigning for allies with ardor, attacking foes with a vengeance, and using the airwaves as a springboard for their own political aspirations. Many are "self-made" journalists; very few are considered independent. Little, it seems, is out of bounds on the air: Accusations of extramarital affairs and criminal wrongdoing are hurled without restraint or attention to fact.
Yet these commentators have also become repositories for a poor population's hopes and expectations, giving voice to their everyday concerns and directly intervening to provide assistance. That may explain why even a local stadium could not accommodate the crowds that thronged the wake of one such commentator, Nicanor Linhares Batista, who was assassinated in his recording booth in the state of Ceará in 2003. Political rivals are accused of plotting the murder in retribution for his commentary.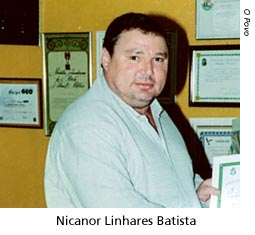 The slayings of journalists like Linhares–whose populist appeal runs deep but whose partisan broadsides strike nerves–prompted CPJ to dispatch a mission to the Northeastern states of Ceará and Pernambuco in August 2006.
"It's difficult to establish the extent of the freedom that journalists exercise when radio stations are so associated with political groups," said Marcello Gadelha, executive secretary for human rights for the state of Pernambuco. "Many journalists use [radio stations] as a political platform. It's difficult to differentiate between journalists and politicians."
All of Brazil can be dangerous for journalists. Reporters who work in large government and business centers such as Brasília, São Paulo, and Rio de Janeiro court risk whenever they report on organized crime, drug trafficking, and political corruption. But in the Northeast interior, journalism, politics, and civic affairs merge in a rare and volatile way to expose journalists to murderous attacks.
Brazil's Northeast encompasses nine states with a population of about 50 million; the region is home to the nation's poorest people, and distribution of wealth is said to have the sharpest inequities. Violence is common. Ceará is known as a haven for kidnappers and professional gunmen. In both Ceará and Pernambuco, death squads composed of former and active police officers carry out vigilante justice. Citizens rely heavily on municipal governments and public entities for employment.
Leading dailies in Fortaleza, the capital of Ceará, and Recife, the government seat in Pernambuco, do not distribute in the remote parts of their states because of high costs and perceived low circulation potential. Television channels focus on regional and national news, leaving local news to others. (Large media outlets in the two capitals report significant pressure from judicial and business interests but not the same sort of political-based violence seen in the more rural interior. See sidebar.)
Some weeklies and other periodicals publish in mid-sized cities in the interior, but their circulation is low. Thus, the vast majority of citizens in the interior get their local news through radio.
And radio has been made a political force. In a nationwide trend that began with the return of democracy in 1985, numerous politicians have come to own or control commercial broadcast outlets, whose concessions are auctioned by the federal government. The Institute for the Development of Journalism (PROJOR), a media ethics and press freedom organization, said last year that 51 deputies in the lower chamber of parliament, about 10 percent, were partners or directors in radio and TV stations nationwide. The institute filed a complaint with the attorney general, arguing that political ownership of broadcast outlets violates Article 54 of the Constitution, which says federal legislators cannot be affiliated "with a company that has obtained a concession for a public service." The attorney general's preliminary analysis found no unlawful activity.
Political ownership of commercial radio is strong in Ceará and Pernambuco where, by most estimates, politicians at all levels of government own or control dozens of stations.
But more troubling is the widespread political ownership of purportedly nonprofit stations. Government officials concede that some politicians have manipulated 1998 legislation that was intended to diversify broadcasting by allotting FM licenses to community associations or foundations.
By law, community stations must be owned by nonprofit entities, and they may not broadcast advertisements or political propaganda. Yet since the legislation was passed, politicians have rushed to set up "community" radio stations that are little more than mouthpieces, journalists and researchers told CPJ. Israel Bayma, a University of Brasília researcher whose work has been cited nationally, said that 87 percent of the 820 community license applicants presented to parliament for approval in 2002 were not legitimate nonprofit entities. Bayma also told CPJ that these "nonprofit" stations donated 879,000 Brazilian reals (US$400,000) to municipal political campaigns nationwide in 2004.
Francisco Câmpera, spokesman for the Ministry of Communications, acknowledged that the community radio law has been misused but said regulators were doing as much as they could to verify ownership. "Our ministry abides by its legal obligations," he said. "If a radio station is used politically and it is reported … it will be monitored and it runs the risk of being shut down, as has happened in several cases."
Political influence permeates another category of radio–stations that operate clandestinely, without any broadcasting concession or license. According to estimates widely referenced by Brazilian media, thousands of stations operate in such a manner. CPJ research found dozens of these outlaw stations operating in Ceará and Pernambuco, many owned or controlled by politicians.
Low professional standards and the strong influence of local politicians have made for an explosive mix in other parts of the world. In the Philippines, a record-breaking 17 rural radio commentators were slain over six years beginning in 2000, a spree attributed to politically inspired, attack-oriented commentary.
In Brazil's Northeast interior, CPJ research found, there is little objective news reporting. "Journalism in the interior is basically done by radio hosts," said Nonato Lima, a journalism professor and radio host at Ceará Federal University. "The radio host produces, writes, investigates, does everything."
New hosts typically obtain a certificate after taking a four-month course that includes a month of classes and three months of internship. "Their journalism is based on opinion, very partisan and political," Lima said.
Hosts typically seek alliances from politicians who provide them with income and protection. At least some of these politicians, scions of families that have ruled the interior as political dynasties, are known to terrorize their critics. The hosts, in effect, are the hired mouthpieces. "You have to praise the owner and attack his adversary," Lima said.
Economic considerations also play a role. Since private advertising sources are scarce, radio hosts routinely sign contracts with municipal administrations to publicize and promote their activities. While such contracts are legal, they sometimes include unlawful, under-the-table payments to secure the radio host's allegiance. Radio hosts themselves are known to solicit such payments, journalists told CPJ.
Yet as they take on certain civic responsibilities, radio hosts end up serving functions that local governments provide with little efficiency or don't provide at all. Speaking in plain, accessible language, commentators try to directly address people's needs by asking listeners for donations or by calling on authorities to correct a problem. They help find jobs for the unemployed and distribute wheelchairs for the handicapped. In time, many charismatic radio hosts become effective mediators between their audience and local authorities, turning their listeners' gratitude into political votes for their patrons. Some radio hosts decide to enter politics outright, either on their own or at the request of politicians eager to pin their party's fortunes on the hosts' popularity.
Márcia Vidal Nunes, a communications professor at Ceará Federal University, has documented the rise of several Fortaleza-based radio hosts and their transformation into political candidates. Radio hosts know the needs of their audiences and "begin, little by little, placing their voices at the service of listeners, helping people who cannot exercise their rights as citizens make indirect contact through the radio with authorities who can offer a concrete solution," she wrote in an authoritative 2000 study that followed the careers of several hosts who entered politics.
Cid Carvalho used his reputation as a crime-busting radio host as foundation to win office as a federal senator for Ceará in 1986. Carvalho, who served one term, still hosts a daily one-hour show on Fortaleza-based Radio Cidade and its sister station TV Cidade. "Radio is not dangerous," he said. "Politics is dangerous."
Carvalho said towns in the interior are divided by long-standing political and family disputes. Politicians, he said, feel compelled to control local radio stations to get their message out.
The climate in Pernambuco mirrors that of Ceará in many respects. "Almost all radio stations belong to political groups, and these groups confront each other through the stations," said Aquiles Lopes, a reporter with the Recife-based daily Diário de Pernambuco. "This confrontation generates threats against journalists, who are usually the victims of political interests, not of their independent work."
The July 2005 slaying of radio host José Cândido de Amorim Filho in the city of Carpina illustrates the murky convergence of press and politics. Amorim, also a city councilman, had been a sharp critic of the city's mayor, both on the air and on the council. Lopes said police have reported several lines of investigation, including journalism, politics, and campaign debts. The inquiry is still open.
Few inspired adulation and anger as did Nicanor Linhares, magnetic and controversial host of the top-rated "Encontro Político" (Political Encounter) on Rádio Vale do Jaguaribe in the city of Limoeiro do Norte in Ceará.
"Listening to Nicanor Linhares' political program was a sacred habit for most of the people in the region," said Dália Maia, a graduate student who grew up in the region. "People really loved him, particularly the poor. … He would help people find housing and employment and would start campaigns to get food and medicine for them. On occasion, he would donate money and call on people to make donations."
Linhares was unusual in that he owned his own station, but his political views were open and strident. On his show, Linhares actively supported one mayoral campaign by fiercely criticizing rival candidate Maria Arivan de Holanda Lucena on a daily basis. Accusations of corruption were mixed with personal attacks. In turn, Linhares was assailed by two radio stations that supported Lucena; one station broadcast a "soap opera" that ridiculed Linhares' family and a supposed extramarital affair.
The escalating invective grew deadly. In June 2003, two members of a notorious criminal gang stormed into the booth where Linhares was taping his show, shot him several times at close range, and fled on a motorcycle.
By October 2003, state prosecutors said Lucena and her husband, federal judge José María de Oliveira Lucena, had ordered the murder. In May 2004, at the request of federal prosecutors, a judge from the Brasília-based Superior Tribunal of Justice, the nation's second highest court, indicted the couple. Several other suspects have been charged. The Lucenas have yet to be tried. And people still speak vividly about Nicanor Linhares' wake.
"Nicanor based his work on both facts and opinions. He was a political journalist, he was a good person, a charitable person," Maia said. "His wake was an event in the region. It looked like a pilgrimage."
Carlos Lauría is CPJ's Americas program coordinator. Sauro González Rodríguez is CPJ's Miami-based Americas consultant.
SIDEBAR
In the capitals, corporate and judicial pressures
Journalists in the capitals of Ceará and Pernambuco face much different risks than their counterparts in the more rural interior.

Reporters in Fortaleza, capital of Ceará, are extremely cautious when reporting on the judiciary and deep-pocketed corporations, journalists told CPJ. Their caution borders on self-censorship. In one prominent case, few media outlets reported on alleged ties between Brazil's largest drug store chain, the Fortaleza-based Farmácias Pague Menos (Pay Less Pharmacies), and off-duty police officers accused of killing several people in drug store robberies. Several media outlets did not cover the story at all, while others gave it little prominence or omitted the company's name, journalists said.

Although the daily O Povo broke news of a federal investigation into police involvement in the killings in May 2005, it wasn't until Brazil's top prime-time TV news show, Rede Globo's "Jornal Nacional," covered the story that most Ceará media reported on the case. Prosecutors said five off-duty officers illegally working as security guards–Brazilian law bans police from working as guards–were behind at least three killings. The company denied hiring the officers to protect its stores; it said it hired a legitimate security company and simply consulted with certain officers.

In Recife, Pernambuco's state capital, journalists described a climate of self-censorship in reporting on the powerful court system. Ivanildo Sampaio, top editor of the daily Jornal do Commercio, said journalists are routinely pressured when reporting on the judiciary– and the pressure mounts if their news outlet has any matter before the courts. Throughout 2006, Jornal do Commercio published several articles and opinion pieces about nepotism in the judicial system. "Right after the publication of the stories, the owners of the paper received several phone calls," Sampaio said. While the pressure did not halt Jornal do Commercio's coverage, he said, it did prompt news executives to pause and assess the situation.

Fátima Beltrão, Diário de Pernambuco's executive director, expressed similar concerns. "The judiciary is a branch with no oversight; it's an autonomous power. … It's difficult to publish an accusation against the judiciary. You need to have reliable sources and there are no leaks coming. Judges protect each other. It's a very closed system."

— Carlos Lauría and Sauro González Rodríguez