By Tidiane Sy
OUAGADOUGOU, Burkina Faso
A lamp burns in a corner of the media center named for murdered journalist Norbert Zongo. It is a reminder that after eight years no one has been brought to justice for the killing of one of the most prominent investigative journalists in the West African country of Burkina Faso.
The case, which spurred journalists, politicians, and human rights activists to push for a high-level investigation, reaches into the presidential palace. But the momentum that followed the findings of an independent Commission of Inquiry in May 1999 is ebbing. The commission identified six "strong suspects" in the murder, but no one has been prosecuted.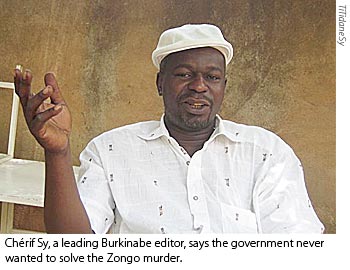 "The lamp was placed here the day the independent commission submitted its report," said Salif Kouala of the Association of Burkina Faso Journalists. "It will remain here and will remain lit until the truth is found. I can remember very well one Western diplomat asking me that day … 'Do you guys have enough oil to keep it burning until then?'"
Kouala understands the question only too well. Wenceslas Ilboudo, the examining magistrate in charge of the Zongo investigation since 1999, dropped charges in July against the only suspect he ever indicted. Ilboudo, who has refused to talk to the media, cited a lack of evidence in dismissing charges against Warrant Officer Marcel Kafando, a member of the Presidential Guard Regiment.
With that, Ilboudo's appointment–and the active investigation–came to a conclusion. It was a severe blow for family and colleagues who have sought justice since Zongo's charred and bullet-riddled body, and those of three others, were found in a remote area 50 miles (80 kilometers) south of Ouagadougou on December 13, 1998.
Zongo, editor of the weekly newspaper L'Indépendant, was riding with his brother and two companions when gunmen fired on their jeep. Before his death, Zongo had been investigating allegations that François Compaoré, brother and special advisor to President Blaise Compaoré, took part in the January 1998 killing of his driver, David Ouedraogo. The chauffeur was suspected of stealing 20 million CFA francs (then US$27,000) from François Compaoré.
Outrage at Zongo's murder sparked a mass movement led by journalists and activists who were sickened by the Compaoré government's alleged corruption and violent suppression of political dissent. In early 1999, President Compaoré promised the commission a free hand in its investigation, and within months the panel concluded that Zongo had been killed for investigating Ouedraogo's murder. Kafando and five other members of the Presidential Guard were named as "serious suspects" in the Zongo murder.
In 2000, Kafando and two other guardsmen were found guilty of killing the chauffeur and sentenced to 10 to 20 years in jail. Six months later, authorities acknowledged a link between the murders of the driver and Zongo, but the connection yielded little result.
Kafando's codefendant, Edmond Koama, was found dead in his prison cell in January 2001 "after a long disease," according to a government statement. A few days later, the state prosecutor questioned François Compaoré about the Zongo case but did not take any action. The next month, judge Ilboudo indicted Kafando in Zongo's murder. Yet despite the pending indictment–and his conviction in the chauffeur's murder–the former guardsman was released from prison for unspecified health reasons in August 2001 and has lived in his home here since. Repeated attempts by CPJ to contact Kafando were unsuccessful.
The dismissal of charges against Kafando has outraged Zongo's supporters, who say the government never intended the judicial investigation to find the killers.
"It was no accident that the government chose to appoint a very young judge," said Chérif Sy, editor of the weekly Bendré and president of the Society of Private Newspaper Proprietors. "This case is not legal but political," Sy, who was also a member of the Commission of Inquiry, told CPJ. "The case could have been concluded in three months if the judge was not a simple political appointee following orders."
Liermé Somé, editor of L'Indépendant, said he has no illusions about what progress can be made while President Compaoré remains in office. The Zongo case "has become a highly political issue and everyone knows that as long as Blaise is in power, it will be difficult to have a fair trial," Somé told CPJ just before the charges were dropped against Kafando.
Both the minister of justice, Boureima Badini, and the state prosecutor's office declined CPJ's requests for interviews. Numerous attempts by CPJ to contact Ilboudo were unsuccessful.
A presidential aide, however, dismissed allegations that Blaise Compaoré and his family had anything to do with Zongo's murder. "Neither the presidency nor anyone in the presidential family had an interest in killing a prominent journalist when the president himself had just won an election victory," the official, Victor Sanou, told CPJ. As far as the investigation into Zongo's murder is concerned, Sanou said that "more time is necessary" and pointed to a justice ministry statement that the case could be reopened if the evidence warrants.
Some of Zongo's colleagues and friends believe the government is stalling for time, and they fear the strategy is succeeding. The broad association of political and human rights activists known by its French name, Le Collectif, that sprung up immediately after Zongo's killing was beginning to disintegrate amid internal squabbling over strategy even before the July 18 dismissal of charges against Kafando. "The collectif is not the force it used to be," Sy said.
"Obviously we are all shocked, considering all our efforts in this case since 1998," said Somé, who vowed to fight on. "We can't accept that people come to put us off with such a decision eight years later."
The lawyer for the Zongo campaign, Benewende Sankara, has appealed Ilboudo's decision, which he said proves "that the judiciary is not independent in this country." The case is too high profile to simply disappear, he said. "No one will dare to bury this case. … The people will never accept it."

Tidiane Sy, CPJ's West Africa correspondent, is a freelance reporter based in Dakar, Senegal.