By Bob Dietz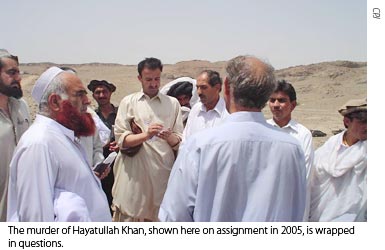 ISLAMABAD, Pakistan
In his last assignment in the lawless tribal region of North Waziristan, Hayatullah Khan filed photos and a story indicating a U.S.-made Hellfire missile had struck a home in the town of Miran Shah, killing senior al-Qaeda figure Hamza Rabia. The story, which appeared in the widely read Urdu-language daily Ausaf, and the pictures, distributed by the European Pressphoto Agency, contradicted the Pakistani government's official explanation that Rabia had died in a blast caused by explosives located in the house.
The next day, December 5, 2005, five gunmen ran Khan's car off the road, abducting the journalist as his younger brother Haseenullah watched helplessly. Six months passed amid a swirl of rumors about Khan's fate before the phone rang at his family's home at 4:40 p.m. on June 16. A Pakistani intelligence officer identifying himself as Major Kamal said Khan's body had been dumped in Miran Shah's marketplace. With that, the officer said, his responsibility to the family had ended.
Khan, 32, was a well-connected journalist, fixer, and entrepreneur who had also started a school and a small inn. He was no stranger to trouble in Pakistan's troubled Federally Administered Tribal Areas, the border region adjoining southeastern Afghanistan where the Taliban is fighting NATO forces. In 2002, U.S. forces in Afghanistan's Paktika province detained Khan for four days. Over the years, he was threatened by virtually every regional faction: Pakistan's powerful Inter-Services Intelligence division (ISI), the military, the Taliban, and al-Qaeda.
Freelance writer Eliza Griswold worked with Khan several times and said he invariably knew what was afoot "in one of the most clandestine corners of the world." Some journalists could be put off by Khan's comparatively high fixer rates, but Griswold said that "he followed the story, no matter the personal cost."
In November 2005, a few weeks before disappearing, Khan met a military intelligence major in Miran Shah and was warned "to leave his profession or leave Waziristan or accept the government's political policies," another brother, Ihsanullah, recalled. "On the night of November 27," he told CPJ, "Hayatullah passed his will to his tribe and explicitly stated, 'If I am kidnapped or get killed, the government agencies will be responsible.'"
Whatever role, if any, the government played in Khan's killing, it appeared to engage in a cruel misinformation campaign during his six-month disappearance. As Khan's family careened between government sources in search of information, the official account morphed from one month to the next: Khan was in government custody, soon to be released; Khan had been abducted by "miscreants;" he had been taken by Waziristan mujahedeen; he had been flown to the military base at Rawalpindi and then detained in Kohat air base. Ihsanullah Khan said Zaheer ul Islam, a regional government agent, summoned family members on May 15 to say that the journalist was at the U.S.-run Bagram air base in Afghanistan. The situation, ul Islam said, was out of his hands.
Ihsanullah Khan angrily pressed ul Islam for a better response. The political agent then "promised Hayat's children that their father will come back to them alive and safe," Khan told CPJ. "We happily returned from Miran Shah to our house in Mirali. I told the good news to my mother, sister-in-law, and sisters who performed some rituals and told our relatives that Hayat would be back."
Interviewed by CPJ, ul Islam acknowledged meeting the Khan family but denied making such a statement.
When his body turned up, Hayatullah Khan was thin, dirty, and in the same clothes he wore when he was abducted. Ihsanullah Khan said his family, too frightened to go to the marketplace to retrieve the body, saw it only later when it was prepared for burial. The family was told by hospital workers that Khan had suffered five or six bullet wounds and that one hand had been manacled in handcuffs typically used by the ISI. Mahmud Ali Durrani, Pakistan's ambassador to the United States, dismissed the reported presence of the handcuffs as circumstantial and said the cuffs could have been planted to incriminate the government. No autopsy was performed.
An investigation led by High Court Justice Mohammed Reza Khan has been completed, but the results have not been made public. Khan's family said they were not interviewed by the judge or other investigators. Northwest Frontier Gov. Ali Mohammad Jan Orakzai told CPJ that North Waziristan was not secure enough to risk exposing a judicial figure to kidnapping or death. Of the eight journalists murdered in Pakistan since 2002, only the case of the American Daniel Pearl has been investigated to any result or degree of competence.
Pakistani officials have pledged to review all of the cases, but journalists are skeptical. And one, Sailab Mehsud, president of the Tribal Union of Journalists, was blunt in assessing the government's role in the slaying: "We know that the government had a hand in this. A message has been sent that we should stop doing our work. For us, the post-Hayat period will only be more dangerous."
Bob Dietz, CPJ's Asia program coordinator, led a mission to Pakistan in July.