Founded in 1981, CPJ marks its 25th anniversary with a series of events this fall. Here are details:

CPJ staff and leaders, past and present, gather for a silver anniversary
About 75 former and current board members and staffers gathered for a reception at Columbia University's Graduate School Journalism on October 22 to mark 25 years of working for press freedom. Guests included the organization's founders, Michael Massing and Laurie Nadel. "CPJ spearheaded a global press freedom movement. If you've been a part of CPJ, then you've been a part of history," said Executive Director Joel Simon, who introduced remarks by Chairman Paul Steiger. Massing, Dave Marash, Josh Friedman, James Goodale, and Dave Laventhol also reflected on their time as chairmen. Click here to see photos
Fight for justice ongoing, says CPJ impunity panel at Columbia University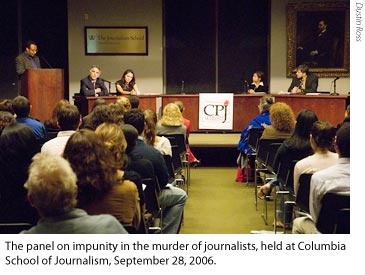 New York, September 29, 2006—Even one conviction in a journalist's murder can improve the international press freedom climate, a panel on impunity organized by the Committee to Protect Journalists found Thursday night. But the fight for justice is ongoing in most of the cases featured in the discussion moderated by Chicago Tribune columnist and CPJ board member Clarence Page at Columbia University's Graduate School of Journalism. Panelists included: Judea Pearl, father of slain Wall Street Journal reporter Daniel Pearl; Myroslava Gongadze, widow of Ukrainian journalist Georgy Gongadze; Bob Rivard, executive editor of the San Antonio Express-News; Sheila Coronel, former head of the Philippine Center for Investigative Journalism of Columbia University. See photos from the event.
CPJ receives Emmy for work on behalf of press freedom
New York, September 26, 2006—The National Academy of Television Arts & Sciences honored the Committee to Protect Journalists for its work in defense of press freedom at the 27th annual News & Documentary Emmy Awards on Monday. Also honored were the International Press Institute and Reporters Without Borders. In his acceptance remarks, CPJ Honorary Co-Chairman Terry Anderson dedicated the award to the 106 journalists and media workers who have died in Iraq since the war began in March 2003. Read Anderson's remarks.
Challenges to Press Freedom: An Online Discussion
Early board members and former directors look ahead to the emerging challenges facing the international press. Moderator John Carroll, Knight visiting lecturer at the Shorenstein Center at Harvard, leads the panel in a two-week discussion about Iraq, national security, Internet censorship, and the new threats to press freedom. Read the discussion.


At CPJ, Times' Dexter Filkins describes reporting in Iraq
CPJ marked its 25th anniversary with an open house at its New York headquarters featuring an in-depth discussion with New York Times Baghdad correspondent Dexter Filkins. Moderated by CPJ Executive Director Joel Simon and attended by a large group of CPJ friends and supporters, the September 14 discussion with Filkins focused on journalist safety and the increasingly dire conditions for reporters in Iraq. Filkins, an award-winning journalist who has covered the war in Iraq since it began in March 2003, is a Nieman Fellow at Harvard University this year. He offered a stark portrait of daily life for reporters in Baghdad. In the following audio report, Filkins describes a typical day in the Times' Baghdad bureau.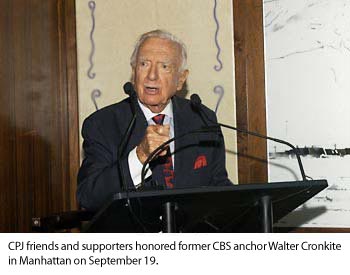 CPJ honors Walter Cronkite, its honorary co-chairman
CPJ friends and supporters honored former CBS anchor Walter Cronkite in Manhattan on September 19. Cronkite joined CPJ at its inception, lending worldwide credibility and recognition, and later participated in a mission to Turkey that led to the dismissal of charges against a journalist. In a recent interview with CPJ, he said: "To most of us who had had any experience in wartime it seemed clear that a strong organization to protect journalists was necessary. Our American reputation for the defense for press freedom makes us particularly good ambassadors in extending those freedoms to nations where they have been denied." See photos from the event.
COMING: PRESS FREEDOM AWARDS
Tuesday, November 21: The 2006 International Press Freedom Awards held at the Waldorf-Astoria. Information: http://www.cpj.org/development/membership.html#annualDinner