China, Cuba, two African nations are top jailers of journalists.
Ethiopian crackdown fuels worldwide increase; U.S. is 6th among nations.
---
---
New York, December 13, 2005—China, Cuba, Eritrea, and Ethiopia are the world's leading jailers of journalists in 2005, together accounting for two-thirds of the 125 editors, writers, and photojournalists imprisoned around the world, according to a new analysis by the Committee to Protect Journalists.
The United States, which is holding journalists in detention centers in Iraq and Guantánamo Bay, Cuba, rose to sixth among countries jailing journalists, just behind Uzbekistan and tied with Burma, CPJ found.
"Antistate" allegations, including subversion, divulging state secrets, and acting against the interests of the state, were the most common charges used to imprison journalists worldwide. Seventy-eight journalists were jailed under such charges, many by the Chinese and Cuban governments.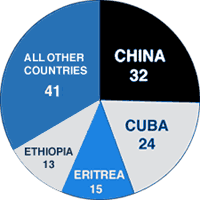 Global tally of journalists in jail on
December 1, 2005, by country
A sudden and far-reaching crackdown on the Ethiopian press this fall fueled an increase in the number of journalists jailed worldwide, according to CPJ's census of those held on December 1, 2005. The global tally is three more than the 122 imprisoned journalists CPJ found in its 2004 census. Twenty-four countries imprisoned journalists in 2005, reflecting an increase from the 20 nations included in the 2004 census.
"We're disturbed to see the number of jailed journalists rise, and we're particularly troubled that the list of the worst abusers now includes Ethiopia and the United States," CPJ Executive Director Ann Cooper said. "Journalists covering conflict, unrest, corruption, and human rights abuses face a growing risk of incarceration in many countries, where governments seek to disguise their repressive acts as legitimate legal processes."

For the seventh consecutive year, China was the world's leading jailer of journalists, with 32 imprisoned. Fifteen, or nearly half, of the cases in China involve Internet journalists; more than three-quarters of the cases were brought under vague "antistate" laws.
Cuba ranked second, with 24 reporters, writers, and editors behind bars, most of them jailed in the country's massive March 2003 crackdown on dissidents and the independent press. Eritrea was the leader among African countries, with 15 journalists in prison, many of them held incommunicado in secret jails for reasons the government would not fully explain, according to CPJ research.
Neighboring Ethiopia imprisoned 13 journalists, all of whom were swept up by authorities seeking to quell dissent amid civil unrest in November. Ethiopian police blocked most private newspapers from publishing; raided newspaper offices, confiscating computers, documents and other materials; and issued a "wanted list" of editors, writers, and dissidents.

Uzbekistan ranked fifth among countries, with six journalists in prison. Burma and the United States followed, with five apiece. U.S. detention centers in Iraq were holding four journalists, while the U.S. Naval Base at Guantánamo held one.
Here are other trends and details that emerged in CPJ's analysis:
• Forty-one journalists whose work appeared primarily on the Web or in other electronic forms were in jail, accounting for just under one-third of the cases worldwide.

• Nine were charged with criminal defamation, the second most common allegation used to imprison journalists worldwide.

• Another five were jailed for reporting what governments called "false" information.

• No charge was publicly disclosed in 11 cases. The United States and Eritrea each account for five such cases.

• The longest-serving journalists in CPJ's census were Chen Renjie and Lin Youping, who were jailed in China in July 1983 for publishing a pamphlet titled Ziyou Bao (Freedom Report). Codefendant Chen Biling was later executed.
One of the imprisoned Chinese journalists, Shi Tao, was honored with CPJ's 2005 International Press Freedom Award. A freelance journalist for Internet publications and an editor for Dangdai Shang Bao, a business newspaper, Shi is serving a 10-year sentence for "leaking state secrets abroad." Shi was imprisoned in November 2004 for posting online notes detailing the government's instructions on how the news media were to cover the 15th anniversary of the military crackdown in Tiananmen Square. The government did not classify the instructions as secret until after the fact.
CPJ is waging a campaign seeking Shi's release, collecting signatures from prominent journalists and press freedom advocates. Two of three imprisoned journalists honored by CPJ since 2003—Burma's Aung Pwint and Cuba's Manuel Vázquez Portal—were freed due in part to the international advocacy campaigns of CPJ and others. The third, Burmese documentary filmmaker Nyein Thit, remains in jail.
CPJ believes that journalists should not be imprisoned for doing their jobs. The organization has sent letters expressing its serious concerns to each country that has imprisoned a journalist.
In addition, CPJ sent requests during the year to Eritrean and U.S. officials seeking details in the cases in which journalists were held without publicly disclosed charges. Eritrean officials did not respond directly to CPJ, but Information Minister Ali Abdu told Agence France-Presse that the jailings were an internal issue that did not warrant explanation. Journalists jailed in Iraq were deemed security threats by U.S. and Iraqi officials, according to U.S. military officials, but those officials would not disclose specific charges or supporting evidence. A U.S. military spokesman would not discuss the detention in Guantánamo.
CPJ's list is a snapshot of journalists incarcerated at midnight on December 1, 2005. It does not include the many journalists imprisoned and released throughout the year; accounts of those cases can be found at www.cpj.org. CPJ conducted its annual census one month earlier than in past years to provide a more timely year-end analysis.
CPJ considers journalists imprisoned when governments deprive them of their liberty because of their work. Journalists remain on CPJ's list until the organization determines with reasonable certainty that they have been released
Journalists who either disappear or are abducted by nonstate entities, including criminal gangs, rebels, or militant groups, are not included on the imprisoned list. Their cases are classified as "missing" or "abducted." Details of these cases are also available on CPJ's Web site.