An Uzbek reporter risked her life to tell the world of Andijan assault.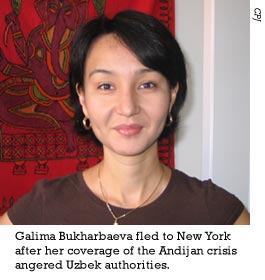 Galima Bukharbaeva was interviewing demonstrators in the eastern Uzbek town of Andijan when President Islam Karimov's troops rolled into Bobur Square and opened fire. She had a narrow escape when a bullet tore through her backpack, punching a hole in her notebook and press card. Her eyewitness reporting of the crackdown in which hundreds of civilians were shot dead informed the world and angered the authorities. Fearing prison, she fled Uzbekistan and is enrolled in Columbia University's Graduate School of Journalism in New York. She is one of CPJ's 2005 International Press Freedom Award recipients.

It was only after I had stopped running that I realized I could have been one of the men, women, and children falling around me. I reached for my backpack to take out my notebook only to find that a bullet from an AK-47 rifle had torn through it, punching a neat hole in the face of Che Guevara on the cover. My press card from the Institute for War & Peace Reporting was also shot through. It was just after 5:20 p.m. on Friday, May 13. Minutes before, I had been moving through the 10,000-strong crowd, listening to the speeches and laughter of people exhilarated by their sudden defiance of years of Soviet-style oppression. Now I was shaking with an animal fear. I had covered fighting once before in Afghanistan but always from a safe distance. Here, I was among a handful of local reporters in the square who had to dive for cover from a hail of bullets that came without warning. I had rushed to Andijan from my home in Tashkent on Friday morning after news that armed men had attacked government buildings and stormed a prison to free 23 local businessmen on trial for allegedly forming an Islamic resistance group. Thousands of unarmed civilians poured into the streets after the uprising, protesting freely for the first time against repression, poverty, and unemployment. Political trials are nothing new in Uzbekistan. The accused businessmen, however, were well-educated, influential, and organized. They denied belonging to any Islamic group. Up to 5,000 supporters had gathered outside the court in the final days of the trial and the authorities were nervous. They began arresting demonstrators outside the courthouse on May 12 and confiscating their cars. This, according to Sharif Shakirov, whose two brothers were among the 23 men on trial, provoked the armed uprising the following day. The rebels stormed the jail and freed the prisoners, but Shakirov would never celebrate his brothers' release. He was killed in the attacks. By early Friday morning the rebels had taken a local government building on Bobur Square and barricaded themselves inside. A few residents ventured out to watch the standoff. As the day wore on they were joined by thousands more who vented their frustration with President Karimov's authoritarian rule and economic mismanagement. The protests were peaceful. Parents brought their children to see the unprecedented spectacle. The rebels expected that the army would move against them to retake the buildings, but the crowd had no inkling of its fate.
From nowhere, a column of eight-wheeled armored personnel carriers surged onto the avenue alongside the square. Atop each vehicle special forces soldiers in black flak jackets sat in a circle, their weapons pointing out. Without warning, the soldiers opened fire into the crowd. Bodies fell like mown hay, row upon row. People in the center of the square ran in all directions, but soldiers had blocked off side streets. A helicopter clattered overhead, pointing out those trying to escape to the troops below. I don't know how I escaped. I just ran. "They think we are just dirt," a woman cried to me. That night, witnesses later told me, soldiers finished off the wounded lying in the blood-washed square. Opposition and human rights groups say up to 1,000 people were killed in Bobur Square and a nearby border town the next day. Karimov says some 30 Uzbek soldiers and 137 other people were killed.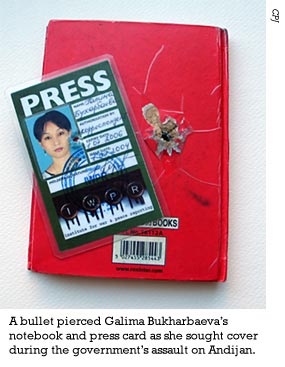 Neither I nor the other five reporters and one photographer in Andijan that day could stay to count the casualties. Like many others much worse off than me, I became a refugee. The prosecutor in Tashkent has opened a case against me for working as a journalist without proper accreditation. It would be dangerous for me to return while the present government is in power. The authorities will want revenge for my reporting and testimony to the U.S. Congress about the Andijan killings. After slipping out of Uzbekistan, I went with my colleagues to a refugee camp in neighboring Kyrgyzstan to which some 500 Andijan residents had fled. Many of them recognized us from Bobur Square and began weeping and shouting: "They're alive." A beautiful young girl, Nailya, turned to me with tear-filled eyes and asked: "Do you think we will ever go back home?" I held her gaze and said: "Of course, we will go back." But I could not say when.