The Pentagon is silent as U.S. military imprisons local journalists.
Much has been said about what is and is not being reported in Iraq, but one thing is clear: Local, front-line journalists are not only risking their lives, they are risking imprisonment for their work.

Ali Omar Abrahem al-Mashhadani, a 36-year-old freelance cameraman and photographer who worked for the Reuters news agency in Ramadi, was taken from his home on August 8 during a general sweep of his neighborhood by U.S. Marines. His family says the Marines were suspicious of photos he stored in his cameras. He was sent to Baghdad's Abu Ghraib prison, held without charge, and denied access to his family and a lawyer.

U.S. officials refused requests from Reuters to discuss his case, and they provided no explanation or evidence supporting his detention. In September, a secret tribunal ordered al-Mashhadani held for up to six months before the case would be reviewed.

Open-ended and unsubstantiated detentions of journalists in Iraq have undermined the ability of the press to report on the conflict. The Committee to Protect Journalists has documented seven cases in 2005 alone in which reporters, photographers, and camera operators were detained by U.S. forces for prolonged periods without charge or the disclosure of any supporting evidence. These detentions have involved journalists working for CBS News, The Associated Press, and Agence France-Presse, among others.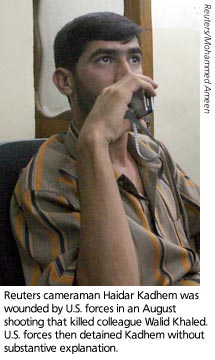 At least three documented detentions have exceeded 100 days; the others have spanned many weeks. CPJ has received reports of numerous other detentions that, because of the secrecy of the proceedings, it has been unable to confirm.
Most of the confirmed detainees are Iraqis–local journalists covering the conflict in their own country. These journalists are vulnerable because they are most frequently in the field reporting from places deemed too dangerous for Western reporters. They are often the first on the scene to report on clashes or insurgent attacks. In at least five cases documented by CPJ, the detainees were photojournalists who initially drew the military's attention because of what they had filmed or photographed.
Despite repeated inquiries over many months, the U.S. military has refused to provide evidence to support these detentions. Instead, military officials have made vague and unsubstantiated assertions that these Iraqi journalists may pose "security risks."
There is no doubt the U.S. military has an urgent need to ensure security, and journalists are not above scrutiny. But the record of detained journalists is plain: In each case documented by CPJ over the past two years, journalists detained on security suspicions were released without charge.
Another August detention, although not as long as others, highlights the secretive and arbitrary nature of the process. Reuters cameraman Haidar Kadhem was detained by U.S. troops on August 28, moments after his car came under U.S. fire in Baghdad's Hay al-Adil neighborhood. A colleague riding in the same car, soundman Walid Khaled, was killed in the gunfire, Iraqi police reported. Reuters said its news bureau had dispatched Kadhem and Khaled to the neighborhood after a police source reported a skirmish involving police and gunmen.
A U.S. military spokesman said Kadhem was detained by U.S. troops and taken to an undisclosed location. A military spokesman said "inconsistencies in his story" warranted further questioning. After a public outcry, Kadhem was freed three days later.
These detentions inhibit front-line journalists from covering a conflict that is already exceptionally dangerous. CPJ research shows that 56 journalists and 22 media support workers were killed between March 2003, when hostilities began, and September 2005. A large majority are Iraqis.
The cases also reflect the wider issue of detentions in Iraq. Thousands of Iraqi citizens have been detained by U.S. forces, many for weeks or months at a time without charge. The handling of these cases reflects on the leadership of the U.S. military and is bound to resonate among Iraqis for many years to come.
Responsiveness and accountability are antidotes. But the Pentagon has instead displayed a pattern of disregard when confronted with issues involving the security of Iraqi journalists and citizens.
In June, CPJ and Human Rights Watch wrote to Defense Secretary Donald Rumsfeld to urge the Pentagon to adopt basic safety procedures at military checkpoints. The recommendations were basic: install signs, speed bumps, lights. In fact, they had been made by military investigators themselves in the aftermath of a fatal shooting of an Italian intelligence agent and the wounding of an Italian reporter in March. Secretary Rumsfeld did not respond, and checkpoints remained unnecessarily dangerous.
By being unresponsive, the Pentagon gives every impression that it sees no need to be accountable. That's not a good lesson to pass on to the citizens of an emerging democracy.
Ann Cooper is executive director of the Committee to Protect Journalists