Threatened on all sides, Colombia's news media muzzle themselves.

MONTERIA, Colombia
The main suspect in Orlando Benítez's murder was never in doubt. Benítez, a lawmaker here in the northwestern province of Córdoba, was preparing to run for mayor of a municipality controlled for years by Diego Murillo Bejarano, a paramilitary chief known as "Don Berna." Murillo, once a close associate of drug lord Pablo Escobar, hadn't given the campaign his blessing.
The local and national press reported briefly on a police announcement of the hit, in which five men gunned down Benítez, his sister, and his driver on April 10. But the press didn't mention Murillo or subject the triple murder to any significant investigation. "No journalist tried to check into what everyone suspected," says Gustavo Santiago, news director of the Caracol Radio affiliate in Montería, the provincial capital. "It could have cost you your life."
It takes mettle to be a journalist in this Andean nation riven for decades by a war that pits government and paramilitary forces against leftist guerrillas, by international syndicates that enable Colombia to supply most of the world's cocaine and much of its heroin, and by an array of underworld organizations that control contraband, extort from businesses, and manipulate public officials.
In this case, news outlets feared reprisals not only from Murillo, who insists he had nothing to do with the assassination, but from President Alvaro Uribe's government, which had suspended arrest warrants for the warlord as part of negotiations to demobilize paramilitaries. The talks had dragged on for more than two years, lately in a paramilitary haven the government set up just a few miles from the murder. Naming Murillo as the suspect would have focused attention on violations of a "ceasefire" the paramilitaries declared for the talks. And it would have fueled international criticism of Uribe-backed legislation awarding judicial leniency to paramilitaries who disarm.
Two weeks after the assassination, authorities finally broke the silence, announcing a fresh arrest warrant for Murillo. Even then, few news outlets explored the paramilitary chief's alleged role in any depth. One fear, Santiago notes, was that journalists would end up having to testify against him.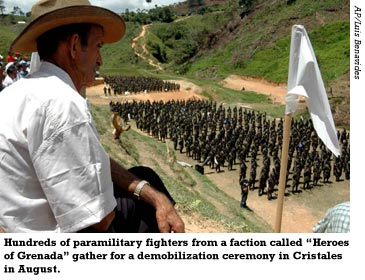 Such hands-off treatment is pervasive in Colombia, a Committee to Protect Journalists investigation has found. Interviews with three dozen news professionals show that media outlets and journalists across the country routinely censor themselves in fear of physical retaliation from all sides in the nation's conflict.
At least 30 Colombian journalists have been murdered over the past decade for their work. "We love our profession, but we're human," says Carmen Rosa Pabón, news director of Voz de Cinaruco, the Caracol Radio affiliate in the northeastern city of Arauca. "Threats and killings make us afraid. To survive, we have to limit ourselves."
On some occasions, verified news is suppressed shortly before broadcast or publication. In other cases, probing journalists are killed, detained, or forced to flee. More often, investigations never even get started. The issues shortchanged are human rights abuses, armed conflict, political corruption, drug trafficking, and links from officials to illegal armed groups. Journalists end up focusing instead on "pleasant topics like fauna and flora," says Angel María León, news chief of Arauca's RCN Radio affiliate.
Communities pay a high price. "Any region without investigative journalism is going to have impunity," says Jaime Vides Feria of Radio Caracolí in Sincelejo, a provincial capital near the Caribbean coast.
And the self-censorship has international dimensions. The Uribe administration, for example, is pushing for U.S. and European funding of a $130 million plan to reintegrate the demobilized paramilitaries into society. But foreign taxpayers can hardly judge whether the plan might bring peace if the press doesn't dare investigate drug trafficking by paramilitaries or their civilian attacks.
"We're talking about serial massacres–extremely cruel deaths with torture," notes reporter Beatriz Diegó Solano of El Universal, a daily newspaper that curtailed its investigation of scores of unmarked graves discovered near Sincelejo this year. "Do you think these people are going to become corn farmers? They're psychopaths."
Colombia's main guerrilla groups–the Revolutionary Armed Forces of Colombia (FARC) and the smaller National Liberation Army (ELN)–formed in the mid-1960s, calling for socialism on behalf of the country's impoverished majority. But the guerrillas have earned a reputation for abusing human rights through tactics such as extortion, kidnapping, and assassination. And the FARC, now more than 15,000 strong, has generated much of its revenue from "taxing" peasants who cultivate coca, the raw material for cocaine.
In the early 1980s, ranchers, military officers, drug traffickers, and businessmen began forming regional private armies to ward off the guerrillas. But the paramilitaries, dubbed "self-defense forces," have focused largely on unarmed social movements. Often working closely with government forces, they've murdered thousands of peasant leaders, trade unionists, politicians, human rights advocates, and other civilians accused of supporting the guerrillas. And they've played a leading role in turning narcotics into Colombia's largest export sector.
Since the Uribe government began negotiating with them in 2002, the paramilitaries have ostensibly demobilized units totaling more than 8,500 of their 20,000 fighters. At the same time, however, they've expanded and entrenched illicit operations ranging from extortion to drug running to gasoline smuggling. They now hold sway over city halls, provincial governments, and federal agencies across the country. They boast of controlling a third of Congress.
The FARC, meanwhile, remains potent. "Here we have found a terrorism reigning for decades, a terrorism hidden in our large cities and in more than 300,000 [square] kilometers of jungle, a terrorism financed by drug trafficking," Uribe said in a 2003 speech. "Nowhere in the world in my generation has it been necessary to confront a terrorism more powerful, rich, aggressive, and dangerous than what we've confronted in Colombia. And how are we confronting it? With the hand of the Constitution. We're confronting it without trimming press freedom."
While the Colombian government exerts little formal control over news content, officials sometimes persuade media outlets to censor themselves. In 2000, Caracol's television network sent reporter Jorge Enrique Botero and two other journalists on an 11-day journey to a secret southern camp where the FARC was holding scores of captured soldiers and police. The video footage formed the basis of a 43-minute documentary substantiating claims by relatives that the government had virtually forgotten about the captives. Botero called it "the most anticipated story of my career."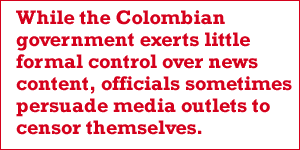 But a letter from the government's National Television Commission urged Caracol to scrap the work, claiming it would "seriously hurt the feelings of large segments of television viewers, such as children," and that "this sort of broadcast could turn out to be counterproductive" for peace efforts. The documentary never aired. A statement from Caracol President Ricardo Alarcón acknowledged the letter but said the network made the decision on its own, already "having divulged many of the images in our news."
Another way officials encourage self-censorship is by accusing journalists of guerrilla ties. In Saravena, a town in Arauca Province, soldiers of an Army battalion called the Revéiz Pizarro Mechanized Group entered community radio station Sarare Estéreo on August 21, 2003, and arrested the town's only full-time journalist, Emiro Goyeneche. He was one of 19 people in the province swept up that day, charged with "rebellion" and accused by the attorney general's office of being an ELN member.
The mass detention came as part of government efforts to increase security along an oil pipeline run by Los Angeles-based Occidental Petroleum. "We had been reporting on [guerrilla bombings], attacks on government forces, and decrees restricting people's movement, but also on sports, cultural events, and daily life," says Goyeneche, who frequently shot video for Caracol TV on top of his radio work. "We were always respectful toward the rule of law and the bounds of democracy."
Reporters in the Arauca capital praise Goyeneche's work and call the charge against him specious. But he ended up in prison for more than 20 months. The jailing wiped out Sarare Estéreo's news programming, a blow to a town with no newspapers and no other radio station except one run by the battalion.
Station Manager Mireya Camacho and her small staff have struggled to resume the news amid repeated confrontations with the Army. At one point last year, the battalion threatened to close the station for broadcasting a community meeting about the killing of three local trade unionists by soldiers. "There's self-censorship," she says. "We can't air statements from legally constituted social organizations about human rights because military forces immediately arrive to question us."
Interviewed in May, battalion commander Col. Luis Francisco Medina Corredor said many of those organizations– he named the town's teachers union and its most prominent human rights group–take orders from the ELN. But he insisted his relations with Sarare Estéreo were fine: "I don't know what the fear is about." The colonel said Goyeneche, released in April and still awaiting a ruling on the charge, is free to work at the station "as long as he doesn't get involved with terrorist groups."
Far-flung military commanders aren't the only officials trying to link journalists to guerrillas. In February, Vice President Francisco Santos chastised reporting that questioned the country's security policies following an upsurge in deadly FARC bombings against government forces. The media, he said, had created "a sounding board for terrorist actions that, without a doubt, was more effective than the use itself of the explosives."
Jorge Otero Martínez, founder of the Montería weekly newspaper Cuarta Opinión, says such statements accomplish ends similar to formal censorship. "A journalist's duty is to give the news, to be a witness to our times," he notes. "If they attack the [Army's] 11th Brigade, do we have to keep our mouths shut because the national government says it never happened?"
Uribe, speaking at a March conference of news executives, urged media outlets to exercise "self-control" and consider barring the publication of interviews with members of illegal armed groups. "The terrorists maintain a very dangerous political game," he said. "One day they kill and the next they want to be news personalities."
In a June 27 radio interview, Uribe admonished one journalist in particular. He said Hollman Morris, a Colombian television reporter who has written critically about the administration's security policies, had traveled to the southern province of Putumayo based on advance knowledge of June 25 FARC attacks that killed 25 government troops there. The allegation turned out to be false: Morris, who was working on a BBC documentary, arrived after the clashes. The president's office retracted the claim, but Morris says he had to cut his Putumayo visit short in fear of retaliation.
The number of attacks on Colombian journalists has declined in recent years, but the country remains one of the world's most hazardous places to report news. This year, at least one journalist has been murdered for his work, several others have survived attempts on their lives, and dozens have reported receiving threats.
The slain journalist, Julio Hernando Palacios Sánchez of the northeastern city of Cúcuta, hosted a Radio Lemas program that regularly focused on local corruption. Two unidentified men on a motorcycle opened fire as he drove to work January 11.
Six explosions this year have damaged news facilities. The worst was a February 20 car bombing that destroyed the building housing the RCN radio and television stations in the southwestern city of Cali. The FARC claimed responsibility four days later.
On May 16, funeral wreaths were delivered to the offices of three nationally known journalists whose work often cast negative light on the Uribe administration. The wreaths came with cards inviting the journalists to their own burials. One of the three, Daniel Coronell, also received e-mail messages threatening the life of his 6-year-old daughter. Coronell, who directs a news show on the TV network Canal Uno and writes a column for the weekly magazine Semana, tracked the messages to a computer in the Bogotá mansion of former Congressman Carlos Náder Simmonds, a close friend of Uribe. Náder denied sending the threats but admitted they came from his computer. An investigation by the attorney general's office has shed no light.
The lack of security owes much to Colombia's justice system, described in a February report by the U.S. State Department as "overburdened, inefficient, and subject to intimidation and corruption." Inefficiency, at the very least, has stalled many cases involving journalists. Two Army soldiers were convicted in the 1991 murder of Henry Rojas Monje, an Arauca correspondent for the Bogotá daily newspaper El Tiempo. The Defense Ministry was eventually ordered to pay more than $20,000 to his family, but the government appealed that ruling. In August, almost 14 years after the killing, the president of a national panel of administrative judges known as the State Council said the case's evidence files, weighing more than 100 pounds, had "disappeared" and would have to be reconstructed. The family won't be receiving the reparation any time soon.
Last year the Bogotá-based Foundation for Press Freedom (FLIP) examined 157 attacks on journalists reported to authorities in recent years. A court had ruled whether a defendant was guilty in only two of the cases. In one–the 2002 murder of newspaper reporter Orlando Sierra–the killer received a lengthy prison sentence, but those who ordered the hit hadn't been investigated. In the other–the 1999 murder of political satirist Jaime Garzón–the convicted mastermind, paramilitary chief Carlos Castaño, went missing on April 16, 2004.
Some lawmakers and human rights advocates have blamed such impunity on paramilitary infiltration of the justice system. Within months of assuming his post in 2001, according to Human Rights Watch, Attorney General Luis Camilo Osorio fired 26 human rights prosecutors and promoted many others who eventually faced corruption charges. The Miami Herald reported last year that prosecutors in the cities of Cúcuta and Medellín had tolerated or participated in paramilitary atrocities. The U.S. State Department has reported on a score of separate cases in which the attorney general has taken little or no action in response to the disappearances or deaths of lawyers, union leaders, journalists, and other prominent figures.
Osorio stepped down this August, but journalists may not fare differently under his replacement, former Deputy Justice Minister Mario Iguarán, appointed by the Supreme Court on Uribe's recommendation. Osorio describes Iguarán as his "clone." It happens that Iguarán co-authored the legislation for demobilizing the paramilitaries. The measure, supported by the United States and signed into law by Uribe in July, reduces jail sentences and provides cash awards to illegal combatants who disarm. Uribe calls such incentives crucial for peace. "The law is universal," he noted in a July speech. "It's for guerrillas and paramilitaries."
But the law's critics–including Human Rights Watch, Amnesty International, and the human rights commissions of both the United Nations and the Organization of American States–warn that it sets prosecution time limits that may allow some of the worst paramilitary offenders to remain free. The few convicted, they say, could serve sentences as short as two years and keep their forces intact.
That sort of impunity weighs heavily on the news media. In Florencia, a southern provincial capital, radio journalists Alfredo Abad López, Guillermo León Agudelo, and José Duviel Vásquez Arias were murdered over an eight-month period in 2000 and 2001. "The attorney general's office still hasn't determined who's responsible," notes Carlos Meyer Sánchez, news director of the local RCN Radio affiliate. "That has led to self-censorship. There are topics you can't touch."
Self-censorship turns up in every corner of the country but most intensely in regional media. "We live here, our families live here, and everyone knows us," says León, the radio reporter in Arauca. "It's not the same with journalists who visit for a few days from Bogotá or an overseas news agency." Some of the censored news involves routine reporting. Meyer Sánchez recalls a press conference in which the Army's 12th Brigade announced it had captured a few paramilitary fighters. He says a man outside the event introduced himself as the detainees' commander and urged that there be no reporting on the arrest "for your security and the security of your family." That threat, Meyer Sánchez adds, persuaded the station not to broadcast anything about the capture.
El Caleño, a daily newspaper in Cali, decided against publishing an image of a June murder victim after the photographer received a threat on his cell phone. "Sometimes it's hard to be a good journalist because of the fear," Managing Editor Blanca María Torres Ramírez notes.
On July 14, authorities near Medellín captured José Aldemar ("Mechas") Rendón Ramírez, wanted in the United States for his suspected role as a financial officer of the Norte del Valle drug cartel. The national and international press covered the arrest, but media outlets in the southwestern city of Cartago, where Rendón grew up, gave the story a pass. "There are things we can't report," Cartago Stereo's Luis Angel Murcia explained the day after the arrest. "We're afraid of reprisals."
In another form of self-censorship, news outlets abandon important investigations. In April and May, El Universal reporter José Javier Sarmiento broke several stories about 72 unmarked graves found on farms where paramilitary chief Rodrigo ("Chain") Mercado Pelufo operated. Sarmiento never received explicit threats, he says, but "many people with clear knowledge" of Mercado Pelufo's unit told him his reporting had gone far enough. "The newspaper also said I had to tone it down and not mention the farm owner," he adds, referring to his only report that named the proprietor of the 6,000-acre tract where most of the bodies had turned up.
Numerous angles begged for more investigation. Authorities, for example, weren't pursuing the farm owner and hadn't identified most of the bodies. Area residents said hundreds of corpses remained to be found. And Mercado Pelufo, wanted in 10 massacre cases, was enjoying a suspension of his arrest warrants as part of the demobilization talks. Yet El Universal dropped the story. Juan Manuel Sánchez, who supervised the newspaper's Sincelejo edition, acknowledges the danger of investigating the paramilitaries: "We try to inform without bothering any armed group." But he insists this story died on its own. The farm owner "didn't have links" to Mercado Pelufo, he says, and the other angles lacked "reliable sources."
Semana, the nation's largest newsmagazine, last year published a string of reports questioning the demobilization talks. The coverage peaked with a transcript of tapes from the negotiating table revealing that the government had offered to protect paramilitary chiefs from extradition to the United States, where Murillo and many others are wanted on drugtrafficking charges. "After that, there wasn't a direct threat, but there were clear and strong signals from underworld sources to be careful," says Carlos Eduardo Huertas, Semana's investigative coordinator. The magazine's reporting on the talks softened. "People noticed a change," he says.
As journalists censor themselves, they invariably rely more on government sources. In Buenaventura, the country's major Pacific port, 12 youth soccer players were massacred on April 19. Local reporters learned quickly that paramilitaries had accused two of the players of FARC ties. "The whole neighborhood knew what happened, but we couldn't publish anything because of fear," says Adonaí Cárdenas Castillo, correspondent of the Cali-based daily newspaper El País, noting that a dozen journalists in Buenaventura have been murdered over the past 15 years. "Even if you know who killed someone," he says, "you can publish only what the police report." So the press offered no hint who might be responsible for the massacre until authorities announced a paramilitary fighter's arrest four weeks later.
Cárdenas Castillo notes that the lack of information damages the credibility of both the government and the press, increasing the likelihood of violent reprisals, especially in a city like Buenaventura, which averages a murder a day among its 270,000 residents. "If we could publish what happened, it would curtail impunity," he says.
In perhaps the most extreme form of self-censorship, journalists pack up and leave. During the crackdown to protect the oil pipeline, almost every reporter in Arauca fled the province. Several events triggered the exodus. On June 28, 2002, suspected paramilitaries gunned down Efraín Varela, owner and news director of the radio station Meridiano 70, on a highway just outside the provincial capital. On March 18, 2003, two other suspected paramilitaries killed Luis Eduardo Alfonso,
Varela's replacement as news director, as he arrived for work at the station. Eleven days after Alfonso's murder, a mysterious list named 16 local journalists as assassination targets of the guerrillas or paramilitaries. "We were on planes for Bogotá within days," recalls León, who didn't return to Arauca for five months.
"Threats against us persist today," León adds. Most Arauca journalists now confine their reporting to the capital. Even then, they move in packs and rarely stray from bodyguards provided by the government. "It's very hard for a journalist to work like this," he notes. "When we show up in a neighborhood with the escorts, it scares people away."
Threats and attacks have uprooted many other journalists. In April, Angélica Rubiano fled Florencia, where she reported for the local radio station Cristalina Estéreo and La Nación, a daily newspaper based in the nearby city of Neiva. Her investigation of FARC operations had led to threatening phone calls and apparently a March 13 bombing of an antenna used by the station. "She was one of the best journalists around," says reporter Jorge Eliécer Quintero Cuéllar of Diario de Huila, a competing newspaper.
Television director Julian Alberto Ochoa Restrepo fled Andes, a municipality in the northwestern province of Antioquia, in July after a May 23 assassination attempt and subsequent threats over his rumored contribution to a national journalist's report on area corruption. Buenaventura television journalist Fanor Zúñiga Hurtado left that city July 24 after months of threats from the FARC.
In Coronell's case, fear for his 6-year-old convinced him to move his family outside the country in August. He accepted a one-year fellowship at Stanford University, took a leave from his TV show, and got Semana's permission to submit his column from overseas. "The possibilities for investigation have deteriorated," he laments. "But the safety of my daughter comes first."

Chip Mitchell is a radio and print journalist based in Bogotá. Frank Smyth of the Committee to Protect Journalists contributed to this story from the southwestern province of Valle del Cauca.