Senegal's leaders promise new rights, while its laws deny them.
DAKAR, Senegal
When UNESCO, the United Nations agency that promotes the exchange of ideas and information, picked the capital of this West African nation to mark World Press Freedom Day on May 3, Senegal received a prestigious endorsement as a model of stability in a region wracked by violence.
In the vast conference room of Dakar's posh Méridien Président hotel, UNESCO Director Koïchiro Matsuura said that "in deciding to celebrate World Press Freedom Day this year in Dakar, the international community is honoring Senegal's undeniable efforts toward the promotion of democracy."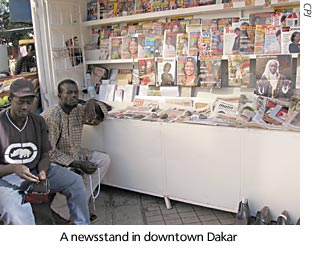 Yet even as press freedom took center stage inside the Méridien, journalists and press advocates remained engaged in an uphill—and thus far fruitless—struggle to do away with a series of legal provisions that allow journalists to be jailed for what they write. After a prominent journalist was imprisoned under a vaguely worded national security statute in July 2004, President Abdoulaye Wade promised to scrap the article from the Penal Code and get rid of criminal sanctions for press offenses. Nearly a year later, though, there has been little progress toward meeting these goals, and Wade's administration has narrowed the scope of reform efforts.
By most measures, Senegal boasts a sturdy, functioning democracy. Its large and diverse press is one of the strongest on the continent, and journalists enjoy a degree of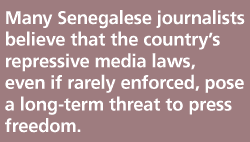 freedom unimaginable in many parts of West Africa—a region that includes such trouble spots as the Gambia, where a crusading independent journalist was assassinated in December; Ivory Coast, where journalists are trapped between bitterly divided pro- and anti-government factions; and Guinea, where the government keeps the tiny private press on a short leash.
But many Senegalese journalists believe that the country's repressive media laws, even if rarely enforced, pose a long-term threat to press freedom. They point to progress made in other democracies to eliminate repressive provisions that can be used to target journalists. In 2001, for example, Ghana's government repealed criminal sanctions for libel, publication of false news, and defaming the president.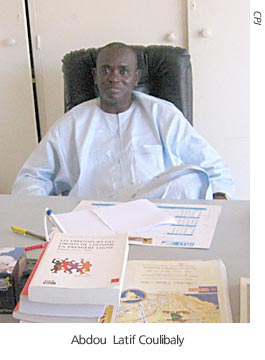 "It has been almost 10 years that Senegalese journalists have fought to ensure that press offenses no longer put journalists in prison," said Abdou Latif Coulibaly, a veteran Senegalese journalist and media professor. "To put a journalist in prison for what he has written, even if it is defamatory, seems to us to be an extremely serious danger for a democracy."
Senegal's press union, known by its French acronym SYNPICS, has long pressured the government to do away with laws that could imprison journalists for their work, but its efforts didn't gather steam until last July. That's when Madiambal Diagne, owner and managing editor of the private newspaper Le Quotidien (The Daily), was imprisoned under a national security provision, known as Article 80 of Senegal's Penal Code, for writing articles about alleged executive interference in the judiciary and corruption in the customs service. Article 80 criminalizes any "maneuver or act that might compromise public security or cause serious political disturbance," and Senegal's Procedural Code imposes mandatory detention for anyone charged under the law. Diagne was eventually released on bail after more than two weeks in prison, but the criminal charges against him are pending.
The first of Diagne's articles reported that an investigation conducted by the Finance Ministry had uncovered evidence that the former customs director had embezzled government funds. According to the article, the Finance Ministry alerted the president to these findings, leading to criminal charges against the director. A copy of the ministry's memo to Wade, stamped "SECRET," appeared next to the article.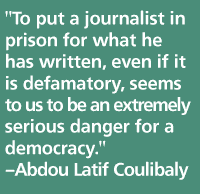 The second article alleged that President Wade and then-Justice Minister Serigne Diop had demoted judges who disagreed with them politically, and that this had caused anger in the judiciary community. For example, the article alleged that the demotion of one judge "occurred after a dispute which pitted him against the State."
"He was someone who was digging around, and he was sharp, and he was divulging lots of secrets," says Boukounta Diallo, a prominent Senegalese human rights lawyer who defended Diagne. Diallo told CPJ that the charge under Article 80 was designed to put Diagne in jail. "Since Article 80 calls for an obligatory detention order, it was a way to be sure that Madiambal Diagne went to prison."

Alpha Sall, secretary-general of SYNPICS, said the case galvanized the press and the public. "We have always denounced [these laws]. But people never paid attention, because, as I told you, no one was being put in prison. … So when the Madiambal Diagne case happened, everyone— the president, politicians, journalists—understood what SYNPICS was talking about."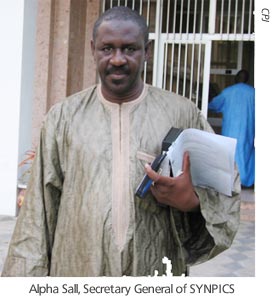 Journalists and civil society groups organized a series of popular demonstrations, at which hundreds of protesters carried signs and shouted "Free Madiambal!" into loudspeakers. SYNPICS organized a sit-in at the Information Ministry, and threatened a general strike by all unionized workers. The press also observed a daylong media blackout during which newspapers stopped publishing, while private radio stations played protest songs and aired commentary on press freedom. An editorial from a special edition of Le Quotidien, reprinted by many of Dakar's private papers, accused the government of choosing "a strategy of intimidation and brinkmanship in order to instill panic amongst us."

By the end of July 2004, Wade was under intense domestic and international pressure over Diagne's imprisonment. After a trip to France in which President Jacques Chirac raised the issue, Wade announced that he would move to eliminate Article 80 from the Penal Code. Local journalists say that this was a promise the president first made after being imprisoned himself under the article, for his alleged involvement in anti-government riots as an opposition leader in the 1990s. (Wade was elected president in 2000, after more than a decade spent as the "eternal adversary"—in the words of Le Monde—of former President Abdou Diouf.)
In October, Wade announced that he also supported the decriminalization of press offenses and asked journalists' associations to submit suggestions for reform. SYNPICS drafted a comprehensive proposal, with the help of legal experts and assistance from UNESCO, and submitted it to the government in December. The proposed changes include removing criminal sanctions for most press offenses, including defamation and insult—except in cases of defamation or insult for reasons of ethnic, racial or religious difference—and replacing them with civil statutes and fines.
Sall said roughly 20 criminal defamation cases are brought against journalists in Senegal every year, although journalists rarely go to prison. Even when journalists are found guilty, he said, judges do not typically issue detention orders. But the mere existence of criminal sanctions has a chilling effect on the media and inhibits a free press, his fellow journalists added.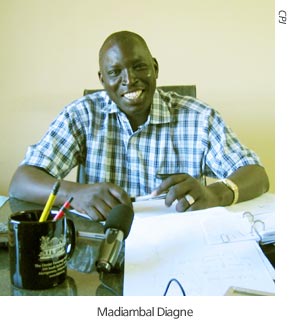 Diagne, himself a lawyer by training, said there is no reason for delay. "Every day, the government writes up laws and gives them to the assembly and has them passed," he said. "I don't think it's the job of journalists to draft laws. But since people accepted to do it, they did it, so what's the government waiting for to pass it into law? That's the question."
Judging by their public comments, though, Wade and members of his administration are taking a narrow view of what constitutes reform. At a speech at UNESCO's awards ceremony, Wade mentioned the government's project to decriminalize press offenses, but made a careful distinction between "delits de presse" and "delits commis par voie de presse"—"press offenses" and "offenses committed through the press."
In a CPJ interview the following day, then-Justice Minister Serigne Diop made the distinction clear. "Defamation is not a press offense," he said. "We cannot decriminalize something that is not a press offense. It's not possible."
The minister acknowledged that the decriminalization of defamation was part of the proposal submitted by SYNPICS. "That's what they're asking, but we are trying to prove to them that it's not possible, since defamation is not a press offense." Diop said Senegalese culture was incompatible with decriminalizing defamation. "There are societies that can allow themselves that, but our society does not allow it," he said. "We have nothing more valuable than our honor. If we lose our honor, it's over."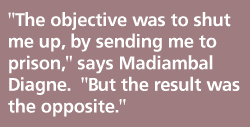 Diop was later named to "Ministre d'Etat auprès du Président de la République" (Minister without portfolio) while a new Justice Minister, Cheikh Tidiane Sy, was appointed. The administration's position, however, appears unchanged.
Bacar Dia, Senegal's information minister and Wade's spokesman, told CPJ in a telephone interview that the administration considers defamation an offense under common law, and that it did not fall under the category of press offenses. "We are not for the decriminalization of common law offenses," he told CPJ.
Dia declined to give specific examples of offenses that the government was willing to decriminalize. SYNPICS has identified several, including insulting the president and publishing "false news."
Several Senegalese journalists told CPJ they were surprised by Wade's distinction. While acknowledging that other laws present an equally great threat to the media, journalists argued that the existence of criminal defamation statutes and the government's apparent resistance to reform them, despite progress in the region, belie the government's frequent claims to press freedom leadership.
In addition to the charge under Article 80, Diagne was also charged with publishing false news and publishing secret government documents, both of which are criminal charges under current laws. Diop told CPJ that Diagne's most egregious offense was his publication of the leaked Finance Ministry memo.
"It's the fact of having published a document stamped 'secret,'" he said. "When the state puts 'secret' on a document, it's henceforth something that is linked to national security, and one does not have the right to publish it." Several journalists suggested that it was Diagne's refusal to reveal his sources that earned him the government's ire.
Local journalists said criminal sanctions for publishing leaked documents pose a grave threat. "In the higher spheres of the state, in the Senegalese administration, people continue to cultivate the taboo, the cult of confidentiality," says Jean Meissa Diop, editor of the leading daily Walfadjri (Dawn). "People encourage… an excess of zeal for the protection of documents or of sources which do not merit this kind of protection."
Diagne said protests against his imprisonment showed the media's potential influence in shaping Senegal's image. "The objective was to shut me up, by sending me to prison… But the result was the opposite. In the end, it turned against the government. There was an enormous popular mobilization, which we had never seen here, people were in the streets, all the radios were talking about it, the entire international public opinion was fixated on Senegal."
The diverging views of press conditions in Senegal were evident inside and outside the UNESCO gathering. During the opening ceremonies, Information Minister Dia lauded the relationship between the media and the Senegalese government and called his nation "the capital of press freedom."
Outside the conference on World Press Freedom Day, vendors hawked the May 3 edition of the Dakar daily Sud Quotidien that carried a commentary headlined, "Media and legislation in Senegal: The press on parole." The outspoken private paper said that laws criminalizing such offenses as defamation "constitute a sort of sword of Damocles hanging over the head of the men and women working in this profession."
Alexis Arieff is Research Associate for CPJ's Africa program.