An online journalist endures brutal imprisonment in Tunisia-and lives to post again.
By Amanda Watson-Boles
PARIS, France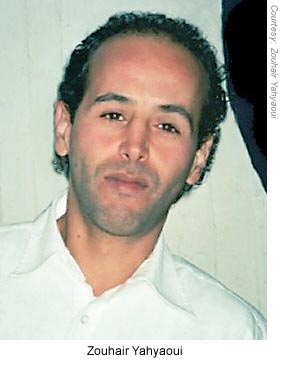 Back in 2001, Zouhair Yahyaoui was like many other young college-educated men in Tunisia–unemployed. Then 33, Yahyaoui launched a Web site, the online Internet forum TUNeZINE, in July of that year using the alias "ettounsi," or "Tunisian" in Arabic. The site soon gained a reputation for its biting satire and political commentary, and along with it came scores of young readers.
Thus began an arduous journey that led Yahyaoui through Tunisia's politicized judicial system and into its brutal prisons. His fate, as one of the first Internet journalists to be persecuted for his work, drew worldwide attention that finally won his release.
Today, he's back home in Tunis, Tunisia's capital, again publishing on the Internet, avoiding government censors as best he can, and churning out political humor and critiques that can be seen most everywhere around the world except his own country.
Since Tunisian President Zine El-Abidine Ben Ali assumed power in 1987, the government has used rigid censorship to stamp out almost every voice of dissent. The Internet had been an exception for a time, but even that came under increasing repression–a fact Yahyaoui came to know all too well.
By mid-2002, Yahyaoui's TUNeZINE had attracted the government's attention. Yahyaoui regularly published outspoken articles by independent journalists and human rights activists criticizing the government. He published an online poll satirizing a 2002 referendum, largely viewed as illegitimate, in which 99.52 percent of voters approved constitutional changes allowing Ben Ali to run for an unprecedented fourth term.
But Yahyaoui went too far for the government's tastes in May of that year, when he posted an open letter written by his uncle, a judge, who criticized the lack of judicial independence in Tunisia. Days later, on June 2, government security officers descended on the Internet café in Tunis where Yahyaoui worked on his site and arrested him.
He was quickly charged and convicted of intentionally publishing false information and using stolen communication lines to post TUNeZINE. In July, an appeals court confirmed the verdict but reduced his initial 28-month prison sentence to 24 months. When Yahyaoui was arrested, officers tortured him during interrogation. He recalls how he was hung from the ceiling, naked except for a pair of underwear, and beaten. He was kicked, slapped, and punched. Conditions in prison were poor: rotten food, dirty cells, bad health care. To protest, the journalist waged about 10 hunger strikes, totaling 105 of the 531 days he spent behind bars.
He also fought his mistreatment by getting as much information about prison conditions to the outside world as possible. Each Thursday, he would visit briefly with his mother and sisters–the only family members allowed to see him–and tell them what he could before the guards cut him off. The women would return home and call Yahyaoui's fiancée, who lives in Paris, to report what they had heard from him. She would then publish Yahyaoui's accounts online immediately.
But publicizing his plight only made some guards more relentless, Yahyaoui says. In late March 2002, he was placed, naked, in solitary confinement for two days. His response? Another hunger strike after he was released from confinement.
His persistence won him admirers in prison. "Some prisoners who shared my room called me 'Bouna,' or 'Our Father,'" he recalls, because it was thanks to his hunger strikes that he and other prisoners eventually had running water and fresh bread. Some prison guards also respected Yahyaoui, "even if they had to hide it from others," he says. "They always repeated the same phrase to me: 'I would like to help you, but I have a family to feed.'"
Yahyaoui was finally freed on November 18, 2003, after an intensive and long-term international campaign on the journalist's behalf. Tunisian officials said they released him because he had served half his sentence, although Yahyaoui points out that he had served considerably more.
Even with Yahyaoui's freedom secured, the situation remained dire in Tunisia. In fact, the day he was released, Internet journalist Naziha Rejiba, who edits the online Tunisian publication Kalima, received an eight-month suspended prison sentence on spurious charges of violating currency exchange laws. CPJ research suggests that Rejiba was targeted for criticizing the government's human rights record.
On January 5, 2004, an assailant believed to be working with the state security services attacked prominent Internet journalist and human rights activist Sihem Bensedrine, also of Kalima, when she exited her home in Tunis. Web censors have banned Kalima inside Tunisia, and the government has also forbidden the publication from printing hard copies.
With attacks mounting, U.S. President George W. Bush spoke of "the need to have a press corps that is vibrant and free" when Ben Ali visited the White House in February 2004, according to the Los Angeles Times. Despite Bush's words, little has changed.
Sitting in a café in Paris, where he is visiting his fiancée, Yahyaoui doesn't look like a crusading journalist. He is quiet, timid, even nervous. With slightly unkempt curly hair and a tan blazer, he seems more like a young professor than the seasoned activist he has become. None of the sharp wit so evident in Yahyaoui's writing is apparent as he talks softly, sipping a beer and smoking cigarettes. But as he recounts his imprisonment, his resolve becomes apparent.
Though he continues to publish TUNeZINE, things are far from easy. Thanks to the international pressure that spurred his release, Yahyaoui hasn't suffered government harassment since being freed. Instead, authorities have targeted his family, cutting their phone lines, arresting his brother twice, and trying to force one of his aunts out of his mother's house. He says he sometimes can't connect to such services as Yahoo! Mail and Google news because of government blocks, and at times he must change e-mail hosts to evade government censors. He uses proxies to ensure that his e-mails are untraceable. Despite the hardship, new postings appear on TUNeZINE every day, though the site is blocked inside Tunisia.
These days, all of Yahyaoui's energies are focused on TUNeZINE, which doesn't bring home any money. But, he says, "I always agreed to work whatever job assures me independence in the face of dictatorship."
As the fall elections near, Yahyaoui is concerned that the government will begin cracking down on dissent. "The regime of Ben Ali tries to snuff out our voices and to undermine our will. … I am very pessimistic." But he will continue to publish his site. "Since few people use their right to free expression in Tunisia," he says, "it is necessary that someone shows them that it is possible–providing he pays the price, of course."

Amanda Watson-Boles is CPJ's senior editor. This profile is based on an interview with Yahyaoui in Paris in June 2004.