The Committee to Protect Journalists (CPJ) is again marking World Press Freedom Day, Monday, May 3, by naming the World's Worst Places to Be a Journalist. The list of 10 places represents the full range of current threats to press freedom.
At the top of the list is Iraq, where 25 journalists have died since the U.S.-led war began in March 2003. A brutal crackdown launched last year in Cuba by Fidel Castro's government has left an unprecedented 29 journalists behind bars, serving lengthy prison terms of up to 27 years. Last year saw the biggest blow to Zimbabwe's beleaguered press when authorities closed the country's only remaining independent daily. CPJ also placed Turkmenistan, Bangladesh, China, Eritrea, Haiti, the West Bank and Gaza, and Russia on the list of Worst Places to Be a Journalist.
"In all of these places, reporting the news is an act of courage and conviction," said CPJ Executive Director Ann Cooper. "Journalism is essential in helping all of us understand the events that shape our lives, and our need and desire for information cannot be eliminated by violence and repression."
Iraq
More than a year after the war in Iraq began, the country remains the most dangerous place in the world to work as a journalist. Twenty-five journalists have been killed in action in Iraq since March 2003. Twelve have been killed in 2004 alone—all of them Iraqis.
Postwar Iraq is fraught with risks for reporters: Banditry, gunfire, and bombings are common. Insurgents have added a new threat by systematically targeting foreigners, including journalists, and Iraqis who work for them. At least six Iraqi media workers have been murdered, and several more have received threats. Armed groups have abducted some eight journalists in 2004, though all have been released.
U.S. forces pose an additional threat to working journalists: at least seven—and possibly as many as nine—journalists have been killed by gunfire from U.S. forces. Other journalists—mostly Arab or Iraqi—have been detained and suffered mistreatment at the hands of U.S. forces.
Cuba
The arrest and long-term imprisonment of 29 journalists in 2003 has decimated Cuba's fledgling independent press. A year after the government of President Fidel Castro Ruz launched a massive crackdown against the press and the political opposition, the imprisoned journalists and their families are harassed and exposed to humiliating prison conditions and psychological torture. They have denounced inadequate medical attention, have been placed in solitary confinement, and have complained about receiving foul-smelling and rotten food. The journalists, who are held in maximum-security facilities, went on hunger strikes several times to demand better conditions. Those journalists who were not imprisoned continue to face routine police intimidation and harassment and are careful about what they write. They say they have been visited by state security officials and issued warnings to stop writing or face the consequences.
Zimbabwe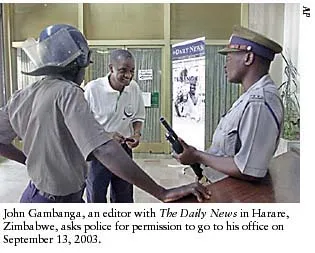 For the last four years, Zimbabwe's government has pursued a relentless crackdown on the private press through harassment, censorship, and restrictive legislation. Last year saw the biggest blow to press freedom yet, with authorities closing the Daily News, Zimbabwe's only independent daily and the country's most popular paper. The country's Media and Information Commission (MIC), whose board is government-appointed, refused to register the newspaper despite two court orders to do so. And in February 2004, the Zimbabwean Supreme Court upheld legislation requiring journalists and media outlets to be licensed by the MIC, making it a criminal act to practice journalism without government approval. Those who fail to register face fines and up to two years' imprisonment.
Zimbabwean officials have proven particularly sensitive to coverage of political unrest and the country's severe economic problems. Journalists who reported on pro-democracy rallies were arrested by police and attacked by ruling party supporters. Last year, authorities deported the last foreign reporter based in Zimbabwe, the U.K. Guardian's Andrew Meldrum, whom officials called an "undesirable inhabitant."
Turkmenistan
Because political dissent is not tolerated by Turkmenistan's totalitarian regime, independent journalism is practically non-existent. President-for-life and self-proclaimed "father of all Turkmen," Saparmurat Niyazov, maintains strict control over all newspapers, radio, and television stations by personally appointing editors, and his office approves news reports before they are published or broadcast.
One of the only independent media outlets that penetrates this system of control is the reporting broadcast from abroad by the Turkmen service of the U.S. government–funded Radio Free Europe/Radio Liberty (RFE/RL). And again this year, RFE/RL was subjected to intense official harassment. In September 2003, National Security Service (MNB) agents detained an RFE/RL stringer based in the capital, Ashgabat, for two days, threatened him with 20 years in prison for betraying his country, and injected him multiple times with an unknown substance. More recently, in February 2004, MNB agents arrested two RFE/RL freelancers after one smuggled 800 copies of his banned novel into Turkmenistan. Both were released from prison in March after CPJ and other press freedom groups protested. However, the journalists still face charges of slander and instigating social, ethnic, and religious hatred and have been pressured to sever all ties with RFE/RL.
Bangladesh
Crime, corruption, and lawlessness make Bangladesh the most violent country for journalists in Asia. Reporters routinely face threats, harassment, and often brutally violent physical attacks in retaliation for their reporting. Despite promises from government officials to apprehend those responsible for assaults, the majority of attacks on journalists go unpunished. Deep political divisions in the country and within the journalism community also contribute to the climate of fear.
CPJ has documented dozens of violent attacks against Bangladeshi journalists during the last decade, including the murders of seven journalists in the last eight years. Journalists working outside the capital, Dhaka, are particularly vulnerable. Veteran journalist Manik Saha was killed in January 2004 in the southwestern city of Khulna when unidentified assailants threw a homemade bomb at him. In December 2003, a group of thugs affiliated with the ruling Bangladesh Nationalist Party tried to kill Shafiul Haque Mithu in the southwestern town of Pirojpur after he wrote a series of articles exposing local officials' abuse of power.
China
During the last year, the newly installed government of President Hu Jintao and Premier Wen Jiabao has escalated an assault on the burgeoning independent-minded media in China. Authorities have arrested high-profile editors, closed publications, and imposed news blackouts on politically sensitive events.
The crackdown reached an apex in early 2004, when officials arrested three popular and respected editors from the pioneering Southern Metropolis News for alleged corruption. The charges came after the paper published a series of reports on the resurgence of Severe Acute Respiratory Syndrome, local police violence, and other sensitive topics. Chinese journalists have called the arrests the "darkest moment" in 20 years of media reform in China.
Forty-one journalists are now imprisoned in China, making it the world's leading jailer of journalists for the fifth year in a row. Independent writers and commentators on the Internet are particularly targeted for prosecution. The arrest of prominent and outspoken commentator Du Daobin in late 2003 sent a clear message to all Internet writers that free expression online will not be tolerated.
Eritrea
Eritrea has been Africa's foremost jailer of journalists since September 2001, when the government banned the entire private press and detained independent reporters. Seventeen journalists are now in secret jails across the tiny Red Sea nation, almost all of them held incommunicado. President Isaias Afewerki and top government officials have accused independent journalists of espionage, spreading disinformation, and "endangering national unity." Authorities continue to insist that the private press also operated without proper licenses, and that independent journalists routinely evaded the compulsory National Service Program. Despite these allegations, no formal charges have been brought against any of the journalists, and the government has given no indication that it intends to prosecute them. The ruling party has a firm grip on the state media, whose employees are censored and also practice self-censorship. Afewerki has been unfazed by persistent international denunciation of his human rights record and continues to dismiss foreign critics as enemies of Eritrea.
Haiti
Press freedom conditions have seriously deteriorated in Haiti since September 2003, when the murder of a notorious gang leader sparked nationwide violence. From January to March 2004, journalists became targets during the uprising that led to the ouster of President Jean-Bertrand Aristide on February 29. While hostility against Haitian journalists is common, foreign correspondents were also attacked while covering the two-month rebellion. In March, a Spanish television correspondent was killed and a U.S. photographer was wounded by gunfire. Several radio stations were torched around the country. Investigations into the 2000 and 2001 murders of two prominent Haitian journalists have shown no progress. The Haitian judicial system's failure to prosecute these crimes has perpetuated a climate of impunity, forcing dozens of journalists to go into exile or seek political asylum.
The West Bank and Gaza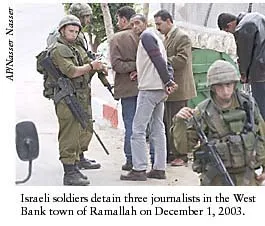 The West Bank and Gaza Strip remains one of the most unpredictable and potentially dangerous assignments for journalists. At least three journalists have been killed there since April 2003—each by Israeli army gunfire. Israeli troops often harass or attack Palestinian journalists, and Israeli authorities enforce tough restrictions on their freedom of movement. Palestinian journalists are vulnerable to the increasing lawlessness in the Occupied Territories.
Palestinian militias and armed groups have frequently threatened and assaulted reporters and in some cases have ransacked news offices. In 2003 and 2004, Palestinian gunmen raided two television news offices and a newspaper in the West Bank and Gaza Strip, attacked a correspondent on the street in Gaza, and assaulted a reporter in Ramallah.
Russia
President Vladimir Putin's "managed democracy," which includes using various branches of the state bureaucracy to rein in the independent media, is making the practice of independent journalism in Russia more and more tenuous. A shift from blatant pressures to more subtle and covert tactics, such as politicized lawsuits and hostile corporate takeovers by businessmen with close ties to Putin, has allowed the Kremlin to stifle criticism of the president and reports on government corruption and human rights abuses committed by Russian forces in Chechnya.
In advance of the December 2003 parliamentary elections and March 2004 presidential elections, the Kremlin tightened its legal and bureaucratic controls over the domestic press. Russian press groups criticized the Central Election Commission for failing to sanction the state-run national television channels for improperly promoting Putin and pro-Kremlin parties during the campaigns.
Journalists in Russia's provinces continue to be murdered with impunity. In October 2003, the editor-in-chief of an independent newspaper in the Volga River city of Togliatti was stabbed to death because of his paper's coverage of organized crime and government corruption. He was the paper's second editor-in-chief to be murdered in 18 months.