Amid repeated threats of imprisonment, a Zimbabwean journalist tells of his time behind bars.
Harare, Zimbabwe–"Not again," I said to myself when I read the story on the front page of the government-controlled newspaper The Herald on August 9, 2002. "Not another stint in those stinking cells."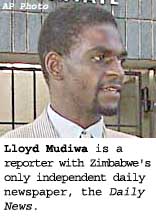 Having spent two nights detained at Harare Central Police Station on March 31 and on April Fool's Day–but it was no joke, believe me–for allegedly publishing a falsehood, I felt queasy as I read The Herald story, "The Daily News Lies Again."
In The Herald article, Patrick Chinamasa, Zimbabwe's minister of justice, legal, and parliamentary affairs, urged the Attorney General's Office to charge me with contempt of court for my previous day's article published in the Daily News, Zimbabwe's only independent daily.
I had previously been detained for writing a story about the alleged beheading of a woman by suspected ZANU/PF supporters in Magunje. The article that Chinamasa now attacked me for dealt with a High Court provisional order issued to a commercial farmer challenging the government's compulsory acquisition of his farm. In July 2000, the Zimbabwean government initiated a controversial "land re-distribution" scheme allowing the government to forcibly appropriate most white-owned land and give it to landless black Zimbabweans. President Robert Mugabe's administration has ordered more than half of the country's 4,500 white commercial farmers to vacate their farms.
The High Court order in effect declared that Mugabe's Cabinet was conducting the affairs of state illegally. The court's rationale was that Chinamasa and Joseph Made, the minister of lands, agriculture, and rural resettlement, ceased to be government ministers on April 1, 2002, when Mugabe assumed office. (According to Zimbabwe's Constitution, the office of the vice president, the ministers, and their deputies fall vacant when a new president takes power.)
Although I had clearly stated in my story that the order was merely temporary and that the government was opposing its confirmation, I was vilified by Pravda–the name by which The Herald is referred to in Zimbabwean journalistic circles in a knowing aside to the fact that what The Herald prints is far from the Truth. In the article, I was accused of having lifted the contents of the farmer's founding affidavit and attributing them to the judge. What was funny about the whole episode was that the judge concerned did not query my story, let alone charge me with contempt of court.
In light of all this, I reluctantly began to think about my experiences on the morning of March 31, 2002, when three police detectives paid a visit to my colleague Collin Chiwanza and me at our newspaper's offices in downtown Harare. They led us out of the newsroom, leaving our co-workers frantically trying to contact our company lawyer. The police officers told us that we should not entertain any hopes of being released that day since we would be spending the night in jail.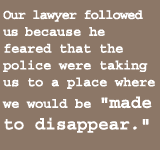 The officers said they were also looking for Shadreck Mukwecheni, a Daily News driver, in connection with the story. And since Mukwecheni was off duty that day, they took us to his house in Mabvuku, a suburb in east Harare, with our lawyer following in his car the whole time. Our lawyer tailed us because he feared that the police were taking us to an unknown destination where we would, shall we say, be "made to disappear."
Mukwecheni was not at home. The police officers then decided to pass the time driving around Mabvuku, with our lawyer in tow, before taking us to the station in the evening. Although they had arrested us at around 9 a.m., the officers didn't record statements from Chiwanza and me until late in the evening to justify our overnight detention. Once our statements were recorded and our photographs and fingerprints were taken, the police led us downstairs to the dark, cold cells.
Our lawyer, who had been promised by the authorities that we would be released to his custody that night, then rushed to file an application with the High Court to secure our release. But he failed to find any senior police officers on duty to whom he could serve notice of the intended court application.
In the cells, I suddenly feared I would have an asthma attack when an officer barked: "Take off your shoes and socks, your belt, and watch. Take off your shirt or your jacket because you are only allowed one top item of clothing in the cells."
I gritted my teeth as I complied, opting to keep my jacket, which was warmer than the short-sleeved shirt I was wearing. I nearly gagged as my bare feet touched the cold cement floor that was sticky from human excrement.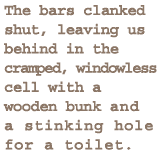 The bars clanked shut, leaving us behind in the cramped, windowless cell with a wooden bunk on one side. We sat as far as possible from a stinking hole in the floor that was our toilet. The stench was unbearable.
I couldn't sleep. It seemed to be made worse by the fact that Collin, who had been nervously chatting the whole day, was snoring loudly by my side, his head covered by our dirty blanket, which smelled of urine. I scratched at my arms and legs, already covered with bed-bug bites. I could feel the lice crawling in my hair.
The next day turned out to be a public holiday, and we were not released. Instead, Andrew Meldrum, the American-born correspondent for the London-based Guardian newspaper joined us. He was charged with reproducing the story, and thus the falsehood, that I had authored.
Because misery loves company, it was nice to see Andrew, and together we shared the food that family and supporters had brought to our cell. That second night, we all talked about our arrests, what would happen to us, journalism in Zimbabwe, and, as the hours drew on, everything under the sun. Collin told us about his wife and his baby daughter and how he worked as a teacher before he began writing articles for newspapers. The conversation was comforting.
On the morning of April 2, the guards ordered us to get dressed and hustled us out of our cell. It was nice to breathe the fresh air.
But our joy was short-lived when we arrived at the Harare Magistrates' Courts, where we were handcuffed with nearly 30 other prisoners and ordered down a dark, narrow staircase to another cell, where we waited for hours for our case to be heard. Many of our fellow prisoners had been arrested for stealing food, and some were charged with swindling money in a real estate scam. Several guys were in for burglaries, and one burly fellow was facing murder charges.
Collin, Andrew, and I were eventually remanded on free bail so we could apply to have our charges withdrawn before entering a plea. I went home, had a good scrub, and took my clothes to the cleaners.
The charges against Collin were eventually dropped since he had not written a word of my story. After several months, Andrew was acquitted but was immediately served with a deportation order. He is fighting his deportation in the Supreme Court.
My case was referred to the same court to determine the constitutionality of the section of the Access to Information and Protection of Privacy Act under which I am being charged.
So for now, I await my fate in the court. And hope that my August article won't lead to more jail time.