New York, July 11, 2002–Tomorrow, Andrew Meldrum, a U.S. citizen and the Zimbabwe correspondent for the London-based Guardian newspaper, will go to trial on charges of "abusing journalistic privileges" and "publishing false information." On July 22, his colleagues at Zimbabwe's independent Daily News, reporter Lloyd Mudiwa, editor-in-chief Geoff Nyarota, and staff writer Collin Chiwanza, will also face trial on the same charges.
Their crime stems from an article that Mudiwa wrote in the Daily News on April 23 alleging that young members of the ruling ZANU-PF party beheaded an opposition supporter. The story was later declared inaccurate, but not before Meldrum picked up the article and ran it in the Guardian.
The journalists concede that the story was false–and have published retractions and apologies in their papers–but they say that their attempts to get accurate information from the police and government authorities were fruitless. Therefore, they argue that they did not deliberately publish falsehoods. For his part, Meldrum asserts that his article for the Guardian was merely reporting on the fact that the story had appeared in the Daily News and was being widely discussed in Zimbabwe.
If convicted, the four journalists each face up to two years in prison.
Their cases highlight the difficult conditions under which independent journalists work in Zimbabwe's hostile and extremely polarized society, where the media are constantly subjected to bizarre charges that are clearly designed to intimidate, but also to ensure that already cash-strapped publishing houses spend time and money defending themselves against lawsuits. And since Robert Mugabe's controversial March 15 re-election, the situation has only worsened. Under Mugabe, 14 journalists in the last four months have been arrested and charged with violating Zimbabwe's various anti-media laws–further cementing the Committee to Protect Journalist's ranking of Zimbabwe as one of the world's 10 worst places to be a journalist. Click here to see chart detailed the arrests of journalist since President Mugabe's re-election.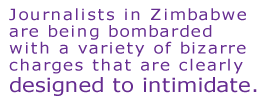 One of Mugabe's first significant acts since re-election was to sign into law the Access to Information and Protection of Privacy Act. This ironically named statute, which criminalizes the publication of "falsehoods" and grants the government the right to decide who may or may not work as a journalist in Zimbabwe, is by far the most repressive of the country's anti-media laws. However, in the escalating crackdown on the independent press, the Zimbabwean government has utilized several other laws in its arsenal, ranging from the Public Order and Security Act to an archaic anti-pornography law that colonial administrators crafted in the last century.
Consider Farai Mutsaka, a reporter for the independent weekly, The Standard. He was arrested on May 16 for "abusing journalistic privilege by publishing falsehoods" because of a front-page story that he wrote alleging that the Zimbabwean government had acquired an assortment of anti-riot gear and military hardware from Israel. The story, which appeared in the May 12 issue of The Standard, included a photograph of one of the riot vehicles the police allegedly obtained and noted that Mutsaka had contacted Home Affairs Minister John Nkomo, but that he refused to comment.
Moreover, one week earlier, Israel's state-run radio station had reported that the Israeli government had endorsed the sale of heavy riot-control vehicles to Zimbabwe. The Zimbabwean government, however, denied the story. Under the provisions of the Access to Information and Protection of Privacy Act, a journalist can be found guilty of abusing journalistic privilege if he or she "rewrites a story that has already been published by another mass media service without the permission of the mass media owner."
Mutsaka was arrested and detained for three days, along with his editor, Bornwell Chakaodza, and fellow reporter Fungayi Kanyuchi. Chakaodza and Fungayi were charged with "publishing falsehoods" in an article about the Zimbabwean police force soliciting prostitutes. After the trio's release from jail, Kanyuchi wrote an article describing the condition of their prison cells. As a result, he and Chakaodza were arrested again on May 28 and charged under the same act for "publishing falsehoods" about their prison experiences.
A group of journalists, including members of the Zimbabwe Foreign Correspondents Association, filed a petition on May 7 with Zimbabwe's Supreme Court claiming that several sections of the Access to Information and Protection of Privacy Act (which also requires hefty fees for press accreditation and media registration) violate the country's constitution. No date has been set for a hearing.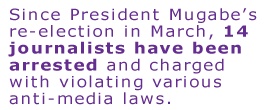 In addition to the Access to Information and Protection of Privacy Act, journalists in Zimbabwe are also being charged under the Public Order and Security Act. The act criminalizes false reporting and statements that "incite or promote public disorder or public violence" and carries a penalty of five years in prison or a Z$100,000 (US$1,877) fine. Since Mugabe's re-election, three journalists–Peta Thornycroft, the Zimbabwean correspondent for South Africa's Mail and Guardian and Britain's Daily Telegraph, and the Daily News's Urginia Mauluka and Guthrie Munyuki–were charged under this act, although the charges were later dropped.
On March 27, Thornycroft was arrested under the Public Order and Security Act in the town of Chimanimani, 300 miles southeast of the capital, Harare, where she was investigating reports that supporters of the ruling ZANU-PF party were attacking members of the political opposition. She was released without charge on March 31.
Police arrested Mauluka and Munyuki on June 16 at a rally organized by the opposition party, Movement for Democratic Change, to commemorate International Youth Day. They were also charged under the Public Order and Security Act for covering the event. According to several independent reports, the journalists and a Daily News driver were physically assaulted by police with batons and kept in custody for three days. They were finally released without charge when the state prosecutor found that they were "just doing their jobs."
Meanwhile, Mugabe's notoriously anti-colonial government has also resorted to the colonial-era Censorship and Entertainment Control Act, which is primarily aimed at people who "trade in child pornography or anything immoral or corrupt" and carries a maximum penalty of two years imprisonment, as a means of controlling the press. This precolonial act is so outdated that it is unclear whether the Censorship Board, the complainant, still exists.
In addition to being charged under the Access to Information and Protection of Privacy Act for their article on police solicitation of prostitutes, The Standard's Chakaodza and Kanyuchi were also charged under the Censorship and Entertainment Control Act for a photograph that accompanied the article.
On May 30, Iden Wetherell of the weekly Zimbabwe Independent were charged under the Censorship and Entertainment Control Act for publishing a wire news service photograph of partially clad Amazonian men playing soccer. The state claimed that the photograph was "obscene."
Chakaodza, Kanyuchi, and Wetherell signed "warned and caution" statements in connection to these charges, and the police said they would "proceed by way of summons." This means that the charges have not been officially dropped, and that the journalists can be summoned and tried at any time.

Wacuka Mungai is a researcher for CPJ's Africa program.