A year later, the murder of a popular Costa Rican journalist remains unsolved.
San José, Costa Rica, July 5, 2002–On the night of Saturday, July 7, 2001, Parmenio Medina was to receive an award from a Costa Rican nonprofit organization for defending freedom of expression. That morning, he had taped his radio show, "La Patada" (The Kick), as he had done for the last 28 years. At 4:30 p.m., half a block away from his home, he was shot three times at close range. He died in an ambulance on the way to the hospital.
The murder sent shock waves throughout Costa Rica–a country that abolished its army in 1949 and considers itself a peaceful democracy. But what's more disturbing is that a year after the crime was committed, those responsible for Medina's murder have not been brought to justice.
In fact, it wasn't until last week that the attorney general, Carlos Arias, finally held a press conference to announce that his office was investigating possible suspects and their likely motives. According to two national newspapers, Al Dia and La Nación, and two television news programs, "Repretel" and "Telenoticias," four members of a criminal gang are suspected of having been paid to assassinate Medina. Two of the suspects are already serving time in prison for another crime, one was killed in a robbery, and the fourth has not been located, said the news reports.
Prior to the news conference last week, however, silence was the only answer that reporters received when they confronted authorities about Medina's death. Moreover, journalists–Medina's own colleagues–have been reluctant to investigate the murder on their own because under Costa Rica's harsh penal code, they fear that publishing the results of their reporting could lead to defamation charges by public officials.
Costa Rican journalists say they feel threatened by the country's criminal defamation legislation. In two polls taken among reporters by the national daily La Nación, more than half of those interviewed acknowledged having received some type of threat as a result of their work. In the most recent poll, published on May 3, out of the 81 journalists interviewed, 56 percent said that they had been intimidated by public officials who took exception to their reporting. Seven journalists interviewed had received physical threats. Thirty-seven percent claimed that they had been threatened with charges of libel, slander, and defamation, which in Costa Rica are punishable by hefty fines or imprisonment.
Anative Colombian, Medina arrived in Costa Rica in 1968 after fleeing violence in his country and worked his way into national radio production. His program, "La Patada," maintained its popularity for three decades and became a Sunday tradition that was broadcast before and after soccer games. With aggressive and courageous satire, Medina directed his criticism at the managers of soccer teams, members of the political class, and finally–the focus of his last great controversy–the Catholic Church.
In early 2001, "La Patada" reported on alleged financial misconduct at Radio María, a Catholic radio station that at the time enjoyed the country's highest ratings. On May 26 of that same year, Archbishop of San José Román Arrieta announced that Radio María was being shut down due to economic hardships. Those hardships were most likely incurred from the financial accounting problems that Medina had revealed on his show.
A month and a half after Radio María was closed, Medina was murdered, and with him, "La Patada" was silenced. No one took over the program and none like it has aired since.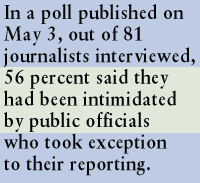 But that is not the only silence in the wake of Medina's murder. Official regulations prohibit the Attorney General's Office, which is in charge of the investigation, from releasing the names of suspects. For nearly 12 months, investigators did not give a press conference, and the only reply given when asked was that the search is making headway. Even if the prosecutors were to release names, however, journalists would not publish them since the Costa Rican penal code punishes anyone who reproduces statements that others may regard as offensive–even if the person making the statements is the attorney general.
Although the press has made a few attempts to conduct its own investigations into the facts of the case, when reporters make a discovery, they have censored themselves for fear of being charged with slander or defamation.
In Costa Rica, "when you investigate on your own, you can reach some conclusions but it's hard to state them without being sued," says Esteban Castro, who has covered the Medina case for Canal 7's news program, "Telenoticias."
In fact, Ernesto Rivera, an investigative reporter from La Nación, says that he left out details of his investigation about the murder to avoid defamation charges.
This fear of being charged and punished is not without precedent. Mauricio Herrera, a journalist for La Nación, was found guilty of defamation in 1999 for publishing information based on alleged claims made by European publications against a former Costa Rican diplomat. Herrera and La Nación were fined, and Herrera now has a criminal record. The Inter-American Commission on Human Rights, a body of the Organization of American States, has since taken up the case.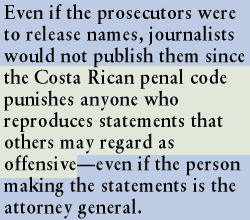 After Medina's murder, the Legislative Assembly established a "Commission on Freedom of the Press" to analyze possible reforms to defamation laws. The commission examined nine legal reform bills but only approved one eliminating the crime of contempt, which proscribed imprisonment for anyone who offended a public official. The commission did not analyze the main roadblock for the press: the "crimes against honor" law, which fines and can imprison anyone who libels, slanders, defames, or reproduces offensive statements against a person, even public officials.
On February 3, 2002, a new Legislative Assembly was elected and formed a new Commission on Freedom of the Press. At the same time, another congressional group is examining a general reform of the penal code, which would modify crimes against honor. Although this reform would introduce more means of defense for journalists, it would also increase the punishments and keep the reproduction of offenses a crime.
Sadly, there is a sense among the media in Costa Rica that Medina's murderers will not be brought to justice. "My colleagues believe that it is a fact that the crime will not be solved," concludes Esteban Castro of "Telenoticias," who also fears that the murder will set a precedent for those wishing to intimidate reporters.
Director of the Inter-American Institute for Human Rights Roberto Cuéllar calls the atmosphere for the press in Costa Rica "the silence." And it is silent in more ways than one. There is the silence of Medina, of the investigators of the crime, and of the media. And silence, for the time being, remains.
Montserrat Solano Carboni is a journalist from Costa Rica.