Israeli troops destroyed several Palestinian broadcast outlets during the West Bank offensive. Was it an attempt to silence the media?
New York, June 13, 2002
For the last 13 years, Faed Said Arko has been the watchman at Ramallah's Bakri office building, which houses three private Palestinian radio stations and one television station. On April 3 at about 10:30 a.m., Arko and another worker were on the sixth floor when Israeli troops entered the building. The soldiers ordered both men to strip to their underwear, checked them for explosives, and slapped handcuffs and blindfolds on them.
The soldiers then forced Arko to lead them to Nasr TV and Menara Radio, which broadcast from the same studio. They ordered Arko to enter the room first to make sure there were no explosives or Palestinian snipers. Then the soldiers entered the studio. Using sledgehammers, they smashed television screens in the front office and then entered the broadcasting room, where they removed hard drives from computers and destroyed all the other equipment.
"They … knocked out every piece of equipment in the station," recalls Nasr TV and Menara Radio director Ammar Ammar. "It was destroyed beyond repair. We have nothing working now."

The Israeli troops repeated the destruction one flight down at the offices of the private radio stations Ajyal and Angham.
Spokespeople from the Department for Media and Public Affairs at the Israeli Consulate General in New York City and the Israel Defense Forces (IDF) were unable to confirm or deny the destruction of Nasr TV and Menara Radio.
Israeli officials, however, have acknowledged that some soldiers engaged in vandalism while searching Palestinian offices and institutions, but Nasr TV and Menara Radio appear to have been deliberately destroyed. Moreover, several Palestinian journalists allege that the IDF waged a systematic campaign to wipe out some Palestinian media outlets. Nasr TV's Ammar, pointing to Israel's traditional disdain for the Palestinian media, argues that the meticulous nature of the damage suggests that the soldiers were on a mission. "I think the group that attacked [Menara and Nasr TV] had a set agenda," he says.
In a region where governments control most radio and television stations, the West Bank and Gaza Strip are welcome exceptions. Since the early 1990s, privately owned radio and television stations have slowly proliferated across the area, and today about 50 stations provide local news, music, talk shows, and community-affairs programming, often on shoestring budgets and with varying degrees of quality.
The importance of private stations, according to Palestinian broadcasters, became even more pronounced during the IDF's recent West Bank incursion. With the Palestinian Authority's media infrastructure–including transmission towers, offices, and broadcast facilities of the official Voice of Palestine radio station and Palestinian television–badly damaged by repeated IDF attacks since the uprising began in September 2000, reception in the West Bank has been limited. As a result, private media outlets played a crucial public-service role by providing up-to-date news and contact numbers for emergency and relief services. For example, when the incursion began, Nasr TV curtailed its regular programs and aired the Qatar-based Al-Jazeera satellite news channel on its frequency while flashing emergency text information on the screen.
In response to complaints about the Israeli destruction of Palestinian media outlets, Capt. Jacob Dallal, an IDF spokesperson, says, "We cannot underestimate the role of Palestinian media in the incitement of people to violence." And it is this belief–that Palestinian media air programs that glorify violence and suicide bombings against Israelis– that leads the IDF to attack Palestinian media outlets repeatedly.
Muataz Bseisso, owner of the Voice of Love and Peace, a Ramallah-based private radio station, speculates that the IDF targeted many stations in Ramallah in an attempt to limit communications during Israel's military operation. "I don't think they wanted people to be informed and get encouragement from the stations," he says.
When Bseisso arrived at his office the first week of April after the Israeli army briefly lifted its curfew, he found the studio in disarray. "It was like an earthquake hit the building. Nothing was stolen but everything was destroyed," he says. "They damaged every piece of equipment."
Israeli troops also occupied the Palestinian Ministry of Culture building in Ramallah for 28 days. The building houses the studios of the popular private stations Amwaj Radio, Amwaj Television, and Istiqlal Television. During the occupation, IDF soldiers allegedly redirected the satellites to broadcast pornographic films on the frequencies of Amwaj and another Ramallah station, Al-Watan TV, say several sources. According to reports in the Israeli newspaper Ha'aretz, Israeli troops damaged both studios, as well as several other offices in the Ministry of Culture, and destroyed equipment.
IDF spokesperson Dallal says he has received queries about various allegations of damage to Palestinian radio and television stations but will not confirm whether they are true or false. Dallal says that the army conducted searches in many places, including Palestinian institutions that may have housed radio and TV stations.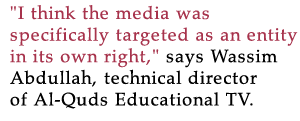 Broadcasters in Al-Bireh, a suburb of Ramallah, also believe that the Israeli attacks were a concerted effort to silence the media. "I think the media was specifically targeted as an entity in its own right," says Wassim Abdullah, technical director of Al-Quds Educational TV in Al-Bireh, pointing out that soldiers shot at antennas and used sledgehammers to destroy very expensive equipment.
Al-Quds Educational TV, a project of Al-Quds University, had been broadcasting children's programs and emergency contacts during the initial days of the IDF's offensive but was forced off the air on April 2 when troops occupied the station's office building. Like other parts of the Al-Quds' campus, the studio was left in disarray when the soldiers finally evacuated on April 21. Furniture and equipment were thrown around the room, some monitors had bullet holes in them, other equipment was missing, and anti-Palestinian graffiti plastered the office.
At least some of the missing equipment was taken by Palestinian youths, who entered the offices left unlocked by the departing troops and stole cameras and other equipment, say Abdullah and several of his colleagues at Al-Quds. But most of the damage to equipment appeared to be the work of Israeli troops, he adds.
The studio on Al-Quds campus "was used as a safe haven for Palestinian snipers, perpetrating terrorist attacks at Israeli targets, and was therefore temporarily taken over by the Israel Defense Forces," says Ido Aharoni, the consul for media and public affairs at the Israeli Consulate General in New York City.
Daoud Kuttab, the founder of the Institute for Modern Media at Al-Quds University, which runs Al-Quds Educational TV station, denies these allegations but offers a more nuanced explanation. The IDF "didn't come to us because they felt we were broadcasting something wrong. They were in the building for 19 days and soldiers do things like this. It's a lack of respect, apathy. But my sense is that Israel targeted every symbol of Palestinian independence. The media is a part of that."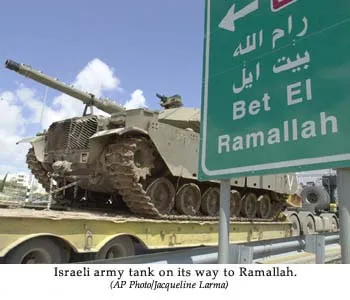 After local and international press coverage of the vandalism by Israeli soldiers in the West Bank, the IDF acknowledged that such incidents had occurred and promised to punish those responsible. "There was indeed [a] wide-scale, ugly phenomenon of vandalism," a senior military officer told the daily Ha'aretz on April 30. He added that army searches of Palestinian buildings turned into systematic vandalism in some cases but emphasized that these actions were not based on official orders.
The IDF later announced that it had arrested several soldiers and had indicted others for vandalism and looting. In an interview with Israel Army Radio (which The Associated Press later published), Brig. Gen. Ron Kitrey, an IDF spokesperson, said: "The things reported unfortunately are true, both the description and the facts, and that really hurts because in the end it is the acts of a few that stain the general public and all Israeli army units." Kitrey was speaking generally about the damage to Palestinian infrastructure, and not specifically about attacks on radio and television stations.
On May 27, the IDF announced that five soldiers had been sent to prison for up to five months for vandalism and looting. Another six soldiers faced similar charges, and 20 more were under investigation.

The United Nations and the World Bank recently estimated the total damage from Israel's six-week military offensive at about US$350 million. That figure includes damage to basic infrastructure, buildings, homes, roads, equipment, cultural sites, and offices. Based on the estimates of several station owners, the damage sustained by Palestinian broadcast media accounts for at least US$700,000 of that figure–a daunting amount to recoup for those who were already operating on tight budgets.
A number of private broadcasters will have to figure out how to repair the damaged studios, and until they can do that, some are airing satellite channels like Al-Jazeera or Abu Dhabi TV to protect their frequencies. For those like Ammar, the sentiment is understandably one of bitterness. "It's hard to describe what it was like to see the damage," says Nasr TV's Ammar. "It's been a lot of hard work for the last several years."
For Al-Quds's Kuttab, the destruction of his station is heartbreaking. It will take time for him to raise the funds necessary to put his station back in order. But as a staunch believer in a free press as an essential element to democracy, Kuttab is even more disappointed. By providing news and public information, the Palestinian media were part of a larger process of building a civil society. Now with the destruction of a number of radio and television stations, that process has been sidetracked while broadcasters work to rebuild their future.
Joel Campagna is CPJ's program coordinator for the Middle East and North Africa.