The Chinese government says it wants journalists to investigate corruption. Is it serious?
On July 30, 2001, a Shanghai newspaper reported that hundreds of miners had been trapped and possibly killed almost two weeks earlier when hot water flooded the adjoining Lajiapo and Longshan Mines, near the town of Nandan in Guangxi Province. Other journalists immediately traveled to Nandan and asked officials about the accident.
"These are false reports," Li Dongming, the owner of the mines, told them. "This incident never happened." The central government also dismissed the reports as "fabrications."
Meanwhile, mine officials visited families of the trapped miners and offered them up to 20,000 yuan (US$ 2,419) if they promised to keep their mouths shut. At around the same time, every telephone in Nandan stopped working.
But the journalists kept pushing. They traveled to the area and told mine officials they were relatives of a miner who they feared might be dead. They interviewed townspeople and miners going to work. Local residents told them that they had seen corpses carried out of the mines and quickly transported away.
Frequently, reporters who approached the mine site were followed. Local sources were threatened and scared away. An undercover reporter from Guangxi Daily waited four days by the entrance to the mine. Just as he started interviewing a worker, dozens of armed guards appeared and pointed their guns at him. Chinese newspapers reported that another journalist was chased by a man with a knife. "If you are a reporter, I'll kill you!" he said.
One reporter told Yangcheng Evening News, "The hired thugs are like devils. They've set up guard posts with two or three hundred people conducting surveillance. They're everywhere!" When asked, workers would give a standard response: "I've just arrived, I don't know anything."
Although the central government had not yet publicly acknowledged the accident, reporters from the official People's Daily and Xinhua News Agency came to investigate. Nandan residents thronged local Internet cafes to read online People's Daily reports on the accident, and other journalists published their exposés in papers around the country.
Soon, the central government sent an investigative team, which found that at least 81 miners had been killed. Li Dongming and 90 others have now been arrested for the accident, and for conspiring with local officials to cover it up.
Exception proves rule
Nandan was an extraordinary story because the Chinese government very rarely supports journalists who try to search out the truth behind an official cover-up. Although Premier Zhu Rongji and other officials have said publicly that journalists should act as watchdogs over society, in reality they are regularly harassed or threatened and sometimes sent to prison for doing just that.
Local officials, held responsible for illegal activity in their districts, help ensure that negative reports never see the light of day. "Nowadays, if there are deaths involved, even provincial leaders and county chiefs are held responsible, so they have created a news blackout," a police officer near Nandan told Agence France-Presse.
A hundred flowers
With many more publications available, the Chinese press is in many ways more diverse and active today than at any time in the history of the People's Republic. Newspapers and magazines increasingly rely on advertising revenue as the economy turns to the market and the government spends less on media subsidies.
This is especially true in the provinces, far from Beijing, where small local papers out of sight of central officials bring needed revenue to the local governments that officially own all publications. Editors are learning that colorful reporting can boost sales. Local officials often tolerate lurid tales of mine disasters and other problems as long as they aren't about the home province.

Although financial controls over the press have eased due to the growth of the advertising market, there has been no fundamental change in the relationship between the press and the government. Central control over information in China is part of a systematic, institutionalized mechanism. Local officials are directly responsible for implementing central policy, which includes controlling the legal, political, and personnel structures of media organs.
During periods of heightened political sensitivity, the censorship mechanism tightens in order to prevent unwanted news from reaching the public. During less sensitive periods, newspaper reports become more colorful and less full of slogans lauding the achievements of the "great, glorious and correct Communist Party."
As a part of one of the most intense government crackdowns on the Chinese media in recent years, China Central Television announced on August 8 that publications could be immediately closed down for publishing reports that:
Negate the guiding role of Marxism, Mao Zedong Thought, or Deng Xiaoping Theory;
Oppose the guiding principles, official line, or policies of the Communist Party;
Reveal state secrets, damage national security, or harm national interests;
Oppose official policies regarding minority nationalities and religion, or harm national unity and affect social stability;
Advocate murder, violence, obscenity, superstition, or pseudo-science;
Spread rumors or falsified news, or interfere in the work of the party and government;
Violate party propaganda discipline or national publishing and advertising regulations.
Any province, autonomous region, or municipality that has more than two papers closed down for violating one of the so-called Seven No's will not be allowed to start any new publications in the following year.
Behind the times
Such overt controls seem out of place in modern China, where more than 20 million people have access to the Internet and the population is better informed about the issues of the day than at any time in the country's history. Yet state control over media is not always so blatant.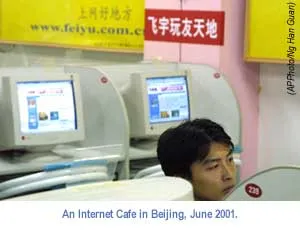 Orders such as the Seven No's policy are more often communicated in quiet conversations between editors and provincial propaganda officers rather than in written form. Editors are often told that the order comes "from above," but the actual office or individual is rarely named, according to a CPJ source.
This May, propaganda officials forbade one of China's most popular newspapers to publish work by 12 writers whose names were said to appear on a new government blacklist. When one editor asked to see a copy of the list, he was told that, as an editor, he should already know who was on it. The officer then said he would read the list once. The editor was not allowed to take notes.
This story, told by a prominent Chinese journalist who spoke on condition of anonymity, exemplifies a recent strategy in the Chinese government's control of the press. By avoiding a paper trail, officials are able to mask their role in the censorship process. Monitoring and criticism by outside groups thus become more difficult. "They are very aware of their human rights record," the journalist said of the government. "So they don't want any record of these things."
In effect, however, the government remains determined to block the publication of any information that deviates from the official line. In 1999, the U.S.-based Chronicle of Higher Education reported that for Chinese intellectuals and academics, "intolerance and suspicion are always present… [and] the observable, apparent shifts in government behavior are based on tactical considerations rather than any fundamental changes in official attitudes toward dissent." That analysis holds true today.
Back in the heartland

---
A journalist who exposes a local official's dirty laundry can quickly become the target of violence and intimidation.
---
Increasingly, Chinese press freedom battles are being fought in the provinces, where local officials are free to implement central government directives however they see fit. And because the central government holds local officials responsible for errant reporting, the latter are more likely to crack down on controversial stories. A journalist who exposes a local official's dirty laundry can quickly become the target of violence and intimidation.
Jiang Weiping, for example, was arrested in December 2000 after he exposed several corruption scandals in northeastern China for a Hong Kong magazine. Notably, Jiang reported that Shenyang vice mayor Ma Xiangdong had lost nearly 30 million yuan (US$3.6 million) in public funds gambling in Macau casinos. Jiang also revealed that Daqing mayor Qian Dihua had used public funds to buy apartments for each of his 29 mistresses.
The journalist was detained in early December and later charged with "revealing state secrets." Jiang's wife and young daughter have not been allowed to see or talk to him since.

This year, Chinese journalists have been at the losing end of a nasty power convergence between local and central officials. Next year, the 16th Communist Party Congress will choose successors to President Jiang Zemin and Premier Zhu Rongji. Facing the imminent prospect of new overlords in Beijing, provincial officials seem especially eager to curry favor with central leaders who might soon be in a position to promote them.
As a result, local propaganda bureaus have been unusually zealous in carrying out orders from Beijing officials who are keen to keep news about the succession under wraps. Since January, the Central Propaganda Department has issued a series of strict regulations, including the Seven No's, outlining what can and cannot be published. Newspapers, magazines, academic journals, and other publications from across the political spectrum have been closed, penalized, censored, or threatened, and hundreds of journalists have been brought to Beijing for political training sessions.
The Propaganda Department assigns monitors–among them retired cadres–to read and review specific major publications monthly. They are given a list of points to criticize, not based on the facts presented in a news report, but on whether or not the report is aligned with Marxist theory.
Yet, despite the government's stated commitment to Communist ideology, publications can be penalized for being "too Marxist" as well. Recently, for example, the prominent leftist monthly The Pursuit of Truth (Zhenli de Zhuiqiu) published articles by several old-school Marxist intellectuals who sharply criticized Jiang Zemin's July 1 call for capitalists to join the party. The magazine was promptly shut down.
Propaganda officers angered by a particular article will often pressure editors to fire or demote the offending journalist. Editors are sometimes forced to invent allegations of professional impropriety in order to censure a reporter. When the final order is carried out, the Propaganda Department's direct role is hidden, because when foreign journalists or human rights groups inquire about a demotion or dismissal, the propaganda office simply refers them to the paper's management.

Editors fired
Southern Weekend (Nanfang Zhoumo), a popular, hard-hitting newspaper published in southern Guangdong Province, was a recent victim of this system. One of China's most progressive and adventurous newspapers, Southern Weekend has long pushed the boundaries of media control in China by publishing explicit reports on social problems such as AIDS, crime, and the trafficking of women. Although its editors have repeatedly angered government officials, the paper has managed to stay afloat by limiting its coverage to problems outside Guangdong.
On April 19, 2001, the paper published an article about a criminal gang, led by Hunan Province native Zhang Jun, that killed 28 people in a spree of murder and theft. Titled "The Growth of an Ultra-Violent Group," the piece contained interviews with gang members and their families. The author also analyzed problems such as poverty and other forms of inequality that may have led the gang members to a life of crime.
After the article came out, the Hunan provincial government notified central authorities that Southern Weekend had published a negative portrait of China's socialist struggle. Soon, deputy editor-in-chief Qian Gang, front-page editor Chang Ping, and another senior editor were demoted. The news section chief and reporter were fired and banned from ever working in journalism again.
Officially, management demoted and fired the journalists, but only after extreme pressure from the provincial propaganda department, according to a journalist familiar with the case.
Observers have speculated that Guangdong provincial governor Li Changchun, who has been named as a possible successor to Jiang Zemin, orchestrated the crackdown on Southern Weekend. According to this theory, central government authorities had frequently criticized Southern Weekend, and the Zhang Jun article was an opportunity for Li to prove his loyalty to the center, as well as his suitability as a leader.
Despite such heavy-handed tactics, the Chinese government has largely succeeded in evading international censure of its media policies. And while the visible shifts in official attitudes toward the media are sure to continue, many believe that more meaningful change is unlikely. If change is to come, it will be due to the persistence and professionalism of journalists like Jiang Weiping, the Southern Weekend editors, and those who exposed the Guangxi mining disaster. For that reason alone, they fully deserve the world's support and attention.
Sophie Beach is the Asia researcher for CPJ.