A Thai editor pursues the men who tried to kill him.
Chiang Mai, Thailand — Outspoken newspaper editor Amnat Khunyosying survived the gunshot that was intended to take his life. Now he is fighting for justice.
Amnat, 46, is the owner and editor of the daily Phak Nua Raiwan in Chiang Mai, the largest city in n
orthern Thailand. On the afternoon of April 18, he was gunned down on a quiet suburban street here. Amnat nearly died when a bullet pierced his stomach as he twisted away from the shot.
It seems likely that whoever ordered the attack was angered by Phak Nua's relentless coverage of political corruption and organized crime in Chiang Mai. Now, Amnat says, local prosecutors refuse to mount an effective case against four Thai Army soldiers whom local police arrested in connection with the shooting, even though local military commanders privately confirmed the soldiers' guilt and willingly remanded them for trial.
A Western diplomat who has followed the case closely believes the prosecutors are dragging their feet because of political pressure. "I worry about Amnat," the diplomat said. "He is at great risk in all of this."
A popular tourist destination, Chiang Mai is also close to the lawless Burmese border and to the violent drug traffickers of the Golden Triangle. The city has long been a magnet for organized crime, illegal logging syndicates, and other rackets. In the months before the shooting, Amnat's small independent paper aggressively covered a scandal involving a local politician accused of accepting bribes from a Chinese criminal who was seeking asylum in Thailand.


Amnat is convinced that this politician ordered him killed. But he can't prove the allegation unless the case against the four soldiers who allegedly carried out the shooting goes forward. There has been little progress to date, even though Amnat personally identified the four suspects, as did several eyewitnesses.
In mid-July, as a legal deadline loomed for filing formal charges, Amnat took some 20 television and newspaper reporters to the prosecutor's office in Chiang Mai. With cameras rolling, the journalists asked the prosecutor why he had refused to accept police recommendations to charge the four soldiers with attempted murder. Finally, the prosecutor relented and signed the charge sheet, canceling bail and scheduling the case for trial.
So far, Amnat says, the prosecutors have not interviewed him about the attack. At an initial trial session that CPJ attended on November 10, state prosecutors were unable to present a single witness. When queried by the judge, one prosecutor replied that he had "forgotten" to interview witnesses prior to the session.
"The prosecutors don't want to do anything," Amnat told CPJ. "They are afraid or bought off by the local political bosses." Under Thai law, however, the victim of a crime has the right to be represented in court proceedings against his attackers. This is sometimes the most effective means of achieving a measure of justice, especially in highly politicized cases like this one. Amnat has essentially been prosecuting the case himself, deposing witnesses and hiring private counsel to represent him during the trial, which is scheduled to resume in mid-December.
Even that has been difficult. Twenty local lawyers refused to take the case, according to Amnat. Eyewitnesses who could identify the suspects have either fled or refused to testify. One woman told CPJ that she had seen the assailants kicking Amnat after he was shot. But the woman's family has urged her not to appear in court.
During the November 10 hearing, Amnat convinced the judge not to release the four defendants on bail. Defense lawyers argued that their clients deserved to be reunited with their families and their army units in the absence of any witnesses to testify against them. Amnat countered that the accused posed a risk to his life if they were released from jail. The judge sided with Amnat, on condition that he hire his own lawyers and call his own witnesses on behalf of the state.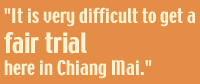 Bangkok has one of the freest presses of any Asian capital, yet bribes, political pressure, and occasional violence remain facts of life for provincial journalists. "It is very difficult to get a fair trial here in Chiang Mai," said Thongbai Thongpao, a prominent human rights lawyer and senator who has agreed to represent Amnat in future hearings. Thongbai wants to transfer the case to a court in Bangkok, but Amnat says he can't afford to bring witnesses to the capital.
"The key to this is convicting the soldiers, then they can lead us to the mastermind," said Amnat as he walked through Phak Nua's tiny newsroom. Now celebrating its tenth anniversary, the paper is still laid out by hand and printed on a battered 1960s-vintage offset press. The small staff share three antique Macintosh computers, and advertisers have become scarce as a result of the paper's controversial reputation.
Amnat still receives death threats, as do members of his staff. His wife has urged him to flee the country, and Western embassies have said they are willing to help him relocate. Amnat has no intention of leaving Chiang Mai, however. "All I want to do is publish my newspaper," he said. "And stop this Mafia from operating so freely."

A. Lin Neumann is CPJ's Asia Consultant, based in Bangkok.