Palestinian journalists have been dodging Israeli bullets and Arafat's censors for years. Lately, the stakes have grown higher.
New York, October 20, 2000 — More than a hundred people have been killed in Israel and the Palestinian territories since violence broke out in late September, but the two sides are also fighting a media battle in which words and images are weapons of war.
On September 30, Israeli soldiers shot and killed a 12-year-old Palestinian boy named Mohammed al-Dura while he and his father cowered against a wall in the Gaza Strip. A Palestinian cameraman filmed the event for French television: the killing shocked viewers around the world and created enormous international sympathy for the Palestinian cause. Palestinian television broadcast the footage repeatedly over the next few days, while pictures of the terrified little boy turned up on pro-Palestinian placards, pamphlets, and Web sites everywhere.
But the tide of international opinion seemed to turn on October 12, when an Italian television crew filmed the vigilante killing of two Israeli soldiers who had taken refuge at a Palestinian police station in the West Bank city of Ramallah. Several young Palestinians forced their way into the building, attacked the two Israelis, and then threw one of the mangled bodies out of a second-story window (and lowered the other down on a rope). Meanwhile, one of the killers leaned from the window and triumphantly showed his bloody hands to the cheering crowd below. This grisly tableau dominated global news coverage the next morning, causing widespread revulsion.
All but a handful of those killed and injured in recent violence have been Palestinians and Israeli Arabs. Yet public debate in the Middle East and around the world has revolved around these two powerful images. Because the media has such enormous power to shape international perceptions, both sides have used crude means to control and inhibit the work of journalists covering the clashes.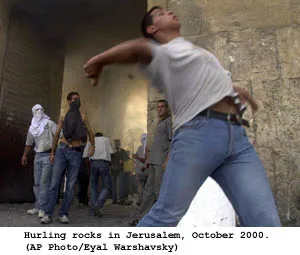 For example, Palestinian police attempted to keep images of the Ramallah lynching from reaching the public by confiscating film from reporters at the scene, according to international news reports. Nasser Atta, a Palestinian producer with the ABC News network, was outside the Ramallah police station with a camera crew as the bloody scene unfolded. Appearing the next day on ABC's "Nightline," he told host Ted Koppel that crowd members had assaulted his team to stop them from filming the action. "I saw how the youth tried to prevented [sic]—prevented my crew from shooting this footage. My cameraman was beaten," Atta said.
Meanwhile, Israeli forces have attacked reporters covering street violence. Many journalists covering the conflict for international news media are Palestinians. In the past three weeks, CPJ has confirmed six cases of journalists have been beaten or wounded by gunfire, while nearly half a dozen other reports remain unconfirmed. In at least two cases, the journalists charged that they were targeted deliberately. On September 29, Khaled Abu Aker, a correspondent with the French television station France 2 and the West Bank stringer for The New York Times, was beaten by Israeli police at the Al-Aqsa mosque in Jerusalem after the journalist refused to hand over a rubber-coated metal bullet that he had picked up off the ground. On October 1, Reuters cameraman Mazen Dana was wounded in the leg by a rubber bullet while covering street clashes in Hebron. The next day, he was struck in the same leg by live Israeli rounds.
Israeli authorities have always denied that their forces deliberately target journalists. But there is no doubt that on October 12, Israeli helicopter gunships fired rockets at two transmission towers and other technical facilities used by the official Voice of Palestine. The Israelis justified this attack by claiming that the mob lynching in Ramallah had been incited by a Palestinian TV broadcast of Palestinians dragging the effigy of an Israeli soldier.
While many Palestinian journalists have spent the last few weeks dodging rocks and rubber bullets, this report documents the systemic and sustained challenges they have faced for years in reporting the news. During the recent clashes, journalists have been attacked throughout the Palestinian territories. But in Hebron, the only city on the West Bank where Israel maintains a permanent military presence after successive troop withdrawals mandated by the 1993 Oslo accords, extremist Israeli settlers and Israeli soldiers have targeted local journalists for years in an attempt to hinder negative coverage.
The ability of photographers and cameramen to transmit powerful images of ugly events makes them logical targets of image-conscious settlers and soldiers. But Israel has not been the only force seeking to control press coverage in the Palestinian territories. In the nearly seven years since the Palestinian National Authority (PNA) assumed control over parts of the West Bank and Gaza, Chairman Yasser Arafat and his multi-layered security apparatus have muzzled local press critics via arbitrary arrests, threats, physical abuse, and the closure of media outlets.
These punitive measures almost always occur outside any recognizable legal framework. While the PNA criminal code contains several statutes that could be used to restrict independent journalism, these laws have never been applied in practice. The actual repression is informal, but effective: local journalists can expect swift retribution if they criticize Arafat, his cronies, or the shadowy Palestinian state security apparatus.
Over the years, the Arafat regime has managed to frighten most Palestinian journalists into self-censorship. Major newspapers routinely avoid coverage of issues such as high-level PNA corruption and mismanagement, human rights abuses by security forces, and any reporting that might cast Arafat in a negative light. They censor themselves out of fear and because they have been reluctant to undermine their political leaders during the struggle for Palestinian statehood. Moreover, two out of three Palestinian dailies have direct personal or financial links to the PNA government. And all three papers enjoy cozy relations with the PNA, further blunting their editorial edge.
There is an opposition Palestinian press that includes a few small-circulation Islamist weeklies in Gaza. There are also several private TV and radio stations. But even the most acerbic commentators tend to observe the central PNA taboo, that Arafat must never be criticized directly. And they exercise the utmost care when covering political arrests, torture, and other human-rights abuses, along with official corruption and security cooperation between the PNA and the Israeli armed forces.
The current unrest began after Likud party leader Ariel Sharon's controversial September 28 visit to the Jerusalem shrine known as Temple Mount to Jews and the Noble Sanctuary (Haram al-Sharif) to Muslims. On October 17, Arafat and Israeli prime minister Ehud Barak grudgingly agreed to a cease-fire, but violence continued. And many of the issues underlying the conflict, notably the final status of Jerusalem, remain unresolved. The peace process that began in Oslo seven years ago seems all but dead.
This report shows that both sides of the conflict have historically used strong-arm tactics to influence the ways in which their actions are represented in the media. The stakes have grown higher in recent weeks, raising concern that the abuses outlined here will increase in the months and years ahead.
Part I: The cameraman as target

Hebron — Mazen Dana is a chain-smoking, 38-year-old Reuters cameraman who has been covering Hebron's violent street battles for the past 12 years. "You can't imagine how many times I've been beaten, wounded, or arrested," said Dana, lifting up his right pant leg to display an archipelago of bruises, scars, and discolorations.
Sipping tea at a local café in August, a few weeks before the current unrest began, he described getting shot in the leg with a rubber-coated metal bullet while filming clashes between stone-throwing Palestinian youths and Israeli soldiers in central Hebron last May. Two months later, Jewish settlers beat him unconscious as he tried to film a settler rampage across town. And the day after that, an Israeli policeman slammed the rear door of an ambulance on his head while he was filming the evacuation of a wounded Palestinian youth.
As Dana told his stories, a tall Israeli soldier approached and inquired about the small gathering of Palestinian journalists and their foreign guest. "We're talking about all the problems you cause us," Dana said dryly.
"Aadi," the soldier replied in Arabic, grinning broadly behind his Oakley sunglasses. "The usual."
The West Bank/Gaza Strip beat has been dangerous for many years. Reporters, cameramen, and photographers have been wounded by gunfire from Israeli and Palestinian troops, pelted with rocks hurled by Palestinian demonstrators, threatened and beaten by extremist Jewish settlers, and roughed up by Palestinian police. But of all the West Bank and Gaza hot spots, few compare with Hebron–particularly for Palestinian journalists.
In this ancient, bustling city located at the southern end of the West Bank, militant Jewish settlers beat and otherwise intimidate Palestinian cameramen such as Dana with seeming impunity, often in the presence of Israeli soldiers who do little to stop them. The soldiers and Israeli police themselves frequently take their turn to harass Palestinian journalists with beatings, forcible restraint, and arrests. Foreign reporters, on the other hand, have not generally been targeted, either historically or during the most recent clashes.
In recent years, rubber-coated bullets fired by Israeli police and Israeli Defense Forces (IDF) soldiers have seriously wounded a number of Palestinian cameramen, news photographers, and reporters. In several cases documented by CPJ, the journalists were well removed from the clashes and clearly identifiable as members of the press because of their conspicuous camera equipment. This has led to charges that Israeli authorities have intentionally targeted Palestinian journalists covering events in Hebron, or at least have been guilty of gross negligence.
At the crux of Hebron's political drama are its 400 to 450 heavily armed Jewish settlers, who live in four enclaves in the heart of the city, surrounded by some 120,000 Palestinians. The settlers are steadfast in what they see as a religious duty to maintain a Jewish presence near one of Judaism's holiest sites, the Cave of the Patriarchs. The cave is also holy to Muslims, who know it as the Ibrahimi Mosque. Both Muslims and Jews believe that the cave is the birthplace of the prophet Abraham.
This volatile mixture has made Hebron a flashpoint for violence between settlers, Palestinians, and Israeli troops. At this site in 1994, a Jewish doctor named Baruch Goldstein opened fire with an automatic weapon, massacring 29 Muslim worshippers as they prayed at the mosque. The city is also a stronghold of the militant Islamist group Hamas, and local Palestinians have been responsible for bloody attacks against settlers and Israeli troops.
In January 1997, Israel withdrew its troops from 80 percent of the city, handing it over to the Palestinian Authority as part of the so-called Hebron Agreement. But Israel retained control over the remaining territory in order to protect the settlers. Today, Hebron is the only West Bank city where Israeli troops maintain a permanent presence.

Settlers in the spotlight
With Hebron's Jewish settlers and their controversial religious mission under international scrutiny, the press–particularly the broadcast media–has assumed an even more sensitive role in recent years. The ability of photographers and cameramen to transmit powerful images of ugly events in Hebron makes them logical targets of image-conscious settlers. Most cameramen working the daily beat are Palestinians, which compounds their problems.
"The settlers attack us for two reasons: because we're journalists and because we're Palestinians," said Dana, stressing that foreign and Israeli journalists rarely encounter the harassment and violence that plagues their Palestinian counterparts. "But the most important thing for the settlers is to stop the cameras from showing their activities to the world and the Israeli public."
Col. Noam Tibon, the IDF's commanding officer in Hebron, acknowledged that the settlers' desire to smother negative news coverage is a prime motivation for attacks on photojournalists. "The knowledge of what's going on in Hebron is at the center of the battle here. That's why settlers are trying to stop these images from getting out," he said during an interview with CPJ in August.
Looking the other way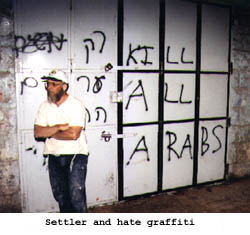 Journalists covering Hebron must contend not only with an extremist settler community bent on thwarting news coverage by any means, but also with Israeli troops who show little interest in the safety of reporters. On July 15, 2000, for example, ABC television cameraman Amer Jabari received a tip that a mob of settlers were attacking Palestinian civilians near the large Jewish settlement of Kiryat Arba, just east of the Hebron city limits. At the time, negotiations between Palestinians and Israelis were underway at Camp David. With the future status of Jewish settlements on the West Bank hanging in the balance, the streets of Hebron were tense.
The riot was sparked by allegations that a Jewish girl had been attacked and sexually assaulted by a Palestinian man. Palestinians denied the accusation, charging that the settlers had fabricated the story as a pretext for violence. Whatever the case, settlers went on a rampage both in and outside the city, throwing stones and smashing cars and shops. Street clashes ensued between Palestinians and settlers, who fought with fists, stones, and bottles. The clashes eventually spread to the center of the old city near the Cave of the Patriarchs, the site of frequent altercations between Palestinians and settlers.
When Jabari and other journalists, including Dana, arrived outside Kiryat Arba, they were greeted by a large group of settlers who started punching and kicking them and trying to smash their cameras. One woman hurled what appeared to be a rock at Jabari's head. According to Jabari and his colleagues, Israeli soldiers and police at the scene did little to halt the attacks. At one point, soldiers even held Jabari down while the crowd beat him.
"It happens every day," said Jabari, who has a three-inch scar on his forehead from a rock hurled by a Palestinian demonstrator a few years earlier. "We were lucky that time because the attack is clearly shown on video."
Nasser Shiyoukhi of The Associated Press, another journalist at the scene, was chased by several dozen settlers until he took shelter in a nearby police station. The police later told Shiyoukhi to stop "provoking" the settlers, he said.
After Dana left the area around Kiryat Arba, he proceeded to Al-Haram Street. There he met more angry settlers smashing cars and shops. "There were settlers behind me, punching me with their hands and [hitting me with] sticks," he said. "Some were spitting on me. I escaped and went near a soldier, but they attacked again." When Dana reported the assaults to nearby IDF troops, they told him that their job was to protect settlers, not journalists. A soldier then grabbed his hand and pushed him away. He went on shooting video of settlers wrecking cars until he was attacked and beaten unconscious.
Apologies
In an unusual and welcome move, the Israeli army expressed regret for the attacks that took place on July 15 and thereafter. "The Israeli Defense Forces take a very grave view of the incident in which Israeli soldiers used violence against journalists," the army spokesman said in a statement released on July 20. The spokesman added that the army and soldiers "will try to prevent such incidents from occurring in the future, which do not add honor to the Israeli army and its soldiers."
Hebron journalists contend that the army only apologized because cameramen had managed to capture many of the assaults on film. Despite the high incidence of attacks and other forms of harassment directed against journalists in the occupied territories, such apologies have been the exception and not the rule. Over the past decade, CPJ has documented dozens of violent attacks against Palestinian journalists by Israeli settlers or military forces in the occupied territories. To date, CPJ is unaware of a single case where Israeli settlers, soldiers, or police have been prosecuted or disciplined for acts of violence against journalists.
Land grab

On a bright Sunday morning in late April, 2000, a large group of Palestinian cameramen and photographers, including Dana of Reuters, descended on a settler-occupied plot of land outside the Jewish enclave of Tel Rumeida. Because the settlers had occupied the land illegally at a sensitive moment in Israeli/Palestinian peace negotiations, Israeli police and soldiers were dismantling the rogue outpost, methodically evacuating several female settlers who had barricaded themselves, along with small children, in a large shipping container that the settlers had brought to the site the night before.
When Dana started filming the scene, young Israeli girls obstructed his camera lens with large, white-and-blue Israeli flags in an effort to stop him from filming the action.
Nael Shiyoukhi, another Reuters cameraman, arrived on the scene to find male settlers beating up his colleagues Naji Dana (Mazen Dana's cousin) of the French channel TF1 and Amer Jabari of ABC News. Shiyoukhi's turn came next. "A police officer pushed me in the chest and threatened to arrest me, and a settler woman kicked me hard in the leg," Shiyoukhi recalled. "The police and soldiers were just watching. They tried to arrest me two times. I was shouting all the time. I couldn't speak afterward."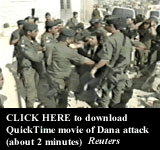 "Settlers started kicking and punching us in front of soldiers," Dana said. "The soldiers were just looking." That same morning, several soldiers attacked AP cameraman Hazem Bader, who was wrestled to the ground for no apparent reason other than that he had tried to film the operation. "About six or seven soldiers attacked me, punched me and knocked me to the ground," Bader recalled. "I did nothing. I was just filming," he said. [To see video, download the free QuickTime Player now]
Singled out
The mistreatment of Palestinian journalists has not gone unnoticed by Israeli colleagues. Tzvi Yehezkeli, a veteran West Bank reporter for Israeli Defense Forces Radio (Galet Sahel), acknowledged that Israeli police and soldiers frequently harass journalists in situations where settlers are victimizing them. "They protect the one who is attacking and not the one who is being attacked," Yehezkeli observed.
"The Israeli soldier does not see the [Palestinian] journalist as a foreign journalist, but as a Palestinian journalist and therefore an enemy journalist," said Yehezkeli. Like the settlers, Israeli military personnel are sensitive to the work of camera crews who attempt to capture events that could reflect poorly on the IDF, such as house demolitions or violent confrontations with Palestinian youths. As a result, soldiers often expel cameramen and photojournalists from operational areas. The army "would prefer to do things without cameras around," Yehezkeli said.
The seeming impunity of both settlers and soldiers has fostered a feeling of helplessness among the Hebron press corps. Local journalists describe themselves as sitting targets for settler attacks because of the army's reluctance to intervene. And if they try to protect themselves they are liable to get arrested or beaten. "If you defend yourself–and we usually don't–they arrest you and say you attacked [the settlers]," said TF1 cameraman Naji Dana. "I've been beaten lots of times. We've gotten used to it."
IDF perspectives
Col. Noam Tibon is the senior IDF commander for Hebron, in charge of some 500 soldiers and assorted military police–the largest Israeli military detachment in the occupied territories. The IDF's policy is to protect all journalists, Col. Tibon said, whether Palestinian or European. "We are not so proud of what's going on," he added during an interview conducted in his office overlooking the city.
"We are trying with the police to [stop] Israelis who are attacking Palestinians–innocent Palestinians–and of course the press. But the Palestinian press is the enemy of the settlers … and they are fighting against it," Tibon said. He also accused journalists of sometimes "provoking" settlers. And he complained that his soldiers were not particularly suited to policing the volatile street scuffles that are so much a part of daily life in Hebron. "Soldiers joined the army to be combatants. They don't have the patience [for] these neighborhood fights," he said.
The colonel said he was in regular contact with Jewish settlers and had urged them to exercise restraint, arguing that violent attacks work against them in the court of public opinion. As for his troops, he claimed that he was prepared to discipline any soldier guilty of mistreating journalists, citing a recent case where he sent five soldiers to jail for 14 days for misconduct.
But Tibon would not provide specific details about this case. And when CPJ requested information about other instances of disciplinary action taken against soldiers who abused journalists, the IDF responded that it did not keep such statistics. Nor could Israeli police cite any examples of settlers or police officers that had been prosecuted or otherwise held accountable for attacks on the press. Police authorities did provide information about three complaints involving settler and soldier attacks on the press that were being investigated in 2000, but they did not respond to repeated requests for information about the outcome of complaints or investigations in years past.
After years of futile complaints, most Palestinian journalists working in Hebron have all but given up on legal recourses. The journalists say that settlers are never apprehended, let alone prosecuted, despite considerable documentary evidence of individual attacks, including film footage, photographs, and eyewitness testimony. The same goes for soldiers and police officers. Dana told CPJ that he filed 23 complaints against settlers a few years ago, all of which were dismissed. "The police always tell you to go and complain at the police station," he said. "They keep you three or four hours at the station. Sometimes you need a week to file a complaint. You give them photos, video proof, and still they do nothing."
Rubber bullets
Nael Shiyoukhi's bloodshot eyes tell his story. A handsome, 29-year-old Reuters cameraman, he last remembers enjoying a good night's sleep two years ago. "I stay awake until three or four o'clock in the morning," he said, chain-smoking Marlboros. With the sleepless nights come headaches and dizziness, especially when walking down a flight of stairs or riding in an elevator.
On March 13, 1998, Shiyoukhi and several of his colleagues were covering clashes between Palestinians and Jewish settlers on Al-Karantina Street, near the Jewish settlement of Avraham Avinu, when a large group of demonstrating settlers stormed into the Palestinian-controlled sector of the city. About an hour after the riot started, the IDF restored order and pushed the settlers back into their own enclaves.
Shiyoukhi and the other journalists, meanwhile, were packing up to go home. "Everything was quiet," Shiyoukhi recalled. "We were about to leave. I took my mobile phone out and called the office to figure out how to get them my footage. Then I saw Israeli border police coming towards me, so I started filming them."

"Suddenly, they took positions on one knee and started firing at me from not more than 20 meters away," Shiyoukhi continued. The closest Palestinian demonstrators were about 100 meters away on top of a hill, where they were burning tires and throwing stones. Shiyoukhi and the others initially thought the soldiers were heading for the protesters. "There were three soldiers at first," he said. "We shouted that we were journalists. They could hear us clearly. I shouted in Hebrew, Arabic, and English."
A rubber-coated metal bullet then struck Shiyoukhi on the forehead and knocked him to the ground. Blood streaming down his face, he struggled to get to his feet while his colleagues took cover behind a garbage dumpster about one meter away from him. They shouted at the soldiers to hold fire, repeatedly identifying themselves as journalists. At one point, Mazen Dana tried to go to Shiyoukhi's aid, but was forced to retreat when he took a rubber bullet in the shoulder.

As Shiyoukhi lay on the ground, writhing in pain and covered in blood, he was struck by two additional rounds, one in the chest and another in the back. His colleagues could not come to his aid for fear of gunfire. Eventually, Shiyoukhi was dragged to safety, by Hazem Bader of The Associated Press, and bundled into a car that friends had driven to the scene and positioned in front of the dumpster to block the Israeli fire.
In all, some eight journalists were wounded in the encounter. The shocking, two-minute ordeal was captured on film by some of Shiyoukhi's colleagues and then broadcast across the world, triggering a firestorm of criticism against the IDF.
The IDF's initial response was that all eight journalists had been hit by stray ricochets. The IDF also claimed that it was too dark for the soldiers to identify Shiyoukhi and his colleagues as journalists, and that a Palestinian demonstrator had run into the crowd of reporters. The IDF later claimed, variously, that the journalists were mingling with the rioters and that Shiyoukhi had been hit by a Palestinian-thrown rock.
But video footage of the incident indicates that Shiyoukhi was clearly illuminated by camera lights and streetlights. The demonstrators were over a hundred meters away. Moreover, the journalists repeatedly identified themselves as press.
Nael Shiyoukhi's cousin Nasser Shiyoukhi of the AP maintains that the soldiers "knew we were journalists. We had the lights on. We were screaming 'journalists!' and we were close to them," he said. "OK, maybe by mistake one bullet. But not the second and third. No way."
Professional risk
IDF standing orders for riot control are to shoot at individuals who appear to be over 18 years of age, and to aim for the legs of their targets. Israeli officials vehemently deny that soldiers have intentionally targeted journalists with rubber bullet fire, and accuse cameramen and reporters of putting themselves at risk by mingling with demonstrators during clashes. "This is what we call professional risk," declared Col. Tibon. "If you [look at the] photos, the journalists are standing right in the middle of fire and when you try to move them they don't listen. There is nothing to [be done] about this."
Palestinian journalists chafe at the suggestion that they put themselves in the line of fire by getting too close to demonstrators during clashes. Their standard practice, they say, is to remain separate from stone-throwing youths–usually at an opposite corner or behind Israeli troops. "We have an understanding with the army, which is that we are on the other side, never among the demonstrators," said Nasser Shiyoukhi, adding that about 90 percent of journalists conform to this procedure. "We have to be one corner away. We do this every time. This is the routine."
The commotion that frequently surrounds confrontations between stone throwers and soldiers would seem to increase the probability of journalists and other noncombatants getting caught in the crossfire. But the experience of many journalists shot covering street violence in Hebron suggests that they were not hit by accident. In some cases documented by CPJ, the IDF fired only a few rounds, hitting journalists in the legs or head with pinpoint accuracy. Given such precision, it is difficult to imagine a sniper not seeing camera equipment and being able to recognize that he has a reporter in his sights.
An Israeli victim
Although most of the journalists shot by rubber bullets in the West Bank and Gaza have been Palestinian, the 1998 wounding of an Israeli journalist raised the profile of the issue in the Israeli press. Avichai Nudel, a reporter and photographer for the Israeli daily Maariv at the time, was hit in the stomach by a rubber bullet while covering clashes between Israelis and Palestinians in Hebron on May 15.
According to his own testimony and that of other journalists at the scene, Nudel was standing at a reasonable distance from the clashes, along with other cameramen and photographers, when he was hit. "I wasn't in the middle of the clashes," Nudel told CPJ. He and other journalists "were standing behind some cars and not in the line of fire." The bullet, one of only six that Israeli troops fired that day, passed through his stomach, causing serious injuries for which he is expected to undergo a second operation this year.
After the incident, Maariv editor Yaacov Erez wrote that Nudel's shooting was "not the first time IDF soldiers have hurt journalists. Until now, these were Palestinian journalists, and the official word was that they mingled with the rioters and could not be singled out from among them." Erez noted that Nudel had been shot from a 40-meter range. "It was not accidentally discharged or a stray bullet," he wrote. "It's possible that the soldier who shot him had intended to shoot at the journalists who were covering the unrest, or that he acted in haste and was criminally negligent."
Palestinian colleagues speculated that Nudel was targeted because his darker complexion made him look like an Arab. After a lengthy investigation, the IDF absolved itself of any wrongdoing. Nudel is now taking his case to court. "A lot of things about the shooting were questionable or wrong," he says.
There is no direct evidence that soldiers have intentionally fired on journalists. But the journalists themselves argue that at least some incidents could be the result of angry soldiers taking out their frustrations on the press or trying to block news coverage. Col. Tibon rejected this suggestion. "Definitely not. I trust my own soldiers. They don't shoot innocent people on purpose, and if they do they will go straight to jail," he said.
Palestinian journalists respond that the army and police know their faces well from their frequent encounters on the beat. Soldiers from Israel's elite Golani Brigade once showed Nael Shiyoukhi a photo album containing pictures of him and a number of his colleagues, suggesting that they were being monitored.
One cameraman pointed out that Palestinian journalists have rarely been shot when foreign journalists were accompanying them. He believes that orders to shoot journalists come from higher up in the chain of command. "I'll tell you frankly, sometimes soldiers get stones thrown at them and they don't shoot. They are waiting for an order from their commander," he said. An IDF spokesman supported this theory by telling CPJ that the "use of rubber bullets is concise and is only used with the approval of the commander who is present."
Even Israeli reporters who cover Hebron note the contempt that some soldiers display toward members of the press, especially Palestinian journalists. "There is deep hatred among a lot of soldiers toward the Palestinian press. They think they are showing a bad side of the soldiers," said one Israeli reporter who requested anonymity. "There's nothing accidental about these attacks," he added. "If you look at it, Palestinian journalists are the only ones getting hit."
But the same journalist emphasized that not all shootings can be considered intentional. "Some journalists are being targeted, [but in some cases] soldiers are not aware that there are photographers [on the scene]," he said. "An officer should be telling them there are journalists in the area."
Col. Tibon conceded this last point, arguing that while "reckless" journalists deserve half the responsibility for shootings, he himself deserved the other half for not adequately explaining to his soldiers the importance of taking proper precautions to avoid confusing journalists with demonstrators.
Looking ahead
Since the outbreak of violence in late September, the political climate throughout the Palestinian territories has been explosive. Now that the peace process has given way to violence and bloodshed, local journalists fear the worst.
"In the future I think it will be more dangerous," Dana said presciently in July. "There will be clashes and violence. Both Palestinians and Israelis are armed. In the future it won't be rubber bullets. Who will protect us?"
As the threats faced by journalists in Hebron have spread throughout the Palestinian territories in recent weeks, Dana's predictions have proved accurate. On October 1, he was shot in the leg with a rubber bullet while covering violent Palestinian demonstrations in Hebron. The next day, he was wounded in the same leg by live Israeli rounds.
Part II: Covering Palestine


Ramallah — An enormous banner portrait of Yasser Arafat hangs from a tan-colored building in this West Bank city, keeping a watchful eye over the bustling sea of pedestrian traffic below. Not far from here, Palestinian journalist Maher al-Alami spent twelve days in jail during the month of June, 2000. Al-Alami didn't know exactly why he was detained. But he had more than a hunch.
It all started with a phone call. On the evening of June 5, a Palestinian National Authority (PNA) security officer phoned al-Alami at home and invited him to meet with a "high-level security official" the next day. When the free-lance journalist showed up at the headquarters of the General Intelligence service, he was made to wait for nearly two hours without explanation. Finally his hosts drove him to Palestinian police headquarters in downtown Ramallah, and then to Ramallah Central Prison, where he was jailed without legal formalities of any kind. The security officers said only that Chairman Arafat's office had sent them a fax ordering his detention.
Over the next twelve days, the 55-year-old al-Alami was subjected to two lengthy interrogations. During one session, a police officer asked why he had supported a Palestinian teachers' strike in an article written for the Gaza-based Islamist weekly Al-Istiqlal. "The investigator asked me why I was defending the teachers," al-Alami recalled. "They said I should have attacked them for leaving their students out on the streets."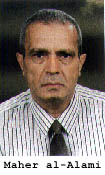 The interrogators also questioned al-Alami about another Al-Istiqlal article in which he had argued that Arafat's decision to move certain Islamic law courts outside the city limits of Jerusalem would weaken the Palestinian presence in the disputed city. Then they brought up al-Alami's appearance on a local television program two days earlier, when he had denounced the PNA closure of several private television and radio stations in the West Bank. "Who are you to criticize us?" one officer snapped. "Don't you know the Palestinian leadership has its own special situation, its own strategy?"
At one point, one of the interrogators forced al-Alami to sign a written statement pledging that in future he would not "harm" any members of the PNA.

On June 18, al-Alami was unceremoniously released. He was never taken to court or charged with a crime. And the local press made no mention of his detention. For all intents and purposes, it had never happened.
Random harassment
In the nearly seven years since the PNA assumed control of parts of the West Bank and Gaza, many outspoken Palestinian journalists have been treated like Maher al-Alami. Arafat and his multi-layered security apparatus muzzle their press critics via arbitrary arrests, threats, physical abuse, and the closure of media outlets. These punitive measures almost always occur outside any recognizable legal framework.
"You can never figure out the way things are done here. There is no legal reference," said one Palestinian editor who requested that his name not be used. "Someone at the top can say this one should be arrested or closed and they will close it. There is no procedure at all."
Over the years, the Arafat regime has managed to frighten most Palestinian journalists into self-censorship. Major newspapers routinely avoid coverage of issues such as high-level PNA corruption and mismanagement, human rights abuses by security forces, and any reporting that might cast Arafat in a negative light. Moreover, the major Palestinian dailies all enjoy cozy relations with the PNA, further blunting their editorial edge.
Looking for the Information Ministry
Few people in Ramallah seem to know exactly where the Palestinian Ministry of Information is located. Along the bumpy main road leading into the city, passersby shake their heads or offer half-hearted directions. But when told that the Ministry is not far from the luxury villa of PNA leader Abu Mazen, a teenager responds excitedly: "Oh, Abu Mazen's villa! It's up the road that way."
Tucked away on a lonely hilltop in Ramallah's sister city Al-Bireh, the Ministry of Information's isolation is symbolic of its position in the Palestinian media arena. On paper, the Ministry is supposed to regulate all Palestinian print and broadcast media. In practice, it is no match for the diktats of the security forces. Between May and June, 2000, Palestinian police shut down several private radio and television stations in the West Bank. At least five stations were closed and three journalists detained–each incident occurring without any official explanation.
When police abruptly pulled the plug on the Ramallah-based Al-Watan TV last May 21–apparently because its coverage of a hunger strike by Palestinian prisoners in Israeli jails was deemed inflammatory–Information Ministry officials moved quickly to reverse the illegal move. On May 23, officials informed Al-Watan director Omar Nazal that he could resume broadcasting. But when station employees returned to work, armed police officers promptly raided the station and evacuated the premises.
"Not even a minute after we went back on the air, I got a call from the police," Nazal told CPJ. "They came again and closed the station." Nazal was detained for one hour and accused of flouting police orders. When he tried to explain that the Ministry of Information had given him permission to broadcast, the police replied that they did not recognize the Ministry's authority. "I myself talked to security officers and they said they were waiting for orders from higher up, not from the Ministry of Information," said Hani al-Masri, the ministry's affable director of press and publications.
The closure of Al-Watan TV reinforced what most Palestinian journalists have known for years: that Palestinian security forces and police routinely ignore the law in their efforts to harass the media. Just ask Maher al-Dessouki, the energetic host of "Space for Opinion," a popular biweekly talk show that appears simultaneously on Al-Nasser TV in Ramallah and Al-Quds Educational TV in Al-Bireh.
On any given Wednesday or Sunday night, al-Dessouki's guests might include a PNA official, an opposition figure, or a local journalist. Viewers call in to air opinions or pose questions to the guests on topics ranging from garbage collection to the PNA's May crackdown on local media.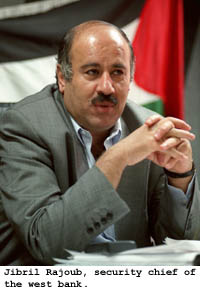 These relatively open debates have made al-Dessouki a favorite target of the security forces. On September 15, 1999, for example, plainclothes agents from Jibril Rajoub's Preventive Security Services (PSS), accompanied by uniformed soldiers, arrested him at his office in Ramallah. After a few days of silence, the authorities announced that al-Dessouki was accused of "incitement" and "possessing material inciting against the PNA."
No details were provided, and no formal charges were pressed. But it was widely believed that al-Dessouki was arrested because of a "Space for Opinion" episode in which he interviewed the relatives of Arab prisoners held in Israeli jails. In one of the interviews, the mother of a prisoner denounced Arafat for not securing her son's release.
Al-Dessouki was held for 19 days and subjected to prolonged interrogation about the broadcast and other topics. His interrogators accused him of collaborating with Israel and insulting the PNA. During the initial three days of his detention, he was beaten and subjected to the punishment known as shabeh, in which prisoners are forced to assume painful positions for lengthy periods of time (for example, being shackled to a chair while hooded or blindfolded).
During the PNA's campaign against private broadcast outlets last May, al-Dessouki featured the topic of press freedom on a "Space for Opinion" segment. After the program, a high police official called and invited him to drink coffee in his office. At about 10:30 p.m., the journalist drove to police headquarters accompanied by one of his talk show guests, an influential member of the Palestinian Legislative Council (PLC).
"There was a colonel who met me," al-Dessouki told CPJ. "He had files and information about what I said on this date and that date. He said 'Sunday and Wednesday are my special nights. I specialize in Maher.'"
After talking with the colonel and other officers for about three hours, al-Dessouki was finally allowed to leave. He may have received lenient treatment on that occasion because of his influential guest. But even without arresting him, the police had succeeded in getting their point across.

A few weeks after the incident, on May 30, the police shut down Al-Nasser TV. The raid came two days after a PLC delegate indirectly attacked Arafat on "Space for Opinion," arguing that if the Palestinian leadership made no progress on statehood by September 13 then the people should start looking for new leaders. Al-Nasser TV remained closed for twenty days. Meanwhile, "Space for Opinion" continued to air on Al-Quds TV.
Honored in the breach
All of Maher al-Dessouki's run-ins with the PNA have taken place behind closed doors and without legal formality. "What we have here is a police state without a state," says veteran Hebron journalist Khaled Amayreh. "There is no democracy or the rule of law."

Ironically enough, one of the first laws passed by the PNA was the Press and Publications Law of 1995. Modeled after restrictive press statutes in Jordan and Egypt, it includes a host of vague prohibitions on public speech. Violators face fines and jail time. But there are no Palestinian journalists in prison today for violations of the press law or any other law. In fact, there are no journalists in jail at all. Instead, PNA authorities control the press via arbitrary arrests, phone calls, and the infamous "invitation" to drop by the local security office for a cup of coffee.
As part of the 1998 Wye River Agreement with Israel, the PNA promulgated the controversial Presidential Decree to Strengthen National Unity and Prohibit Incitement. This statute also gives PNA authorities wide latitude to rein in critics. In its recent report on freedom of expression under the PNA, Amnesty International noted that the decree "goes far beyond prohibiting 'violence or terror' and punishes a broad range of speech, including incitement to 'strife,' which is not defined further and could be used to prohibit forms of expression [that] would be protected under international human rights law."
Like the 1995 Press Law, this decree has never been enforced. But such laws indirectly define the boundaries of acceptable media discourse, which exclude more than just criticism of the Arafat government. Prior to the recent violence, the PNA would occasionally restrict inflammatory Palestinian broadcasters during sensitive moments in the peace process. Many local journalists believe, for example, that the May crackdown on private broadcasters stemmed from the PNA's desire to curb press "incitement" against Israel.
Self-censorship
Palestinian journalists know that the PNA is watching them. Recently, a Palestinian reporter sat nervously in the leafy outdoor garden of the Jerusalem Hotel, glancing at his wristwatch. "We can't write about a lot of things," he said.
The fear of provoking Arafat's temperamental security forces has made most reporters and editors think twice before publishing controversial material. The result is a mainstream press that ignores many of the more unpleasant aspects of PNA rule. Sensitive topics include official corruption, human-rights abuses by security forces, details of security coordination with Israel, and above all, anything that could be interpreted as a criticism of Yasser Arafat.
"There are a few red lines we don't cross: President Arafat. This is the one we keep our distance from. Any news that would anger him," says Maher al-Sheikh, managing editor of the leading daily Al-Quds.
None of the major Palestinian papers provided detailed coverage of the story of Abdel Sittar Qassem, a 56-year-old political science professor who was arrested in late 1999 and again in 2000 for having signed and distributed a petition that held Arafat directly responsible for rampant corruption within the PNA. (Qassem was jailed for more than five months.) "I never saw an article calling for his release," said one editor, noting that some papers did run paid advertisements by Qassem's supporters.
If covered at all, political arrests are usually written up as brief news items and tucked away on inside pages without any analysis. In late July, for example, the prominent Hamas leader Abdel Aziz Rantissi was arrested for publicly criticizing Arafat's negotiating strategy during the Camp David peace talks. Al-Quds covered the arrest with the bare minimum of information and without critical analysis. "They don't mind you mentioning that Abdel Aziz Rantissi was arrested, but if you analyze it you run into a problem," observed the Gaza-based human rights activist Raji Sourani.
Palestinian editors try to look on the bright side, arguing that limited coverage of sensitive political issues is better than no coverage at all. "Let's say someone is arrested for political reasons," al-Sheikh told CPJ in August. "We publish a small article and don't go into details … but we do write about it."
Wire coverage
Local editors rely heavily on international wire services and WAFA, the official PNA news agency, to supplement their limited coverage of local events. "If you study Al-Quds for a week, you'll find 80 percent of the paper is advertising and there's nothing else to read," says Said Ghazali, a former AP correspondent who now works as a free-lance reporter. "You get wire stories about international news but locally you don't find anything. You find news about seminars, statements about the peace process, some cultural stories, news about Arafat."
This over-reliance on foreign news sources has led some local observers to lament that international and Israeli media are setting the agenda for Palestinian journalism. "If you look at the first pages of any daily paper the source is Reuters, AFP, AP, or an Israeli paper," says Nabil Khatib, a correspondent for the London-based satellite channel Middle East Broadcasting Centre (MBC) and a journalism professor at Bir Zeit University. "Or if it deals with Arafat it will be WAFA. What about the papers' own correspondents? You won't find them on the major stories. You won't find them investigating local issues because there is no investigating."
As a result, most Palestinians do not trust their own media. A 1999 study by the Jerusalem Media and Communications Center (JMCC) found that only 20 percent of Palestinians in the West Bank and Gaza Strip believe local media are independent. When asked which television stations they rely on and trust the most, the largest number of respondents chose pan-Arab satellite channels such as the Gulf-based Al-Jazeera (32.8 percent). The PNA's Palestine TV finished a distant second at 13 percent.
"People are talking about all kinds of things, [but] there is no reflection of that in the media," says Raji Sourani. "Corruption, abuse of power, mismanagement. Of course you would never read about such things and it's not for lack of information."
All in the family
Two out of three Palestinian dailies have close financial or political links with the PNA. Al-Ayyam is edited by Arafat aide Akram Haniyya. Al-Hayat al-Jadida was founded by Nabil Amr, another Arafat confidant who is currently the PNA's minister for parliamentary affairs. Its staff salaries are paid by the PNA. The privately owned Al-Quds is ostensibly independent but widely thought to have close links with Palestinian security chief Jibril Rajoub. "Al-Quds does not dare write anything that would anger the PNA," said Maher al-Alami.
Al-Quds is probably the most heavily self-censored Palestinian daily, according to local journalists. Al-Ayyam enjoys slightly more freedom because of the editor's close relationship with Arafat. Al-Ayyam might, for example, occasionally publish stories on corruption involving certain PNA ministers or more junior officials, or briefly touch on rights abuses by security forces. But for the most part, the paper avoids investigative news coverage. "You can't criticize the centers of power," said one editor who requested anonymity.
By all accounts, PNA officials frequently interfere in the daily management of the major dailies. "The PNA will contact the editor, or vice versa, and ask what we should do [about a particular news story]," said one Palestinian journalist. Journalists who submit controversial stories face internal censorship from their editors. "[The editors] censor about 40 percent of my articles concerning Palestinian policies, corruption, and mismanagement," a columnist for Al-Quds told CPJ in late 1998. "I don't send them sensitive stories because I know what they will and will not publish."
Opposition media
Despite its crude attempts to bully local journalists, the PNA has yet to silence them completely. The Gaza-based Islamist press, for example, is often critical of the authorities despite frequent arrests and threats. On the broadcast side, private television and radio stations have proliferated throughout the West Bank in the 1990s. With little money or training, journalists at these stations have managed to create a new platform for news and debate about sensitive political issues.
For several years, Islamist newspapers such as the Gaza weeklies Al-Istiqlal and Al-Risala faced official harassment because of their occasionally hard-hitting attacks against the Palestinian regime. A scan of both papers' headlines reveals a marked difference in content from the stale offerings of the daily papers. Scattered among the Islamist polemics are stories about torture and other PNA human-rights abuses.
But despite their qualitatively more critical approach to news, these papers also tend to observe certain editorial boundaries. Like his mainstream colleagues, Al-Risala editor Ghazi Hamad avoids direct attacks against Arafat. "If we want to criticize Arafat we say the 'authority.'" And although Hamad is aware of many stories about corruption involving the security services, he is afraid to publish them.
"Of course if you compare Al-Risala with other newspapers you would find it critical, but I wouldn't say it's a critical newspaper," says Raji Sourani. " I think if there was real freedom of expression, Al-Risala could be 50 pages [long] and what they publish now would be the least of it."
Islamist newspapers also suffer from limited circulation and a lack of general appeal. Al-Risala, for example, has a circulation of about 10,000 copies a week, while that of Al-Quds is several times greater. "The current opposition media is not effective," says one local observer. "Rarely will a non-Hamas member read Al-Risala."
In recent years, documented PNA abuses of press freedom have declined in comparison to the first few years of Arafat's rule. Some contend that the press freedom situation in Palestine today has improved marginally as the PNA has been forced, grudgingly, to accept a modicum of critical expression. It is true that the PNA lacks the means to silence all its local critics. "They cannot arrest you every week," Hamad says. Al-Risala has been shut down several times over the years, and PNA agents have arrested Hamad himself on at least eight occasions. But in late 2000, he was still putting out Al-Risala every week.
The impulse to resist
For many Palestinian journalists who braved Israeli repression during Israel's full-fledged occupation of the West Bank and Gaza, the general timidity of journalism under the PNA has proved a tough pill to swallow. While many blame the PNA for the pervasive atmosphere of intimidation that hinders their work, they also hold reporters and editors responsible for not fighting back.
"Why have Palestinian journalists changed from being some of the most courageous journalists to something like cowards?" asks Al-Roa TV director Hamdi Faraj, himself a frequent target of Israeli authorities during the Intifada. "Of course, I can understand the position of the editor. He is in a crisis. He has the choice to leave the country or publish what the PNA wants him to publish."
Much of this passivity comes down to basic economics. In the West Bank and Gaza, the average beat reporter struggles to make ends meet on a salary of US$400 or so per month. The fear of dismissal discourages most from making waves within their own newspapers. "We do not have courageous journalists who are ready to defend themselves," says Maher Alami. "They are all [concerned about] their own interests. They say 'we have to go with the flow.'"
Loyalty to the Palestinian cause at the present, crucial phase on the road toward statehood has made journalists even more reluctant to criticize their leadership. And by all accounts, the Palestinian Journalist Syndicate is under the regime's thumb and does little to defend its members against PNA repression, although it displays great zeal when Palestinian journalists are attacked by Israeli forces. In response, a number of local journalists have taken to the idea of launching their own independent union. But it has yet to get off the ground.
At the time of writing, the peace process had collapsed and there was still widespread violence, despite the tenuous cease-fire that Arafat and Barak negotiated in Sharm al-Sheikh. Arafat showed little tolerance for dissent before the violence erupted in late September. And given the turmoil that has engulfed the Palestinian territories, it seems reasonable to predict that the PNA will react even more harshly to future challenges from local journalists.

Conclusion

Journalists have been caught in the middle of the Palestinian-Israeli conflict because both sides seek to influence local and international opinion in their favor. This is the goal of Israeli soldiers and settlers who attack Palestinian cameramen because they fear negative news coverage. It is equally the goal of Palestinian security officials who harass local journalists and news organizations that dare to criticize the Arafat regime.
Yet no government that oppresses journalists can hope to thrive in the court of public opinion. CPJ holds the government of Israel and the Palestinian National Authority responsible for ensuring the safety of journalists. We urge Israel and the PNA to conduct immediate and vigorous investigations into incidents of mistreatment of journalists, and to make their findings public. It is particularly vital that anyone who physically attacks a journalist, be they Palestinian police, Israel soldiers, or Israeli and Palestinian civilians, be quickly brought to justice.
International humanitarian law recognizes the civilian status of journalists covering armed conflict. Neither journalists nor the facilities in which they work should ever be a military target, as in the October 12 rocket attack against Voice of Palestine facilities in Ramallah. And the government of Israel should order its security forces to review their operational guidelines, with special attention to protecting journalists from the attacks that Palestinian reporters in Hebron have been facing on a regular basis for many years. This includes rules for engagement when journalists are in the area. The IDF and police should also cease all restrictions on the free movement of cameramen and journalists.
The PNA should publicly acknowledge its obligation, under international norms of free expression, to tolerate the public expression of dissenting views. The PNA should also ensure that its security forces cease all forms of interference with the Palestinian media, including the arbitrary arrests of journalists, threats, and other forms of intimidation, along with the closure or censorship of media outlets.
Israelis and Palestinians are fighting over imagery as well as land. The weapons in this mediated war are not just stones and bullets, but also words, photographs, and video footage. Both Israel and the PNA have a long history of attacking journalists in an effort to prevent dangerous imagery, such as the killing of an unarmed Palestinian boy by Israeli forces or the killing of Israeli soldiers by Palestinian vigilantes, from being wielded by the other side. And since the stakes of the conflict have risen dramatically in recent weeks, there is good reason to fear that both sides will continue to target journalists in the future.