Der Spiegel's man in Jolo recalls his stint as a hostage of Commander Rat
September 18, 2000–During my first assignment in Jolo last May, I bought a T-shirt with the slogan "I stuck it out with the Sulu hostages" printed on its front. On the back it read "Press." The shirt seemed an apt symbol of the dangerous and surreal politics behind the hostage crisis in the southern Philippines. I didn't know just how personally appropriate this bit of kidnapping kitsch would become just a few weeks later.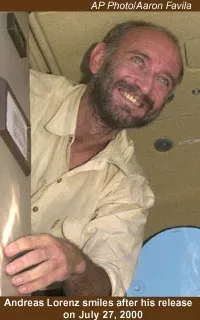 Jolo, the capital of an eponymous island in the Sulu Sea, is a rundown town with pleasant people and a beautiful landscape. The island is also home to Islamic militants. For over 30 years, Jolo has been part of their struggle against the Philippine government. During the civil war of the 1970s, it is estimated that up to 100,000 people died in fighting in the southern Philippines.
The Abu Sayyaf is one of two active Islamic insurgent groups currently operating here. Like many other Islamic militants around the world, some of its leaders are known to have trained in Libya and the Middle East. The group numbers only a few hundred loosely-organized fighters, whose leaders are used to getting their way. Earlier this year, annoyed at the Philippine government's slow response to a ransom demand, the Abu Sayyaf beheaded a pair of Filipino hostages.

Media frenzy
On April 23, the Abu Sayyaf kidnapped 21 tourists and employees from a Malaysian diving resort and brought them to Jolo. Almost all these hostages were foreigners. Since then, Jolo has been overflowing with Filipino journalists and foreign correspondents. Many of the international reporters came from Germany, since among the victims was a family of three from the German university town of Goettingen–the Wallerts.
Journalists have been drawn by the extraordinary crime and by colorful characters on both sides of the struggle: rebel leaders with names like Commander Rat and Commander Robot, and provincial governor Abdusakur Tan, a hospitable warlord with a perpetual cold and a 200-man army that he sends out to fight against political opponents from time to time.
The kidnappers are also accessible, allowing reporters, for a price, to visit their camp and interview them and their hostages. The heavily-armed bandits see journalists as a revenue stream, and invariably try to rob reporters of money, watches, sneakers, pens, tape recorders, and anything else they can get. These interview "fees" contribute thousands of US dollars to the terrorist treasury.
Early in my first visit to Jolo, I learned that it was dangerous to resist paying the fees. On June 2, a group of ten German journalists, including myself, accompanied a local doctor to visit the hostages. When we refused to pay the so-called "entrance fee" to the camp–50 sacks of rice, worth approximately US$1000–the Abu Sayyaf threatened to kill one of us unless we paid a ransom of US$25,000. Fortunately, the television journalists in our party had that much cash back at their hotel, which they had brought to pay for satellite feeds. Instead, they bought us out after 10 hours in captivity.

Quiet diplomacy
Der Spiegel had four reporters covering Jolo on a rotating basis. When I arrived back on the island for my second assignment on June 27, I decided not to go near the Abu Sayyaf camp again; it was too dangerous. Instead, I planned to cover the story from Jolo town.
During one of my routine visits to the governor's office, a young man approached me. He identified himself as Philip, from the entourage of one of the official negotiators, Ghazali Ibrahim. He said that he wanted to discuss a matter having to do with Abu Sayyaf.
A few days later, Philip brought me a letter, signed by the "chief of the striking force" of the Abu Sayyaf, Ghalib Andang, alias "Commander Robot." The letter said that the Abu Sayyaf no longer trusted the official negotiating team, and feared a Philippine military attack. They wanted a new channel of communication with German officials. Their aim was to free the "weak woman" Renate Wallert as soon as possible. Would I discuss the matter in the village of Bandang? My security would be "100 percent guaranteed."
Recalling my first experience with the terrorists, I flatly refused to visit Bandang, which is located deep in territory controlled by the Abu Sayyaf. However, I did agree to convey a message from the kidnappers to German diplomats. The next day Philip told me that they wanted to pass a tape recording of Renate Wallert and Commander Robot to the Germans. An Abu Sayyaf leader wanted to come into town to discuss the matter with me.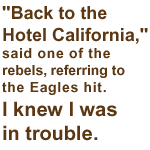 Kidnapped
On Sunday, July 2, we met in a small café in the center of town. Philip arrived with a young, well-dressed man. Another emissary would like to hand over the tapes at a nearby location, they said. We left together in an open jeep and drove through the streets of Jolo.
When two more men suddenly jumped into the jeep, I sensed a trap and tried to jump out. In the ensuing struggle, my hosts hit me with their fists and the butts of pistols that they had been concealing in their trousers. Then the jeep stopped. Ten or twelve heavily-armed men hauled me off the vehicle and into the undergrowth, where they stripped me of my money, pen, watch, and pocket-knife. They told me I would be back in town in a couple of hours, after a meeting with Commander Robot. But when one of them said: "Back to the Hotel California," referring to the Eagles hit, I knew I was in trouble.
They waited until dark, and then led me deeper into the jungle. We walked for about one hour, until we reached the camp. I was told to sleep on two wooden planks covered with leaves. They shined their torches on me all night to make sure that I did not try to run away. At dawn, I saw that I was in an abandoned hemp plantation at the foot of a mountain. The valley was open only to one side, and the slopes were very steep. Flight seemed nearly impossible, although we were not far from the town of Jolo.
I was guarded permanently by six to eight men. Most were in their twenties. They did not hide their faces, but refused to give their names. They spoke only rudimentary English, anyway. After two days of uncertainty, a young English-speaking man who called himself "Jerome" told me that I was a hostage, and that they would demand a ransom of two million US dollars. "We are not Abu Sayyaf," he said, describing his faction as a "lost command" that had split off from the main group. They needed money, he said, to buy weapons and fight for an Islamic state in Mindanao.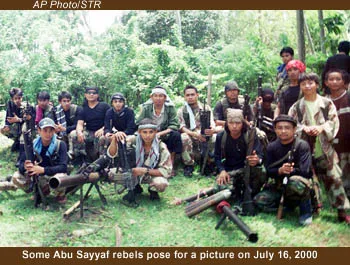 Life under Commander Rat
The leader of my kidnappers was the well-dressed young man who had beaten me up in the car during my capture. The others called him Nakora ("leader"), and later Commander Daga ("rat"). His younger brother Ting was one of my guards. The first days in the camp were horrible–not only because of the uncertainty, but also because of the boredom. I knew that I had to stay active to fight fear and dark thoughts, so I insisted they give me a pen, some paper, and reading material. I was allowed to take notes.
The camp consisted of about 200 square meters covered with rotten leaves, hemp, and coffee plants. After a while my kidnappers built a bamboo bed for me and gave me a blue plastic sheet to ward off the tropical rain. I also received soap, a toothbrush, and a mosquito net. In the morning they fed me a sort of soggy pancake, which made my stomach revolt. At noon I ate "Lucky Me" brand instant noodles. In the evening they served me rice with a single sardine, the size of a fingernail. From time to time they offered me water from a nearby creek or some sweet instant coffee.

I later learned that my wife, Jutta Lietsch, also a journalist, and three colleagues from Der Spiegel had rushed to the Philippines as soon as they heard about my abduction. (My captors took pictures of me, and forced me to record their demands on tape.) They frantically tried to establish contact with the kidnappers and negotiate my release. But this proved very difficult, as too many people smelled money and were only too eager to cheat them out of it. In the meantime, they were able to send me books, newspapers, and some clothes.

Endgame
After two weeks the kidnappers grew impatient with the slow pace of the negotiations. They threatened to cut my hands off and send them to the negotiators. The next few days were the most frightening of my whole captivity. Finally, the Spiegel colleagues were able to strike a deal. They agreed to deliver the "exit fee" to Governor Tan, who would in turn see that it reached the kidnappers.
On July 27, shortly before three p.m., my kidnappers donned masks and rushed me down steep slopes to the road. Two armed middlemen met us there, hustled me into a van, and sped off to Jolo. Back in town, I was handed over to my colleagues at the home of the governor.
During my ordeal, I received tremendous and encouraging support from many journalists. The quick and decisive intervention of Der Spiegel certainly saved me from a longer stay or even from being killed. Several Filipino colleagues sent a petition to the Abu Sayyaf, urging my release. But other journalists criticized the fact that I had even returned to Jolo after my first experience in June. They argued that the kidnapping was the consequence of my reckless search for sensational stories.
I think they are wrong. Journalists covering crises have to take certain risks to ensure that news gets out—in this case, news about the plight of the 21 hostages. Moreover, it is our responsibility to describe the atmosphere, the political background, and the main players in the game. To do this well, journalists need to stay close to the action. But at the same time, they have to make sure that they are not taking unnecessary risks.
As my case shows, things can go wrong. A dialogue among reporters and editors is needed about how to deal with these situations in the future. In my view, only journalists with experience working in dangerous terrain should cover such crises. And editors must never press reporters to get the story at any price. In my case, Der Spiegel didn't force me to go to Jolo. It was my own decision.
Andreas Lorenz is currently the Beijing correspondent for Der Spiegel.