Local leaders join global condemnation of Liberia for jailing Channel Four team
New York, August 25, 2000 — The nearly week-long detention on espionage charges of a television news team from Britain's Channel Four has caused an international outcry, with several African leaders taking the lead in condemning a press freedom violation on their continent.
Saying they suspected "spying activities," Liberian police apparently entered the Monrovia hotel rooms of the Channel Four journalists on Friday, August 18, while they were meeting with Sierra Leone's ambassador to Liberia. After seizing all their equipment and videotapes, police arrested all four journalists, who were subsequently charged with espionage.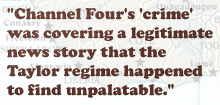 In the indictment, a copy of which was obtained by CPJ, the Liberian prosecutor charged that the Channel Four team tried to substantiate U.S. and British allegations that President Taylor was receiving diamonds from Sierra Leone's RUF rebels in exchange for weapons. [Read the indictment]
Across the continent, African journalists and press freedom organizations condemned this assault on colleagues whose "crime" was covering a legitimate news story that the Taylor regime happened to find unpalatable. Other protesters included the Rev. Jesse Jackson, U.S. special presidential envoy to Africa; the U.S. State Department; former American president Jimmy Carter, the British government, and several international press freedom organizations, including CPJ.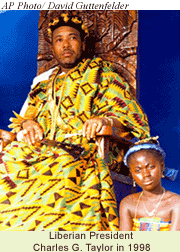 But the reaction of Taylor's fellow African leaders was particularly striking, in a continent where politicians have historically been slow to condemn press-freedom violations within their own borders, let alone outside. Three days after the Channel Four team was arrested, former South African president Nelson Mandela told President Taylor in a telephone conversation that "even if [Taylor] had a water-tight case against the journalists, it would be a wonderful gesture to pardon and release them."
In a diplomatic note issued later that day, August 21, South African foreign minister Dr. Nkosazana Dlamini-Zuma called on her Liberian counterpart "to ensure that international norms are met, regarding the welfare of the detainees and their access to legal representation of their choice." The South African government also dispatched its ambassador to the Organization of African Unity (OAU) to Liberia to monitor the case of the four journalists, one of whom is a South African citizen (two others are British nationals, and the fourth is a citizen of neighboring Sierra Leone.)
Also on August 21, Nigerian president Olusegun Obasanjo and Malian president Alpha Oumar Konare both appealed to Liberian authorities during an official visit to Monrovia, where they had gone to discuss the peace process in Sierra Leone. In an August 24 interview with Channel Four News, President Obasanjo said President Taylor had shown him the Channel Four team's pre-shooting script, which the court cited as evidence that the journalists had a "preconceived plan" to harm the national security of Liberia.
"When I read the script, there is no doubt that [it was] in bad taste, but it does not amount to espionage," Obasanjo said. "[Taylor said] this is directed against his country and against his office and his person. But well, in a democracy you have to allow a bit of this, that is what democracy is also about, and I gave him an example of what goes on in my own country."
In the Channel Four interview, President Obasanjo added that he had warned Taylor against "a direct confrontation with powers that are much stronger than himself," alluding to Britain and the U.S., both of which Liberian authorities accused of sending the journalists on a spying mission.
On August 22, OAU secretary-general Salim Ahmed Salim added his voice to appeals for the release of the Channel Four team. In an interview with the Ghana News Agency, Salim argued that whatever reasons the Liberian government might have had for arresting the four journalists, it should first consider its broader interest in fostering a free press as a vital component of democracy. "We are concerned about moving the continent forward through the consolidation of democracy and we must all be seen to be working toward that goal," Salim said.
The vigor of all these leaders in denouncing Liberia's assault on press freedom is an encouraging sign for journalists in all African countries. Hopefully, the African leaders who urged Liberia to release the Channel Four journalists will take a similar stand on press freedom violations in their own countries.

Yves Sorokobi is CPJ's Africa program coordinator.

---
August 21, 2000 – CPJ urges Liberia to release British news team

August 22, 2000 – Liberia charges Channel Four team with espionage
August 23, 2000 – Liberian judge denies bail to Channel Four team